Kansas football coach Les Miles had another quarterback surprise for the Jayhawks' opponent Saturday night in Waco, Texas.
After waiting until minutes before the season opener to name a starting QB earlier this month, Miles' choice for the job in KU's second game wasn't only different, but likely caught Baylor even more off guard, as the Jayhawks turned to true freshman Jalon Daniels for his first career start.
Miles hinted earlier in the week that the QB who was "the best (at practices) or who gives us the best opportunity at victory" would start at BU for the Big 12 opener.
While Miles referenced Daniels, as well as two veterans, during that QB discussion, the decision to start the 6-foot, 200-pound freshman from Lawndale, Calif., surprised many outside of the program, because Daniels barely played in KU's season opener.
Senior Thomas MacVittie started at QB for KU in a home loss to Coastal Carolina on Sept. 12. The Jayhawks rotated MacVittie and junior Miles Kendrick at the position in their season debut. Daniels didn't enter until the game's final possession, and only threw two passes.
KU's published depth chart ahead of the game at BU listed only MacVittie and Kendrick as possible starters.
"I think if we have a guy that's hot and doing well, I don't think there's a removal plan in any way," Miles said on KU's pregame radio show.
Sure enough, at BU Saturday night, Daniels manned the position without dealing with the substitution strategy KU used in a loss to Coastal.
Daniels was rated a two-star prospect as a dual-threat QB by Rivals in KU's 2020 signing class, and was recruited by offensive coordinator and quarterbacks coach Brent Dearmon.
Robinson back
After missing KU's opener due to unspecified reasons, senior wideout Stephon Robinson Jr. returned to the lineup at BU, as expected.
Robinson's impact was felt immediately, as Daniels connected with the veteran for a 23-yard completion on what would become a touchdown drive on the Jayhawks' opening series.
It wasn't all smooth sailing for Robinson, though, as he appeared to get hurt a couple of times in the first half, once getting ran into on a perimeter block.
Sticker for Sayers
The white helmets KU wore Saturday night featured a new sticker on the back of them, honoring the late Gale Sayers.
The sticker featured Sayers' nickname "Kansas Comet," alongside the No. 48, which he wore as a running back for the Jayhawks from 1962-64.
Sayers died this past week at the age of 77.
Ahead of what became his hall of fame pro career with the Chicago Bears, Sayers accounted for 3,917 all-purpose yards in just three seasons for the Jayhawks.
Fans in the stands
Unlike the scene for KU's home opener earlier this month, the one at Baylor's McLane Stadium included some fans in the seats.
BU decided to open the season selling 25% of its tickets, allowing for 11,000-plus seats to be available for the program's 2020 opener.
KU faced Coastal Carolina in an empty David Booth Kansas Memorial Stadium in its debut, but KU announced Friday it will allow approximately 10,000 people to attend the Jayhawks' next home game, Oct. 3 versus Oklahoma State.
Related document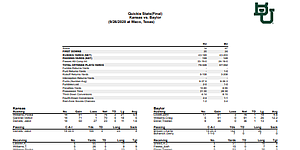 Box score: Baylor 47, Kansas 14 ( .PDF )
Aranda-Miles connection
While Baylor's Dave Aranda got to make his head coaching debut Saturday against KU, he was no stranger to Miles.
Ahead of what would become Miles' final season at LSU in 2016, he hired Aranda to be the Tigers' defensive coordinator. It was a position Aranda kept through the 2019 season, as he helped coach LSU to last season's national championship.
Miles said earlier this week Aranda's coaching instincts made him an ideal defensive coordinator when they worked together.
"He knew exactly how to attack an offense. He was very confident in the things that he did," Miles said, adding he was thankful they worked together. "I pursued him some when he was at Wisconsin two different times, so I was very happy to have him join my staff and the time that we spent together was very fruitful. He did a great job."
Aranda said before his reunion with Miles in the Big 12 opener that his former boss remains one of his favorite "all-time" people.
"The immediate take away from him is just how generous he is, how real he is, just an authentic person," Aranda said during his weekly video press conference. "What you see is what you get."
The first-year BU coach said he has "so much respect" for Miles.
"I have seen, and I have to imagine that you see, too, where sometimes coaches can just balloon into these caricatures of what they're supposed to be or what people think they should be," Aranda went on. "And to see Les just be who he is, and to have a family that's as close and as loving as his and be as real as they are, in today's world it's really pretty cool."