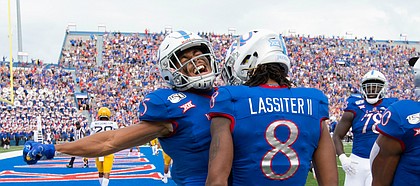 The bleachers inside David Booth Kansas Memorial Stadium won't look quite so empty at the KU football team's next home game.
After the Jayhawks played their Sept. 12 opener without any fans, KU Chancellor Douglas Girod announced Friday the team's Oct. 3 matchup with Oklahoma State will mark the university's first home athletic event of the semester with fans in attendance.
KU has been approved, Girod shared in a message posted to the university's website, to have approximately 10,000 fans — a little more than 21% of the stadium's 47,233 capacity — for its homecoming football game.
Just as with the opener, there will be no tailgating allowed outside of the venue.
As of Friday, the plan is to allow a small amount of fans to attend all KU athletics events throughout October, and as Athletic Director Jeff Long put it in a separate post, "hopefully throughout the academic year."
Girod emphasized that the decision to welcome back fans is "fluid" and can change "at any time."
"In partnership with local health officials, we will do a full debrief after the game and make adjustments as needed," Girod said of KU's Oct. 3 football game. "Certainly it is our hope to continue hosting fans throughout the fall, but these decisions will be made in an ongoing way based on the latest information, and always at the guidance of the pandemic medical advisory team."
Girod outlined some of the protocols that will be in place for the KU football game:
• Fans must wear masks at all times.
• All stadium seating will be reserved to set up proper social distancing.
• Fans will enter through contact-less metal detectors.
• Shuttle buses will operate at reduced capacity.
• Elevators will be limited to five people at a time.
• Hand-washing stations and Plexiglass barriers have been installed in the stadium.
• Law enforcement officers will monitor neighborhoods surrounding the stadium.
Girod said fans will be removed from the stadium if they don't follow the rules about wearing masks and using the reserved stadium seating.
According to Girod, the decision to welcome back fans was based on the fact that regional COVID-19 rates remain stable and "in line with what we are prepared to manage." Girod also said having one home football game without fans gave KU an extra month to "learn from other universities and professional sports organizations that have been hosting competitions."
After KU football's Oct. 3 home game, the Jayhawks have a bye week, followed by back to back road games before they return to Lawrence for an Oct. 31 meeting with Iowa State.
In a separate post from Long on Friday, he also warned of the precarious nature of having fans at KU sporting events.
"It's been a while since we have done this, and circumstances are much different, so we will need everyone's help to make this possible for the duration of football season and the upcoming basketball season," Long wrote.
The athletic director also stated procedures for attendance will be reviewed each week and changes could occur based on mitigating factors tied to COVID-19.
Long revealed KU will allow 400 fans at Rock Chalk Park Soccer Stadium, 250 fans at Horejsi Family Volleyball Arena and a not yet determined number of fans for cross country races at Rim Rock Farm.
At all venues, concession lines will be socially distanced with limited menus. Only cashless payment options will be accepted.
KU volleyball is scheduled to play host to West Virginia on Oct. 9 and 10. KU soccer's first October home date is Oct. 16 versus Oklahoma State. KU cross country is scheduled to host the Big 12 Championship on Oct. 30.
KU's medical advisory team, on which Girod serves, consists of public health officials from the region.
KU averaged about 33,874 fans for its seven home dates during Miles' first season, with the venue selling out (47,233) for the Jayhawks' rivalry game versus Kansas State.