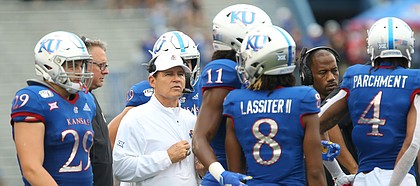 — Kansas (0-1) vs. Baylor (0-0) • 6:30 p.m. kickoff, McLane Stadium, Waco, Texas • Game-time forecast: 84 degrees, mostly sunny, 0% chance of rain • TV: ESPNU • Radio: KLWN, FM 101.7 / AM 1320
— Log on to KUsports.com for our live coverage and follow our team on Twitter: @KUSports, @BentonASmith, @mctait and @SJacksonLJW
Keys for Kansas
1. Prove the bye week helped
If the Jayhawks have any obvious advantage in their Big 12 opener this season it's that they've already played a game and know what issues need to be addressed, while Baylor hasn't.
Between turnovers, struggles on the offensive line (with pass protection in particular), not finding a starting quarterback and the KU defense seldom disrupting Coastal Carolina's offense, there was no shortage of problems.
Now the Jayhawks have to go out against a favored BU team making its season debut and show that they learned from the variety of shortcomings versus CCU that perhaps cost them their best shot at a victory all season.
Of course the objective is for KU to go find a way to win, but the Jayhawks need to show progress, too, regardless of the outcome, because they had an extra week to review why their nonconference game went sideways. If they used those bonus practices to identify solutions, that should be evident at Baylor.
2. Trust your running backs
Even before KU star rusher Pooka Williams had to leave the game against Coastal because of an injury — a "nick" head coach Les Miles expects Williams recovered from — there weren't a lot of chances to see the junior running back in action.
Williams touched the ball just twice (two carries for 11 yards) in the game's opening quarter, when KU ran 15 plays and fell behind, 14-0. He got a little more involved in the second quarter, with six runs for 33 yards. Two of Williams' four carries in the third quarter produced gains of nine and 10 yards before he got hurt.
During his first two seasons, Williams carried the ball 19 or more times in eight games, and the KU offense needs the ball in his hands as much as possible.
Plus, it appears sophomore Velton Gardner could be an important piece in the offense. Against CCU, Gardner rushed for 81 yards on 11 carries, taking one 61 yards for a touchdown. He did all of that without rushing the ball once in the fourth quarter as KU tried to rally back through the air.
KU averaged 6.4 yards per carry combined between Williams and Gardner in the opener. With the Jayhawks apparently still experimenting with rotating quarterbacks, relying upon Williams and Gardner could become the most vital part of the offense.
3. Defensive playmakers emerge
The KU defense never really found its footing in Big 12 play in 2019, as the Jayhawks gave up at least 29 points in all of their nine conference matchups, surrendering a whopping 42.2 points per game on average.
Even though KU's offense put the defense in a couple of difficult short field situations in the first half versus Coastal, the Jayhawks' defense also didn't do much to prove it will be any better in 2020 than it was in 2019.
CCU averaged 5.3 yards per play on its 60 offensive snaps, and the Jayhawks rarely stopped the visitors in the backfield. The entire KU defense only accounted for two tackles for loss, and failed to record even one sack or quarterback hurry. There were no forced fumbles or interceptions for the KU defense, either.
While there were some sound plays that put a halt to CCU running back CJ Marable (21 carries, 75 yards) breaking loose, there wasn't much else to show from KU's defense in the opener.
If the Jayhawks are going to be more competitive this season, they will need playmakers to emerge as disruptors on defense.
Mega Matchup
KU defense vs. BU QB Charlie Brewer
Few players proved as problematic for the KU defense last year as mobile quarterbacks. And wouldn't you know it, the Jayhawks once again struggled versus one to open this season.
After Coastal redshirt freshman Grayson McCall accounted for five total touchdowns and 206 yards of offense between his 11 runs and 18 passes, now the Jayhawks face Baylor senior Charlie Brewer, one of two returning FBS quarterbacks to pass for 20-plus touchdowns and run for 10 or more TDs in 2019 (the other was Ohio State's Justin Fields).
Brewer passed for 3,161 yards last year, completing 64.5% of his attempts, with 21 touchdowns and seven interceptions as a junior, while also rushing 147 times for 344 yards and 11 touchdowns.
Brewer has proven himself as a run-pass option QB and now has offensive coordinator Larry Fedora possibly expanding what BU will do out of RPOs with Brewer as a senior.
KU senior linebacker Denzel Feaster said facing a mobile QB in the opener reminded the defense about some keys to success.
"When you're going against a mobile quarterback you obviously have to be a lot more detail oriented in your drops," Feaster said, "and keep your eyes in the right place and things like that."
KU fared relatively well versus Brewer in 2019, defensive coordinator D.J. Eliot's first year with the program, as the QB went 13-for-25 passing, with 182 yards, just one TD and one interception to go with his minus-11 rushing yards. But BU still rushed for 264 yards and seven TDs as a team in a 61-6 rout.
Jayhawk Pulse
The Jayhawks had to refocus after suffering a disappointing nonconference home loss in their opener, a game in which they fell behind 28-0 to CCU.
The team's leaders, senior cornerback Kyle Mayberry said, needed to address their fellow players to make sure they are all taking the necessary steps to improve.
"We can't go down the same path that the old Kansas (teams) have been going down," Mayberry said. "We've got to make something change. We've got to take this week of practice very seriously, as we did the last week. But I think it's a more laser focus."
Mayberry thinks the message he and other veterans such as senior receiver Andrew Parchment and junior receiver Takulve "TK" Williams delivered got through to the team's many young players.
"I used a whole lot of we's, because we are a team," Mayberry said. "I feel like me, as well, I have to do better."
Tale of the Tape
KU ….. BU
KU run D vs. BU run game √
KU pass D vs. BU pass game √
√ KU run game vs. BU run D
KU pass game vs. BU pass D √
√ Special teams
Prediction
BU 45, KU 24