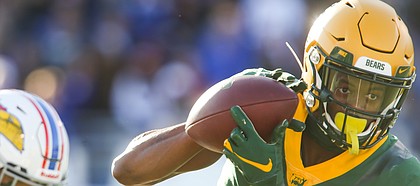 If it were up to Baylor football coach Dave Aranda, the Kansas coaches would already have plenty of the Bears' footage to study heading into the first weekend of Big 12 competition.
That's because BU's first-year head coach was eager to lead his players onto the field in Waco, Texas, before all involved with the program were hit with the disappointment of seeing their opener against Houston postponed due to BU's inability to meet all of the Big 12's COVID-19 thresholds.
"I hope people have got a lot film on us after this week," Aranda said during his video press conference on Monday.
With Saturday's BU-KU matchup serving as Aranda's head coaching debut as well as the Bears' newest season opener for this pandemic challenged season, no one outside of Baylor's football offices yet has any concrete video evidence of what the Bears will look like in 2020.
KU head coach Les Miles this week shared a little bit of what went into his staff's preparation for the Jayhawks' Big 12 opener amid unique circumstances.
Miles at least had some insight regarding Aranda, having hired him to be LSU's defensive coordinator and linebackers coach ahead of what proved to be Miles' final year with the program in 2016.
With BU defensive coordinator Ron Roberts having spent the past two years at Louisiana-Lafayette, Miles said KU assistants looked at how Roberts schemed there.
"We found that they have a style of play that he is used to putting on the field," is all Miles would reveal.
Though KU's head coach didn't elaborate on specifics, the staff presumably took the same approach with preparing to face the BU offense, coordinated by Larry Fedora. Though Fedora worked at Texas as an analyst, Fedora was the head coach at North Carolina from 2012-18 — and Miles' oldest son, Manny, was a walk-on quarterback for the Tar Heels for the last four seasons Fedora was in charge.
"We're seeing all the outliers that we can find," Miles said of preparing for a BU team with a new staff that has yet to play, "and feel comfortable that we're in position to play this game in terms of strategically."
Of course there are some familiarities for the Jayhawks who played in last year's matchup with the Bears, even if the current BU roster looks different than the one that dominated KU, 61-6, in the final week of the 2019 regular season.
The most recognizable man in a Baylor uniform should be senior quarterback Charlie Brewer, who already has 30 career starts behind him. Brewer has led the Bears past KU each of the previous three seasons, throwing for more than 700 yards, completing 68% of his throws and contributing seven touchdown passes in the process.
Ten other Bears — right tackle Jake Burton (a transfer from UCLA, so actually a new face for KU), cornerback Raleigh Texada, center Xavier Newman-Johnson (suspended for the opener), linebacker William Bradley-King (a transfer from Arkansas State, and new to the series), left tackle Connor Galvin, running back John Lovett, linebacker Terrel Bernard, right guard Blake Bedier, receiver Tyquan Thornton and receiver RJ Sneed — have started 10 or more games in their careers entering this season.
With most of BU's experienced veterans playing on offense, KU senior cornerback Kyle Mayberry described his approach for facing the Bears in their season debut.
"I think when doing that you've got to focus on personnel, since you really can't focus on something you haven't seen," Mayberry said. "They've got a lot of returning players that I played against last year, so I can kind of look back at that game, and kind of just look at personnel."
Ideally, KU's defensive players would have been able to spend much of this week going over video of Baylor's nonconference game versus Houston. But senior linebacker Denzel Feaster said they will make the best of the situation.
"I imagine it'll be a little bit different, because we haven't seen them this year on the playing platform. But we have great coaches," Fesater said. "These coaches know (BU's) coaches and know a lot about them and their schemes and different things like that that I feel like could help us as well."
While middle linebacker Bernard, a consensus preseason All-Big 12 choice, is the obvious standout for BU's defense, KU won't be as familiar with many members of the Bears' defensive personnel.
"It's going to be a tough challenge," junior receiver Takulve "TK" Williams said, pointing in particular to the uncertainty of facing a BU offense led by a new staff.
"They could come out and run something we have no idea about. I think we're more going to focus on us and make sure we execute everything our coach said, instead of worrying about them," Williams said. "We don't really know what they're running."
— For much more on what the Bears might look like, read Shane Jackson's breakdown: Baylor football remains a mystery