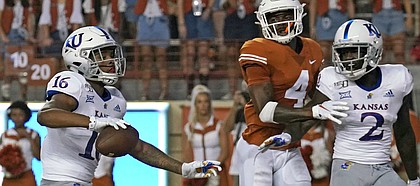 Don't get Takulve "TK" Williams wrong. The junior receiver was happy to make his first career start for the Kansas football team in the season opener.
It's just that Williams' most productive college game to date didn't exactly meet his standards.
"I feel like I didn't play that well, because I turned the ball over," Williams said, referencing a lost fumble on the Jayhawks' second possession of a home loss to Coastal Carolina. "I had a few catches and stuff like that. I just expect more from myself. I'm a little tough on myself."
Williams made more catches (seven) in his junior year debut than he did during the entirety of either his freshman (five) or sophomore (four) years. His 38 receiving yards versus Coastal surpassed his 32 receiving yards combined during his previous two seasons. He also rushed the ball once for nine yards.
Those numbers weren't what Williams took away from the loss into KU's bye week.
"Overall, I just know that I can do better than that," he said, reflecting on his performance.
Williams' fumble on a three-yard reception in the first quarter wasn't necessarily his fault. After the game, fellow receiver Andrew Parchment pointed to his own poor blocking next to Williams as the reason the play was blown up and resulted in a turnover.
The two receivers addressed the issues through conversations afterward.
"Things happen. I know for a fact the next game, I know his perimeter blocking is going to be way better than that," Williams said of Parchment. "I know he messed up. But who doesn't mess up? Because at the end of the day, he missed that perimeter block, but I messed up because you've got to hold on to the ball regardless.
"We've got it together. We talked it out," Williams shared. "We're ready for the next game to make that adjustment."
Though Williams, a junior from New Orleans, didn't play that much as a freshman or sophomore, his role is expected to be much larger now, even with senior receiver Stephon Robinson Jr., who missed the opener, returning to the lineup.
And Williams can contribute off the field, too, according to head coach Les Miles.
"T.K.'s a tough, hard-nosed guy," Miles said. "He's going to be a leader, because that's just who he is."
In a moment Williams wasn't expecting, he displayed some of that leadership in KU's locker room after the loss to Coastal.
"A lot of players' heads were down because obviously it was a tough loss. I was just telling them don't let that game identify us. It was our first game. It was a long offseason, practicing, not practicing, because of the coronavirus and stuff," Williams said. "We're gonna still work hard and we're gonna go out there and fight for the next game."
KU's receivers in particular, Williams said, wanted to contribute much more than they did in the nonconference loss.
Williams led KU with seven catches, while Parchment had six receptions for 54 yards and a touchdown and Kwamie Lassiter II caught five passes for 63 yards and a TD. Freshman Lawrence Arnold in his college debut brought in two catches for 18 yards after a pass got through his hands on KU's opening drive, leading to an interception.
With receivers coach and passing game coordinator Emmett Jones expecting much more out of his group in terms of both production and overall execution, Williams said Jones, per usual, challenged the receivers at practices throughout the bye week.
"He always says if you can withstand his coaching, the game's going to be easy — which I agree with," Williams said. "The way he coaches us you would think you're in a game Monday through Thursday. And Friday or Saturday he lets us be us and just go out there and be comfortable and play. At the end of the day we know Coach Jones just wants the best for us."
For Williams, his first career start may not be a memorable one. But the way Miles spoke about the receiver, he should have plenty more opportunities to surpass his personal expectations.
"He'll be productive," Miles predicted. "He'll step in to the line of scrimmage and want to play. He's physical. We like him. We really do. He's special."