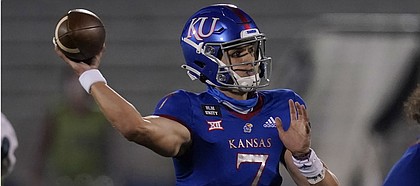 Eventually the Kansas football offense might get back to playing one quarterback week in and week out, the way the Jayhawks did in Les Miles' first season as head coach.
But for the time being at least, it appears KU will keep rotating at the position.
Miles indicated this week the Jayhawks will open Big 12 play without a true starting QB and continue to give both Thomas MacVittie and Miles Kendrick in-game reps.
KU's head coach even included the name of freshman Jalon Daniels when discussing QBs during his weekly video press conference.
"We'll go into practice week," Miles said Monday, "and see who's the best or who gives us the best opportunity at victory."
In KU's season-opening loss to Coastal Carolina, senior MacVittie started and led the offense for its first two possessions. Then Kendrick got a series, and next KU went back to MacVittie for one more. After that, Kendrick played the final two possessions of the first half.
MacVittie started the second half, as well, but got hurt during KU's first drive of the third quarter and had to leave the game, putting an end to the swapping back and forth.
As his team prepares for its Big 12 opener at Baylor (6:30 p.m., Saturday on ESPNU), Miles said the plan again is to use multiple QBs.
"We'd like to move in the direction of (sticking with) one, but we want to make sure that that one is the best one," Miles said of the competition carrying over into games. "I don't think that's necessarily an easy decision. We'll take it a step at a time and play the best players."
In the nonconference home loss to open the season, KU's three QBs combined to go 21-for-35 (60%), throwing for 189 yards, with two touchdowns and two interceptions.
Statistically, most of those numbers belonged to Kendrick, who threw for 156 yards, going 15-for-24, with both of KU's passing TDs and one interception.
MacVittie finished his KU debut 5-for-9, with 20 yards and an interception.
Daniels didn't enter until the final series of the game, with the outcome all but solidified. In his collegiate debut, the 6-foot, 200-pound QB from Lawndale, Calif., completed one of his two throws for 13 yards.
Neither of KU's two primary QBs were made available for interviews this week.
Takulve "T.K." Williams, who caught seven passes in the opener for 38 yards, described how it has been practicing and playing with multiple QBs.
"It's definitely different, because I've never practiced with multiple QBs before," Williams said. "But the amount of work we put in, it honestly didn't even matter who was there, because the chemistry is there for both of them because that's how much we work. Even like throwing on our own after practice and stuff, it was always both of them. So it wasn't really that big, just off the fact that we throw with both of them a lot."
KU sophomore running back Velton Gardner said he expects the offense and the quarterbacks to bounce back from the defeat.
"We understand what it takes and what happened last week," Gardner said. "And we're shaking off the rust and just keep getting to it. Everything's getting back on track and coming back to playing the way we know we can play."
Miles again bemoaned KU's early turnovers against Coastal while sharing his thoughts on what stood out to him about the QBs when he watched the game footage.
KU, of course, gave the ball away on three of its first five possessions, and CCU scored a TD after every turnover it secured.
"So do I think they'll play better? Yes," Miles said.