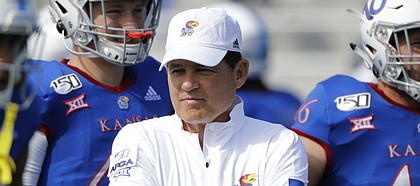 No college football matchup in 2020 is a certainty, but this week's Kansas football game at Baylor started to feel more in limbo than most, with the Bears having to call off what would have been their season opener versus Houston this past weekend.
As of Monday, KU head coach Les Miles admitted he is unsure about the Jayhawks' trip to Waco, Texas, for what would be a 6:30 p.m. Saturday kickoff on ESPNU.
"Am I confident it's going to happen? I can't tell you," Miles said during his Big 12 media teleconference appearance. "I don't know the parameters. I would like to tell you I did know. They'll do the right thing. They'll look at both sides, because this is a conference game, this is not a preseason game. So their call will be made for the best of all interests."
Baylor announced this past Friday, the day before its scheduled home game versus Houston, that the nonconference matchup would be postponed, because the Bears didn't meet the Big 12's COVID-19 thresholds for playing, reportedly because they didn't have at least seven available offensive linemen.
BU head coach Dave Aranda had his weekly press conference Monday afternoon, and was joined by BU Athletic Director Mack Rhoades for the beginning. As detailed in a report from 247 Sports, both spoke optimistically about being able to play versus KU.
The Bears chose not to publicly share which position group was affected by its recent positive COVID tests, but Aranda said BU will get back five players from the affected position group this week.
The Big 12 has mandated that teams get tested for the virus three times a week. The final round comes the day before a game, using antigen testing that allows for 15-minute results and batch testing capabilities.
"The key piece certainly is the testing and making sure that your team doesn't have to put itself at risk in any way," Miles said Monday afternoon, during his weekly video press conference, when asked if he was worried about the conference opener getting postponed.
"I do not know the percentages of whether we'll play this weekend or not," Miles said. "I do recognize the difficulty a team can have trying to put a healthy group on the field."
The Jayhawks, of course, are preparing as if the game will be played.
"I just feel like I'm going to attack it like any other game," senior linebacker Denzel Feaster said. "We're playing until they say that we aren't or anything changes."
Senior cornerback Kyle Mayberry said he'd be disappointed if KU's players approached this week any differently.
"It's hard for me to focus on something like that, because if we do actually have the game I have to be focused regardless," Mayberry said when asked if he was worried about a postponement.
MacVittie expected to play
After suffering what looked like a shoulder injury in KU's season-opening loss to Coastal Carolina, senior quarterback Thomas MacVittie looks to be on track to return to the lineup two weeks after the setback.
While discussing KU's quarterbacks Monday morning, Miles said, "Hopefully MacVittie's progress will continue, because we'd expect him to play (at Baylor)."
MacVittie started in the opener as KU rotated quarterbacks. The injury happened in the third quarter versus Coastal, and Miles Kendrick took over until the game was out of reach and true freshman Jalon Daniels subbed in.
KU had a bye this past Saturday, perhaps giving MacVittie enough time to heal without missing further game action due to the injury.
"Thomas MacVittie is looking better," Miles said Monday afternoon, "and I think he'll have an opportunity to certainly take the field."
KU getting healthier
According to Miles, after KU had more than a dozen recruited scholarship players not dress in the season opener, the Jayhawks' active player numbers are improving.
"We had a couple guys who had COVID issues and they are back and would've played (if KU had a game this past Saturday)," Miles said. "A couple really just got their feet back on the ground to play (against Coastal). So we're pretty healthy."
The following Jayhawks didn't suit up for the season-opening loss: safety Valerian Agbaw, linebacker Taiwan Berryhill, linebacker Krishawn Brown, offensive lineman Joey Gilbertson, safety Corione Harris (suspended), receiver Malik Johnson, tight end Trevor Kardell, tight end Jack Luavasa, receiver Ezra Naylor II, running back Amauri Pesek-Hickson, receiver Stephon Robinson, linebacker Cooper Root, offensive lineman Jackson Satterwhite and offensive lineman Nick Williams.
Additionally, a couple KU starters who got hurt during the loss to Coastal, running back Pooka Williams and left guard Jacobi Lott, seem to be doing "pretty good," Miles said during his press conference.
"Pooka moves quickly and Jacobi Lott, I think both of those two will see the field (vs. Baylor)," Miles said.
The coach wouldn't say whether Williams, who ran 12 times for 67 yards in the opener, was back to full health.
"I'm not predicting the future," Miles said. "But I can tell you he had a smile on his face and he's moving quickly. I take that to mean he'll be ready."
Kickoff for Big 12 home opener
The Jayhawks (0-1) will play their first afternoon game of the season on Oct. 3, when No. 15 Oklahoma State (1-0) visits Lawrence.
The Big 12 announced Monday the game will kick off at 2:30 p.m. and air on either ABC or ESPN.