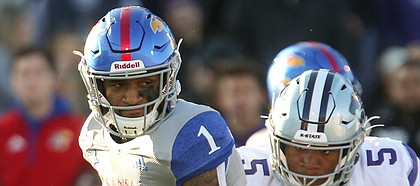 Speaking in a public forum for the first time since Pooka Williams opted out of the rest of the season, Kansas football coach Les Miles said Wednesday night on his "Hawk Talk" radio show that the running back made a "great decision" given the circumstances.
Miles likened Williams returning home to Louisiana to be with his sick mother, Angelique, to the coach's own difficult choice to take caution and not travel with the Jayhawks to West Virginia after being cleared from his COVID-19 isolation.
"He was responsible to his mother, and his mother's got a very bad sickness and she's not healthy," Miles said, two days after Williams announced his opt out and the coach supported him through a statement. "Pooka wanted to go spend some time with her. And I could not argue against it."
It remained unclear whether KU expects Williams to return to the team for the 2021 season. Miles has yet to be asked about that directly, as the coach's most recent press conference occurred hours before Williams announced his opt out.
"He's a wonderful man, and will have a very successful departure," Miles said, "and in the meantime we're going to root for him always."
From the KU head coach's vantage point, Miles said he thinks Williams' teammates have already put the unexpected absence of the offensive star behind them.
"Pooka has a distraction and a very serious one," Miles said. "So he's going to take care of his mom and be around. I think that's a great decision."
Williams rushed for just 21 yards on 11 carries in what proved to be his personal 2020 finale this past Saturday at West Virginia.
Williams' final touch of the season ended up coming on special teams, and he returned a kickoff 92 yards for a touchdown in the game's final minutes.
"We told him right before that, 'Listen, we're going to block for you this time,'" Miles joked on "Hawk Talk."
The coach's faux account continued: "We're going to give you the chance of a lifetime, OK. So certainly you'll want to come back. Well, after he scored, he said, 'After I did that, what else do I have to do?'"
Miles, of course, wasn't at the game and said KU had no knowledge of Williams' decision before the running back's fourth and final game of the season.
Williams finished his junior year averaging 49 yards per game and 3.8 yards per carry. It was a significant dip in production, after he produced 102.3 rushing yards per game and 7.0 yards per rush as a freshman in 2018, as well as 96.5 yards an outing and 5.2 yards per carry as a sophomore.
Williams averaged 14.6 carries a game as a freshman, 18.5 as a sophomore and 12.8 carries this year, as the KU offense in four consecutive losses to open the schedule struggled to stay on the field and sustain drives.