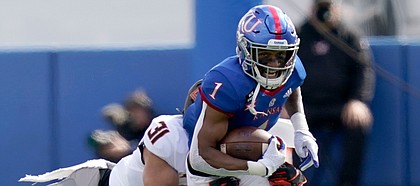 — Kansas (0-3 overall, 0-2 Big 12) at West Virginia (2-1, 1-1) • 11 a.m. Central kickoff, Milan Puskar Stadium • Game-time forecast: 51 degrees, mostly sunny, 0% chance of rain • TV: FOX • Radio: KLWN, FM 101.7 / AM 1320
— Log on to KUsports.com for our live coverage and follow our team on Twitter: @KUSports, @BentonASmith, @mctait and @SJacksonLJW
Keys for Kansas
1. Set Pooka up for success
With 30% of the 2020 season already behind them, the winless Jayhawks have yet to unleash the full potential of star running back Pooka Williams.
A preseason All-Big 12 selection, Williams enters this week's game at West Virginia ranked 12th in the conference in rushing, at just 58.3 yards per game — this from an evasive, speedy back who averaged 102.3 yards per game as a freshman in 2018, and 96.5 yards an outing a year ago.
In KU's most recent loss, Oct. 3 versus Oklahoma State, Williams finished with only 32 rushing yards on 14 carries and didn't have a reception. It was his third-lowest rushing total through his 25 career games at KU.
So how do the Jayhawks get him going?
Offensive coordinator Brent Dearmon didn't divulge the specifics of the game plan, of course. But he knows getting Williams more involved is a must.
"For Pooka, he's an electric player. We've got to figure out ways to put the ball in his hands in unconditional fashion," Dearmon said. "Right now we're not great at running the football, we're not great at throwing the football. And I'm trying to find a third part of an offense outside of running it and throwing it that we can find right now. We've just got to do a better job as a whole."
The Jayhawks are going up against a WVU defense that ranks 19th among all FBS teams in rushing defense (101.7 yards allowed a game) and 11th in yards allowed per carry (2.9).
2. Find ways to make a leap defensively
Throughout the past several weeks, head coach Les Miles, when asked about the defense's issues, has brought up how KU is playing multiple young players on that side of the ball — a subtle reminder of why the unit has remained a work in progress.
It was a point of view defensive coordinator D.J. Eliot echoed this week, after seven KU freshmen and sophomores played 40 or more snaps agasint Oklahoma State.
"Fortunately we've had a lot of young players play," Eliot replied, when asked about the defense's outlook through three games, mentioning freshman cornerbacks Karon Prunty and Deuce Mayberry, as well as redshirt freshman defensive linemen Da'Jon Terry and Marcus Harris and freshman D-lineman Jereme Robinson.
"Their development is good," Eliot said. "They're coming along and they're all going to have bright futures here."
Still, KU will need either the youngsters or the older players on the field with them — ideally both — to start making more plays in order for the team to find some success.
"We were able to keep our first two opponents to low yardage," Eliot said, referencing Coastal Carolina's 318 yards and Baylor's 352, "and then unfortunately against Oklahoma State (593 yards) we weren't able to do that."
KU is currently allowing 5.8 yards per play on defense — 4.7 yards per rush and 8.1 yards per pass attempt.
"We need to get back on track and continue to force guys into 3rd down situations and play good on 1st and 2nd downs so that we can be in manageable 3rd downs," Eliot said. "And that's the plan this week."
Opponents are 25-for-47 (53.2%) on 3rd down conversions versus KU so far, ranking KU 68th nationally (out of 76 teams that have played) in 3rd down defense. WVU is converting 3rd downs 39.6% of the time through three games.
3. More than one RB to worry about
WVU junior running back Leddie Brown is having the type of season KU expected its primary back, Williams, to produce.
Brown heads into the weekend ranked third in the Big 12 in rushing (106.7 yards per game), while producing 5.1 yards per carry. He has scored four touchdowns and has a season-best run of 38 yards.
But the Jayhawks won't get a break when Brown subs out. Backup Alec Sinkfield, though not featured as much, has proven effective. Sinkfield ranks seventh in the Big 12 in rushing (62.3 yards per game) and is averaging 6.7 yards per rush.
WVU head coach Neal Brown said during his weekly press conference the Mountaineers didn't do a good enough job getting Sinkfield the ball in their last game, a double overtime win over Baylor. Brown called football a "production based business," which could work in Sinkfield's favor after he averaged 8.8 yards per carry versus BU. 
"If you continue to produce," Brown said, "then you are going to get the football."
Mega Matchup
KU passing game vs. WVU pass defense
In the fourth game of the season, the Jayhawks are set to start their third different quarterback, with junior Miles Kendrick manning the position this time around.
The lack of continuity at the position, in part because of injuries suffered by both senior Thomas MacVittie and true freshman Jalon Daniels, is just one factor in KU's passing game falling flat in three straight losses to open the season.
The Jayhawks posted just 92 passing yards in a blowout loss to Oklahoma State, bringing their season average down to 146.7 yards per game (68th out of 76 FBS teams).
Dearmon admitted it has been a particularly difficult situation for KU's receivers, a group that between seniors Andrew Parchment, Stephon Robinson Jr. and Kwamie Lassiter II had high expectations. Parchment, coming off a breakthrough season in 2019, is averaging only 6.8 yards per catch and 25 yards per game due to the offense's struggles.
"It's frustrating to all of us. But it's been a good frustration," Dearmon said, adding KU's passing struggles have led not only the receivers but also players at every other position to focus on what they can do to improve.
Pass blocking, clean routes, on-target throws, improved offensive schemes — KU will need them all against a WVU defense that is off to a hot start.
The Mountaineers are only allowing 166.3 passing yards a game (No. 8 in the FBS), rank ninth nationally with 3.67 sacks a game and have intercepted four passes.
Dearmon said KU's receivers are putting in work at practices, as well as encouraging their quarterbacks.
"There's a lot of people that have to do a better job to get our big play receivers the ball in their hands," Dearmon said. "And they've got to help us out a little bit, too. We all know we've got to contribute a little bit better as a whole."
Jayhawk Pulse
Saturday's game will inevitably feel strange for the Jayhawks, who will take the field without the program's leader, Miles. KU's second-year head coach decided to not risk infecting anyone and remained in isolation after testing positive for COVID-19, instead of traveling to WVU as planned.
Tight ends coach and recruiting coordinator Josh Eargle will act as KU's head coach, but you know the Jayhawks will rally around Miles, whom Eliot described as "truly a players' coach."
It will take much more than a win one for "The Mad Hatter" approach to pull off the upset, of course, but now the Jayhawks have another incentive to pick up their first win of 2020.
Tale of the Tape
KU ….. WVU
KU run D vs. WVU run game √
KU pass D vs. WVU pass game √
KU run game vs. WVU run D √
KU pass game vs. WVU pass D √
Special teams √
Prediction
WVU 38, KU 17