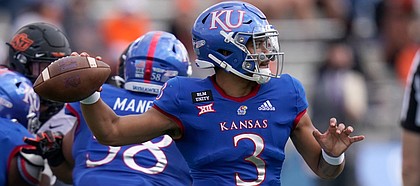 Quarterback Jalon Daniels took the first string reps with the Kansas football offense all week leading up to the team's matchup with Oklahoma State. And the game plan, just as it had been the week before, was to play the true freshman exclusively.
Only head coach Les Miles knows for sure whether he would have stuck with that strategy on Saturday versus the Cowboys. Either way, Miles said KU is "fortunate" to have junior backup Miles Kendrick.
After a rough start for Daniels, who was 3-for-5 passing with only two yards and sacked twice, an injury forced him off the field for good early in the second quarter of what became a 47-7 OSU rout.
Miles couldn't turn to QB Thomas MacVittie. Although the senior suited up for the game against Oklahoma State, MacVittie wasn't actually available to play, because he's still recovering from what appeared to be a shoulder injury he suffered in the third quarter of KU's loss to Coastal Carolina on Sept. 12.
So it was Kendrick, who hadn't taken an in-game snap since that CCU loss three weeks earlier, who entered for Daniels on KU's fifth possession, in a 17-0 hole.
"I just love playing football, having the chance to play this great game with my brothers," Kendrick said of his unexpected opportunity to man the QB position.
However, considering the day concluded with a 40-point defeat, Kendrick gladly admitted he "needs to be better."
The 5-foot-10, 205-pound junior, who still has never started a game for KU after joining the program in 2018 as a transfer, went 11-for-19 passing against the Cowboys, for just 90 yards, with no touchdowns and one interception. He was sacked four times.
Daniels reemerged from the locker room in the second half on Saturday with some kind of supportive boot on his left foot. Miles said he "doesn't think" the injury will keep Daniels out long.
"I think he had a pretty good smile on his face," Miles said, opting not to forecast when the freshman QB may return. "I sure did like his runs, his physicality and who he was."
Kendrick talked to Daniels about how he felt and called the freshman a "tough guy," predicting "he'll be back soon."
With two quarterbacks who have started this year for KU (0-3 overall, 0-2 Big 12) currently dealing with injuries, the Jayhawks seem fortunate to be headed into another bye week, perhaps giving either or both of MacVittie and Daniels time to recover.
Related document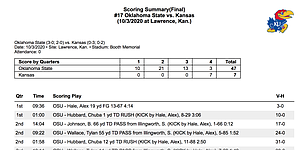 Oklahoma State 47, Kansas 7 ( .PDF )
With the QB competition still unresolved three games into a 10-game schedule, Kendrick acknowledged it will be important during practices this week and next for someone to finally emerge as the No. 1 QB.
"I think what's more important than that," Kendrick added, "is just as a quarterback room we continue to push each other. At this point push each other even more. Be more critical on each other, as far as getting better and being the quarterbacks that this team needs."
After the passing offense contributed just 92 yards against against Oklahoma State (3-0, 2-0), KU is averaging 146.7 passing yards a game — ninth-worst among the 77 FBS teams who have played so far in this pandemic altered season.
Kendrick shared after the latest KU loss how offensive coordinator and QBs coach Brent Dearmon came across in his postgame message.
"He hates losing. He's a competitor. Hard worker," Kendrick said. "What I see from him after a game like this is just his motivation to keep going, his motivation to go harder, his motivation to push us more as an offense and as a quarterback group."
As Dearmon and Miles keep trying to find the right man for the job, Kendrick said they will be looking for leadership, execution, toughness and play-making ability out of the candidates.
"Whoever brings that to the table," Kendrick said, "is going to be the guy that gets the majority of the reps moving forward."
Entering KU's second bye week, the one QB in the trio who hasn't started, Kendrick, leads the team with 26 completions, 43 attempts, a 60.5% completion rate, 246 passing yards and two touchdowns, plus two interceptions.
Daniels is 23-for-40 (57.5%), for 174 yards, with no TDs or interceptions. MacVittie is 5-for-9 (55.6%), for 20 yards, with one interception.
Said Miles: "I think we need to put some consistency behind our quarterback play. But I think we will."