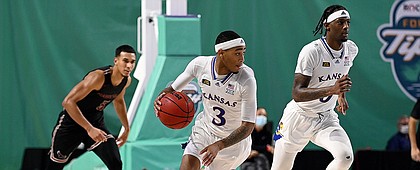 The littlest dude on either roster made the biggest impact in Friday's 94-72 victory by No. 6 Kansas over Saint Joseph's in the Jayhawks' second and final game of the Fort Myers Tip-Off at Suncoast Credit Union Arena in Fort Myers, Fla.
Redshirt freshman Dajuan Harris, who was limited to just three minutes of mop-up time during Thursday's loss to No. 1 Gonzaga, played 15 second-half minutes against St. Joe's and flipped the game on its head while he was in there.
The strong showing from the 6-foot-1, 160-pound point guard, combined with a career-high 30 points from KU sophomore Christian Braun and 18 more from junior Ochai Agbaji, carried Kansas to an easy bounce-back victory.
"I 100% expected that from Dajuan," Braun, Harris' longtime friend and AAU teammate, said after the game. "I've seen it since seventh grade, and I was so happy to see him out there doing his thing."
After checking in at the 15:31 mark of the second half, with Kansas (1-1) leading by just a point, Harris sparked a 24-8 KU run that blew the game open.
His five assists, two steals and pass-first approach were his bread and butter, but Harris also contributed in ways that people might not have expected.
The freshman drew two charges from SJU leading scorer Ryan Daly (14 points on 4-of-11 shooting) in his first few minutes on the floor, which Braun said probably loosened him up.
From there, it was showtime and Harris looked to set up his teammates for easy shots and buckets above the rim possession after possession.
Although he acknowledged that Harris actually is the team's best charge taker, KU coach Bill Self said nagging injuries have kept Harris from playing at a high level thus far this season.
"We haven't seen Dajuan consistently play like he did today," Self said. "Today, he was quick, he was into it, he played good position defense and he's got such good hands. I think he gave me a lot of confidence in him."
Braun said he thought Harris' performance on Friday featured the type of production he can deliver on any night against anybody.
"I think that's a lift he can always give us," Braun said.
Braun did his own heavy lifting in this one, leading the Jayhawks in scoring while also adding a career-best nine rebounds and four steals and teaming with Agbaji to pace a Kansas offense that topped 90 points for the second day in a row.
The trio of Braun, Harris and Agbaji, who all played for the MOKAN AAU program growing up, combined for 51 points on 18-of-27 shooting and added 13 rebounds, nine assists and seven steals.
KU's shift of playing exclusively small for most of the second half provided the opportunity for multiple guards to make a major impact and also helped KU match up with a Saint Joseph's squad that attempted 37 3-point shots.
"I didn't come down here with any idea that we would play five guards," Self said, noting that KU still has not worked on the all-guard approach that much in practice. "It's encouraging to me that we can play small."
Related document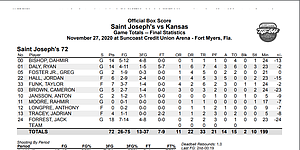 KU 94, SJU 72 ( .PDF )
Braun, Jalen Wilson and Tristan Enaruna have to play big when that's the way the Jayhawks choose to go, and that threesome combined for 21 rebounds on Friday.
Braun's career night offensively was his best showing since a 20-point outburst against Kansas State last season.
"He was the best player on the court," KU assistant coach Norm Roberts said of Braun after Friday's victory, noting that Self challenged him to respond to Thursday's sluggish start to the season.
The KU sophomore said he was disappointed in his effort against Gonzaga and Self called it "about as non-Christian as I've seen from an aggressive standpoint."
"It's OK to miss shots," Self added. "But (against Gonzaga) he just didn't have the same aggressiveness. Today, he attacked the rim and rebounded the ball better."
Braun said that was by design.
"If I'm hitting shots or if I'm not, I've got to be aggressive on the defensive end," he said. "I've got to be aggressive from the start of every game."
Thanks to a 19-3 run that erased a 27-20 St. Joe's lead, KU led by eight at halftime but had not yet signaled what was ahead.
St. Joe's (0-2) opened the second half with an 10-0 run of its own to take a two-point lead (46-44 at 18:02), but a high-flying finger roll from Enaruna tied the game and his pull-up jumper two possessions later put the Jayhawks up for good.
The Jayhawks closed the game on a 33-17 run, with Harris setting up most of KU's knockout blows.
"The way we won the game today was exactly how we needed to win it," Self said. "You know, struggle at times, labor at times and then find a way to fight through it and keep grinding and then pull away at the end."
Next up, the Jayhawks will face No. 10 Kentucky in the Champions Classic on Tuesday in Indianapolis.
Tipoff for that one is set for 8:30 p.m. on ESPN.