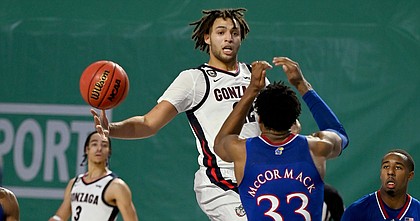 Different season, different team, different result for No. 6 Kansas, which had its 16-game winning streak snapped in a 102-90 loss to No. 1 Gonzaga on Thursday at Suncoast Credit Union Arena in Fort Myers, Fla.
After putting together one of the strongest defensive teams KU coach Bill Self has had at Kansas a season ago, the Jayhawks (0-1) saw the Zags (1-0) carve up their defense from start to finish during Thursday's high-profile season opener.
Last season, Dayton's 84 points were the most scored against the Jayhawks. That came in a track meet of a contest in overtime at the Maui Invitational.
Other than that, Texas Tech's mark of 75 points last February was the highest total allowed by the Kansas defense, which only allowed opponents to reach 70 points or more four times in 31 games last season.
Gonzaga reached 84 with 6:45 still to play on Thursday, following up a 54-point first half with 48 points in the second to send the Jayhawks to their second consecutive season opening loss.
Thursday's game marked the first time a team topped 100 points in a 40-minute game against the Jayhawks since Oklahoma did it in 1990.
"We certainly have a long ways to go to become good defensively," KU coach Bill Self said after the loss. "I think we can get there. But we've got as long a ways to go as I think I've had pretty much (with) any team to start the season."
Gonzaga scored 62 points in the paint on Thursday, as sophomore forward Drew Timme exploded for 25 points on 11-of-15 shooting. Right hand. Left hand. Through contact. Timme was unfazed most of the day by whatever obstacles he encountered.
Self pointed out, however, that at least a third of Gonzaga's points at the rim came in transition, where KU aided Gonzaga's high-octane attack with early turnovers that led directly to an early double-digit lead.
"I think their speed and how fast they play definitely surprised us early," Self said.
Added senior guard Marcus Garrett, who scored 22 points in 37 minutes but also tied with David McCormack for the team lead with four turnovers: "It started with (me). That early turnover got them started. We can't start games off that tight."
Garrett's turnover, which came against Gonzaga's full-court pressure, led to an easy dunk for GU freshman Jalen Suggs.
Suggs, who scored 24 points while dishing eight assists, was whistled for a technical foul after barking at Garrett following the dunk and a pair of Ochai Agbaji free throws tied the game at 4. KU did not pull even with Gonzaga again until 15:58 mark of the second half and the Jayhawks never led again after taking a 2-0 lead.
A late run in the first half trimmed the Zags' lead from 14 down to seven and Gonzaga led by eight at halftime. KU played with better pace and poise to open the second half, outscoring the Zags 11-3 in the opening minutes to tie the game.
Junior forward David McCormack (8 points, 6 rebounds in 20 minutes) scored two baskets during the run. Freshman Bryce Thompson (12 points in 28 minutes) drained a 3-pointer and Garrett and Jalen Wilson (11 points in 22 minutes) added to the scoring, as well.
"To start the first five minutes of the second half, we were the better team," Self said. "We did a lot of good things, from the 10-minute mark of the first half to about the 12-minute mark of the second half. And then we just kind of ran out of gas."
Related document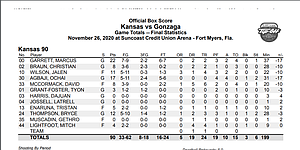 Gonzaga 102, KU 90 ( .PDF )
Gonzaga coach Mark Few said Gonzaga's ability to stave off that KU surge, which he estimated he had seen "a thousand times," came down to the Bulldogs' confidence and poise.
"There were times we played great and there were times where Kansas made us look pretty foolish," Few said. "But we just hung in there."
Despite the Jayhawks' ability to find their spots in a game that many said had a postseason feel to it, they never could fully slow down Gonzaga's offense.
GU shot 65% for the game — including a KU worst under Self 77.3% on 2-point shots — and played with the kind of pace and attacking mentality that Self said he had not seen from too many teams in the past.
"I can't remember the last time we scored 90 and didn't win a game," Self said. "From an encouraging standpoint, I think we can score enough points to win games. From a discouraging standpoint, we're not going to beat anybody unless we guard better. But if you're going to find out how good you are defensively, you might as well play the best offensive team in the country and that's what we did today."
Self said Few's team reminded him a lot of the two Kentucky teams that beat Kansas during the 2011-12 and 2014-15 seasons.
"Next to Kentucky's two teams, I don't know that we've played against a team where the pieces fit better and the talent matched the pieces," Self said. "They're good. They're really good."
Clearly happy with the victory, — No. 600 in his coaching career — Few said he was just as happy that his team was playing again and that the two winningest programs of the past decade could stage such a fun season-opening showcase.
"When Bill and I put this together, we knew it was going to be a real big thing for college basketball," Few said. "To kind of say, 'Hey, this is why we love college basketball.' I hope everyone enjoyed it. There's going to be a lot more games like this one this season."
Both teams return to Suncoast Credit Union Arena on Friday for their final games at the Fort Myers Tip-Off.
Gonzaga will play Auburn at 10 a.m. on FOX and KU will play Saint Joseph's at 1 p.m. on FS1.