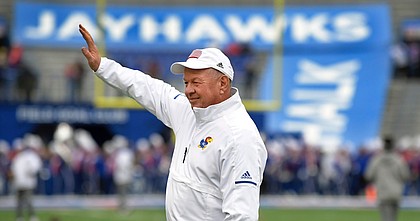 Someone is finally going to have to figure out how to replace Kansas football equipment manager Jeff Himes.
A fixture around the Jayhawks' facilities since he was hired way back in 1988, Himes retired at the end of April, closing the book on his 32 years with the team.
Head coaches have come and gone, time after time, since Glen Mason brought Himes to Lawrence. But in a program associated with near constant turnover — during the past decade in particular — the man most coaches and players know affectionately as "Himer" has proven uniquely constant.
"To survive that many coaching changes," Mason told the Journal-World, "you know you're damn good."
*
Modest in his own chronicles of a job that has defined his life, even before he got to KU, Himes, 59, would have you believe that being in charge of the team's football equipment revolves around the mundane: outfitting players, coaches and staff members for practices and games, maintaining the inventory, making sure coaches have every supply they need for their drills and getting all the uniforms and gear organized and packed for KU's road games.
His former bosses aren't as guarded with their accounts.
One of Mason's favorite stories about Himes took place when they worked together at Kent State, Mason as the head coach and Himes as the equipment manager Mason inherited but quickly learned was down for any and every part of the job.
In the late 1980s, the facilities at Kent State, as Mason described them during a phone interview recently, were "kind of suspect." Mason had just completed his first season with the Golden Flashes and his athletic director informed him the football team wouldn't be able to have winter conditioning because the gym typically used for those workouts was closed for renovations.
Mason told Himes to go buy 100 pairs of gloves and knit hats. That task was much easier than what Mason would ask of him later.
The winter conditioning moved outside, and Mason set it up on the perimeter of Kent State's football stadium, with stations at four corners of an asphalt road that encircled the venue. If they were indoors, Mason would have just blown a whistle to let players know when it was time to move to the next station. Outside in the cold and wind, that wasn't doing the trick. Neither was the air horn Mason told Himes to blow on his signal.
"So I got a shotgun and I put Himer on top of the press box with the shotgun and when the timer was up I'd give him the signal to fire," Mason shared with a chuckle, calling it "a little unorthodox."
With that type of escapade on his resume, wrangling a visitor years later would seem like a cinch in comparison.
Mark Mangino worked with Himes from 2002-09. The former KU coach called Himes a good worker and said he asked the equipment manager to do a lot through the years, including tracking the movements of former KU head coach Don Fambrough whenever he visited the Jayhawks' practices.
"When he got a little older you had to keep an eye on him," Mangino said during a phone interview with the Journal-World, "because he would start talking to somebody and just wander out on to the field."
Himes rarely had any issues. On one occasion, however, Fambrough didn't know KU was about to run a fake field goal and walked into the end zone. Mangino remembered the play called for KU running back Brandon McAnderson to release to the outside so he could catch a pass.
"He runs Coach Fambrough right over," Mangino recalled. "Knocks his tooth out in the front."
At that point, Fambrough's mouth was bleeding and Himes had the retired coach propped up, holding him under the armpits.
"Himer, I thought you were watching him," Mangino remembered saying in jest.
"You can't turn your back on this guy," Himes replied. "He wanders around talking to people in the middle of the field."
*
It was Mason's high opinion of Himes that inspired the head coach to bring his reliable equipment manager from Kent State with him to KU more than three decades ago.
Mason had only been around Himes for a couple of years, but had witnessed enough instances of his staffer's dedication that he was convinced Himes needed to abandon his northeastern Ohio roots and relocate to Lawrence.
"When I got the job at KU I didn't take everybody, but I took the guys who I really thought would be assets," Mason said.
Head football coaches, Mason pointed out, aren't always the easiest people to work for, and every one of them is different. Mason referenced instances when he would get mad about something and Himes would just grin and nod.
"You knew it would be taken care of," Mason said.
And with Himes, Mason explained, that went far beyond making sure all the players had the gear they needed waiting for them in the locker room before practices and games. If a player suffered an injury, coaches would expect Himes to have whatever special piece of equipment was needed even though it wasn't anticipated.
"As a coach it's impossible to prepare for everything," Mason said, "but you expect the equipment guy to prepare for everything, no matter what it is."
Himes met those impossible expectations, but Mason said it was the relationships Himes had with the players and staff that proved "phenomenal" and made bringing him to KU a must.
*
The day KU announced in late March that Himes would be retiring, the longtime equipment manager was blown away by the waterfall of responses.
"I had 85 text messages, 15 voicemails and probably 200 likes on Twitter about that," Himes said.
He heard from Mason, Mangino, David Beaty, Arkansas head coach Sam Pittman (a KU offensive line coach in 2001) and countless others.
"It was pretty cool," Himes said.
His career as an equipment manager has been filled with lifelong friendships and ultimately it was those types of connections that kept him at KU for so long — Mason again tried to bring Himes with him when he left to become the head coach at Minnesota in 1997, but by then Himes felt too strongly about his ties to KU to leave.
"You're always around kids," Himes said about what he enjoyed most, "and when you're around them you're as young as you feel. They've always got something different, every class of kids, it's something new."
It was a point of pride for Himes, too, that he worked at KU so long that he even got to be around the kids of some of the players he once called kids — Keith Loneker and Keith Loneker Jr., Kwamie Lassiter and Kwamie Lassiter II, Tony and Deshaun Sands, Doug and Keeston Terry, Todd and Nick Caudle, and others.
"Most of them were from Florida and different places," Himes said. "That's how much they liked this place."
*
Himes proved to be one of the most likable people around the KU football program through his tenure.
"What a tremendous guy," Mangino said. "He worked so hard. He was loyal. The kids loved him. He put his heart and soul in that job every day."
It was Himes' commitment that impressed Mangino most. When he took over the program in 2002, Mangino was only around the equipment manager for a few weeks before figuring out how advantageous it would be to have Himes on the staff.
"Before we ever played a game, I gave him a pay raise," Mangino recalled. "That's how much I thought of him."
Himes was always one step ahead and was such a professional that Mangino said he never had to call and ask Himes to get something done. That earned more than the coach's respect.
"We're friends to this day," Mangino said, adding he went fishing with Himes in Ohio a couple of years ago and the longtime KU staffer has visited Mangino, now retired, at his home in Pennsylvania.
"My grandfather used to say whatever your lot is in life, do it the best you can. Sometimes in this profession you run into guys who think they're better than what their job is. Not Himer," Mangino said. "He was the best equipment man he could be and he took pride in it and we respected him for that. He was dependable. You knew he was going to get things done and I took a liking to him. It took a lot of people to get the football program turned around at KU."
*
People may think of Mangino as a hard-nosed, no-nonsense type of coach, but former KU running back McAnderson said that persona trickled down throughout the entire staff back then.
So much so that McAnderson, who played at KU from 2004-07, recalled players asking Himes for socks to wear before practice and getting the response, "I just gave you some yesterday."
Even those types of interactions, McAnderson explained, helped cultivate the team's culture.
"We were in a mode of perpetual disrespect, and everybody felt it all the time. It was just our way of life," McAnderson said, describing that the coaches and support staff introduced that to the players, and then the players carried it out with each other. "It worked. When you have success, nobody cares about how you got there."
And it wasn't as if players shied away from interacting with Himes because of rebuffed sock requests. By the time McAnderson was a veteran in the program he was able to peek behind the curtain a little with the equipment manager. McAnderson said he appreciated the chances he got to look at all the old KU helmets and various gear Himes had accumulated through the years.
Plus, Himes had stories about past Jayhawks who wore those old helmets and uniforms.
"It was kind of like having your own resident historian," McAnderson said. "That's important. There's all this turnover and there isn't this historical base that you would like to have."
*
Himes worked for Mason for nine seasons, Terry Allen for five, Mangino for eight, Turner Gill for two, Charlie Weis for two and some change, Beaty for four and Les Miles for one year.
The Jayhawks haven't reached the postseason since 2008, but Himes has been around KU so long he helped the program prepare for six bowl games. For someone so invested in the team, those proved to be his favorite on-the-field moments.
"That first bowl game was the Aloha Bowl, that was fun," Himes said of a Christmas Day matchup in 1992 in Honolulu. "We beat BYU — that was cool. And the (2008) Orange Bowl, I mean, everybody remembers that."
But now he's ready for retirement and making his own memories.
"I'm not getting any younger, and there's stuff I wanted to do," Himes said of the timing. "Getting used to it will be the thing."
According to Mangino, equipment managers are underappreciated at a lot of football programs, but Himes put in so much time and effort for KU that his value was impossible to overlook. When the Jayhawks traveled, Mangino said, Himes had the visitors locker room set up and organized just like the KU locker room back in Lawrence.
"He got those trucks loaded, he cleaned up the locker room, I mean, he did everything," Mangino said of road trips. "And half of those things I didn't tell him. He did that on his own. He wasn't a guy you had to stand over. He did his job."
Mason said the magnitude of Himes' job and all the moving parts involved made the work he did impressive.
"I coached major college football for 35 years," Mason said, "and Jeff Himes was the best equipment manager that I was ever around."