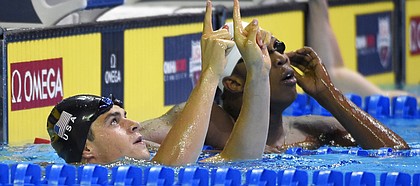 Many athletes who were looking forward to the 2020 Olympics in Tokyo had mixed feelings when the games were postponed a year, but for swimmer and former Lawrence resident Michael Andrew, the biggest emotion was relief.
Andrew, who called Lawrence home from ages 11 to 19, had been training in Encinitas, Calif., in hopes of qualifying for the games. But then the coronavirus pandemic shut down local pools and even California's beaches, making it difficult to train. But now that he knows what's going on, he told the Journal-World on Tuesday, he can dial in again with a more precise plan for what he needs to do to qualify for Tokyo in 2021.
"It's been intense and there've been a lot of conversations," Andrew told the Journal-World in a telephone interview Tuesday afternoon. "We were still training as hard as we could without the pool for the last week, and (we) were not really sure what was going to happen. But now that there's been a decision made, it's actually cleared a lot of pressure and stress off of me.
"I'm very excited that the Olympics will be in 2021," he said, "because we can readjust our training plan and focus a little more on dry land and getting as strong as we can there so that when we get back in the pool, we can just continue pressing along."
Andrew isn't the only athlete with Lawrence ties who's affected by the postponement.
Some former KU track standouts — Andrea Geubelle (triple jump), Mason Finley (discus), Kyle Clemons (4x400 meter relay) and Daina Levy (hammer throw for Jamaica) — participated in the last summer games, in 2016 in Rio De Janeiro, Brazil. And current Kansas track coach Stanley Redwine was slated to coach the distance runners with USA Track and Field in Tokyo. In addition, longtime Kansas Relays meet director Tim Weaver had been selected to serve as the head manager for USATF in Tokyo.
Redwine, who is in his 20th season at KU, has coached eight Olympians throughout his career and also was an assistant coach for Team USA at the 2015 Pan-American Games. He wasn't available for comment Tuesday, but he previously said the opportunity to coach in the Olympics was "something I have always wanted to do."
Kansas Athletic Director Jeff Long on Monday also said that several current Jayhawks were hoping to compete at Olympic qualifying events later this year.
"I can tell you that we're making resources available to them as far as mental health and strategies to cope," Long said. "Certainly we've asked all of our coaches and athletic trainers, all of those who have relationships with those student-athletes, to be on top of that, touch base, let them know that they're not alone and that we're trying to advise and counsel them throughout this process."
Because countries around the world are at different stages of their fight against the coronavirus, Andrew said continuing with the Tokyo Olympics this summer likely would have led to an uneven playing field.
"It would've created an Olympic Games where athletes were not fully prepared," he said. "And you would've seen that in the results."
Originally from Edina, Minn., Andrew made national news by turning pro at age 14 in 2013 and was dubbed by NBC Sports as "the breakthrough swimmer of 2018" when he won the 100-meter breaststroke at U.S. nationals. He and his family moved to Encinitas in December 2018 to better prepare for his push to the 2020 Olympics.
After weeks of closely monitoring the potential for postponement, Andrew said he appreciated the fact that the International Olympic Committee put health and safety as its top priority.
"It's nice to see they're putting our best interests first," he said. "I can't imagine it's cheap to move the Olympics back a year, but it's cool to see that they're willing to take that hit for us."
He said he knows some athletes who aren't taking the news nearly as well, though.
"There are some athletes I've spoken to who this really shakes them up," he said. "And I get that. You train so many years for this one moment and you have it all set up perfectly and you want it to go smoothly, and then you have pretty much the biggest possible bump in the road. But it could be worse. The Olympics could've been canceled. And that would've been devastating."
Although the schedule, both for the 2021 Tokyo Games and the qualifying that precedes it, has yet to be determined, Andrew said he anticipated the USA Swimming to maintain its schedule of hosting Olympic qualifying events about a month ahead of the opening ceremonies in Japan. As it was in 2016, Andrew's main focus is on qualifying in the 50 freestyle, 100 breaststroke and 200 individual medley. The top two individuals in each event will earn spots on the team.
Andrew reached the finals in two of those three events in 2016, but he fell short of making the Olympic team by the slimmest of margins. After setting the Junior World Record in the 100 breaststroke in both the heats and the finals, Andrew's finals time of 59.82 seconds left him in fourth place — 0.64 seconds away from a ticket to Brazil.
"Now more than ever, I feel that I can fully prepare for that mentally and physically and go into 2021 with that much extra confidence and preparation," Andrew said.