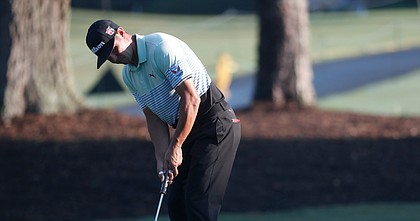 Former KU golfer Gary Woodland shot 3-under and moved up 19 spots in the standings at the RBC Heritage by the time his second round was finished on Friday morning.
Woodland opened his round with a bogey but responded by carding five birdies and just one more bogey the rest of the day.
His 3-under par 68 included two birdies and no bogeys in the final nine holes.
Woodland begin his round on the back nine and appears to be in good shape heading into the weekend.
Last week, during the PGA Tour's first event back since the COVID-19 pandemic forced the sport to shut down, Woodland finished 9th at the Charles Schwab Challenge, his second consecutive Top 10 finish dating back to March.
Woodland's 68 on Friday and 69 on Thursday gave him five totals in the 60s in his last six rounds.
At the time Woodland finished on Friday, several golfers remained on the course or had not started their second rounds. Woodland teed off at 6:29 a.m.
Woodland's tee time for Saturday will be determined at the conclusion of Round 2.
Webb Simpson, who shot 6-under for the second consecutive day, was the tournament's leader at 12-under as of Noon.