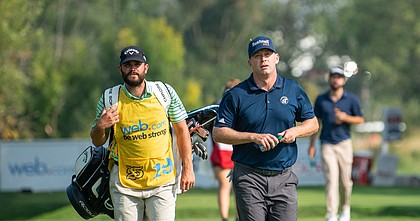 Former Kansas golfer Chris Thompson will be returning to action this week, gunning for another shot at golf's top level on the Korn Ferry Tour in Springfield, Mo.
Thompson, who earned his first PGA Tour card at age 42 in August 2018, appeared in 19 events during the 2018-19 PGA Tour season and made four cuts, with a top finish of 31st at the RBC Canadian Open.
Those results were not enough for Thompson to keep his card, however, and the Independence native is back at the qualifying stages of his career.
Thompson qualified for this week's Price Cutter Charity Championship, set for Thursday through Sunday at Highland Springs Country Club in Springfield, Mo., by shooting a 6-under 65 at Millwood Golf and Racquet Club. He then survived a four-man playoff for three spots in this week's Korn Ferry field.
As if the challenges of grinding through golf's mini tours for most of his 21-year professional career have not been taxing enough, Thompson has had to adjust to the COVID-19 pandemic, as well. Although he has played plenty of golf in and around Lawrence during the past seven months, his last competitive round before Monday came last December at a pro-am event in Cabo San Lucas, Mexico.
Despite the unexpected pause in the season, Thompson, now 44, said the time off was good for him.
"It was kind of a reset button for my career," Thompson said Tuesday in a phone interview from Springfield. "I think it was a great break for me physically and even more so mentally."
Thompson had signed up for a few Monday qualifiers earlier this season. But a couple of them were in Texas and, at the time, he did not feel like the travel was worth the risk.
However, Thompson said competing at events within driving distance of his Lawrence home is a different story. And he is thrilled to be back in action.
"I do think you put it in perspective a little bit," Thompson said of playing during a pandemic. "But, with golf, it's easier to put those thoughts away because you don't have any contact with other human beings. Once you get out on the course, it's not hard to focus on what you need to do."
This week, that means finishing in the top 25 of the 156-man field to earn an automatic spot at next week's Korn Ferry event in Omaha, Neb.
"That's the minimum I need to accomplish," Thompson said, adding that a top-five finish could earn him automatic entry into future Korn Ferry events, as well.
As for the experience of playing golf and preparing for events with new safety protocols, Thompson said he was impressed by the way the Korn Ferry Tour handled things this week.
"I can't think of anything more they could do to make you feel safer," he said. "They do a fantastic job."
That fact has kept Thompson's mind free and his focus on the one-shot-at-a-time grind that is professional golf.
"I always feel like I have a chance when I'm out there," he said. "And I'm excited to get back at it. I don't worry a ton about my finish. I just go out there and try to play as well as I can and add them up at the end and see where we're at."