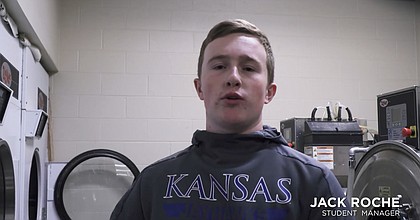 University of Kansas football manager Jack Roche died late Saturday night in his hometown of Chicago after being hit by a car, multiple people close to the KU program confirmed to the Journal-World.
Roche, who turned 21 in early May, was scheduled to graduate from KU in the spring of 2021. Those he came in contact with on a regular basis said "Coach Roche," as he was known within the program, often went above and beyond the required duties of a team manager.
"There are definitely times when players don't know all of the managers, but everyone knew Coach Roche," former KU quarterback Carter Stanley told the Journal-World. "And it was because of his positive attitude and his willingness to serve for the good of the program. He was a special kid."
Roche had already planned to attend KU after his 2017 graduation from Marist High in Chicago when he met former KU assistant coach Clint Bowen, who was visiting with the high school's coach during a recruiting trip.
"I gave him my card and told him if he needed anything when he got to Lawrence that he should give me a call," Bowen recalled during a phone interview with the Journal-World.
Sure enough, Roche called. And within a couple of weeks, Bowen helped Roche land a job in the KU equipment room, working with former KU equipment manager Jeff Himes.
It was there that Roche built bonds with dozens of KU players, coaches and support staff, many of whom acknowledged Roche's passing on social media on Sunday.
"The KU football family is heartbroken to hear of the passing of Jack Roche," KU coach Les Miles tweeted Sunday night. "Jack was a tremendous, hard working young man who embodied what our program is all about. We will remember Jack and he will forever be a part of our family. Our thoughts and prayers are with the Roches."
Bowen said Roche made such a strong impression with his work ethic and attention to detail that he eventually worked "the window" in the KU equipment room, where players came to request equipment or extra gear on a regular basis.
"That made him a popular guy, but everybody really loved him," Bowen said. "I'll never forget his first day on the job, he overslept and was actually late for our 6 a.m. practice. He apologized about 100 times and said it would never happen again. It never did."
While Roche built relationships with nearly everyone in the program, it was the KU players, who, like Roche, were in their late teens and early 20s, who seemed to connect with him the most.
"He always had a smile on his face and was genuinely one of the best people in the entire program," Stanley said. "We'd talk every day, but I'd go in earlier than usual on Mondays, and we'd share the results of our fantasy football teams from the day before, which usually gave me a chance to give him a hard time for being a Bears fan."
Added former KU linebacker Joe Dineen Jr.: "He was great in the equipment room and it was always obvious that he genuinely cared about our team. He just always did whatever the team needed him to do."
Edward Jones II, KU's director of player development, tweeted, "Gonna miss going down to the EQ wing talking to Jack and hearing Jack say, 'Whatcha need coach.'"
Former KU defensive lineman Daniel Wise shared on Twitter: "It hurts to lose someone from the Jayhawk family. Great kid! Rest in Peace #livelikeroche."
And KU equipment assistant Trevor Pueblo, who previously served as the program's head student manager, also honored Roche on Sunday, writing on Twitter, "The KU Football Equipment Room won't be the same without you."