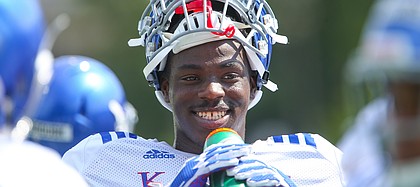 After playing four games during his true freshman season, Kansas linebacker Steven Parker is being regarded by 247 Sports analyst Chris Hummer as one of college football's redshirt freshmen who should not be forgotten.
Parker recently made Hummer's list of 12 under-the-radar players who could poised for breakout seasons in 2020.
And it's not just any list.
The 6-foot-4, 225-pound outside linebacker who played just enough to get his feet wet at the college level last season without burning his redshirt, is listed with players from Oklahoma, Alabama, Auburn, Texas and more.
Hummer believes the fact that Parker was able to redshirt in 2019 is both a good sign for the player and the Kansas program.
"In past seasons, the four-star recruit and the Jayhawks' top overall player in the 2019 class would've seen the field instantly," Hummer wrote. "Instead, he played in four games and occasionally flashed, including earning a pressure against Oklahoma."
A top prospect out of Dallas' South Oak Cliff High, Parker earned several player of the year honors during his junior and senior seasons in high school and was ranked in the Top 20 nationally at his position.
He made his college debut in KU's win at Boston College and played in two of KU's next three games before sitting out until the season finale against Baylor.
During camp last August, KU coach Les Miles praised Parker for delivering "really, really excellent work" during practices. And defensive coordinator D.J. Eliot often talked about Parker with the same enthusiasm he had for the player who started ahead of him at KU's "Jack position, then-senior Azur Kamara.
In fact, it was Kamara's strong season — he led the Jayhawks in sacks with 3.5 and also ranked sixth in total tackles — that played a part in keeping Parker's playing time down.
There was a time in college athletics when redshirting was a regular part of any athlete's progression.
Even some of the most talented prospects sat out their first seasons in order to allow their minds and bodies to become fully acclimated to their new way of life both on and off the field.
The relatively new rule, which allows players to preserve their redshirt option while still playing in four games, was created for players like Parker and can go a long way toward paving the way for early breakthroughs.
Although the 2020 offseason has been anything but normal, that head start and small dose of experience should have Parker much more comfortable heading into Year 2.
Opportunity also should be in his favor, with Kamara now in the NFL.
"Parker, who plays with a great motor and had huge production in high school is exactly the type of player who can go on to star at Kansas," Hummer wrote. "Expect him to play a big role for the Jayhawks next season as the defense's moveable edge piece, perhaps emerging as the team's top pass rusher."
Parker is just one of a talented group of KU linebackers who Miles believes could be a strenght of the Kansas defense in 2020.
"We might be pretty good at linebacker," Miles told the Journal-World this spring.
Other notable names in the linebacker room with Parker include: seniors Dru Prox and Denzel Feaster, junior Jay Dineen and sophomore Gavin Potter.