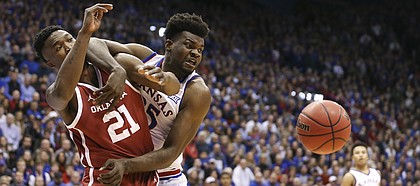 No. 6 Kansas Jayhawks (12-3 overall, 2-1 Big 12) at Oklahoma (11-4 overall, 2-1)
Time: 8 p.m. | Location: Lloyd Noble Center, Norman, Oklahoma
TV: ESPN | Radio: IMG Jayhawk Radio Network
Log on to KUsports.com for our live game blog coverage and follow the KUsports.com staff on Twitter: @KUSports @mctait @bentonasmith @SJacksonLJW & @ByBradenShaw
Keys for Kansas
1. Create turnovers
These Jayhawks need look no further than Saturday's home loss to Baylor to see exactly what creating turnovers can do for a team that needs an offensive lift.
Coming off a game in which they scored just 57 points at Texas Tech (and 59 the game before that), the Bears put up 67 at Allen Fieldhouse on the strength of 21 points off Kansas turnovers.
Most of them were forced, as the Bears swiped nine steals and also pressured the Jayhawks on every dribble, taking KU's offense out of its rhythm and forcing bad decisions.
If the Jayhawks can find a way to do something similar against the Sooners, it will go a long way toward negating whatever home-court advantage OU has. Oklahoma has won two in a row at home over Kansas, so some kind of advantage does exist.
Statistically speaking, forcing OU to cough up the basketball won't exactly be easy.
Lon Kruger's team ranks sixth nationally, per KenPom.com, in taking care of the basketball, averaging turnovers on just 15% of their possessions. The national average for offensive turnover rate is 19.5% and the Jayhawks' defense is forcing giveaways 20.1% of the time, which puts them 130th in the country in that department.
The KU defense has forced opponents above the 19.5% national average in nine of its 15 games this season. The Jayhawks did it most recently in a home win over West Virginia.
KU's offensive turnover rate is 20.2%, which ranks it 230th out of 353 Division I programs.
OU's defense, meanwhile, forces turnovers just 17.1% of the time, good for 300th nationally.
2. Which offense will show up?
Slowly but surely KU's average points-per-game number has been on the decline during recent weeks.
Once well above 80 points per game, KU's offense is now down to 77.8 points per game. That number includes an average of 64.2 points per game in the Jayhawks' last five outings, and Kansas has not hit the 80-point mark in a game in a month.
Part of the reason for the decline is the defenses KU has faced. Baylor (5th), West Virginia (2nd) and Stanford (12th) all rank among the nation's leaders in defensive efficiency per KenPom.com.
But the other reason has been inconsistency by the Kansas offense. Although leading scorers Devon Dotson (18 points per game) and Udoka Azubuike (12.6) have been pretty reliable for most of the season, KU has struggled to find a consistent third option. Marcus Garrett has been the closest thing KU has to a third consistent scorer in the past few weeks, but he has missed parts of two games and also encountered foul trouble.
Sophomore guard Ochai Agbaji, who is currently KU's third leading scorer at 11.2 points per game, has been up and down offensively throughout the season, scoring double figures nine times (but never more than two games in a row) and 7 points or fewer the other six times.
At this point, it's starting to look like this team, which is led by its defense, will be dependent on making shots to win games.
When the Jayhawks do, and their effective field goal percentage is above 50%, they're usually in good shape. In the four games so far when they've had an effective field goal percentage of 50% or less, the Jayhawks are 1-3.
3. Road warriors?
Kansas coach Bill Self said Monday that it was still too early to know how this team, which has played just three true road games to date, handles itself in tough road environments.
But that has not kept him from emphasizing the key components of what makes a team successful away from its home arena.
"There's a common denominator, I think, that goes into being a good road team," Self said. "You know, (if) you get a shot most every possession, if you don't turn it over, if you rebound well and all these things."
Self said those philosophies were taught to him by former Oklahoma State coach Eddie Sutton, who also used to like to shorten the game on the road by playing a slow, deliberate brand of basketball.
Self is not interested in slowing any game down to a crawl, but he realizes the value in being a little more conservative in certain settings.
"That's never been our style, to try to shorten anything," Self said. "But the reality is we usually don't play quite as fast, and maybe shot selection is more of a premium on the road, but I think we're capable of being a good road team."
Marquee Matchup
KU sophomore David McCormack vs. Game Flow
The sophomore forward from Norfolk, Va., has put up a few impressive stat lines in a handful of Kansas victories so far this season.
He scored 17 points and grabbed 11 rebounds in a win over Monmouth. He dropped a career-high 28 points in just 16 minutes while adding seven rebounds in a win over Kansas City. And he scored 16 points and ripped down seven rebounds in KU's most recent road game, a 26-point win at Iowa State.
He also has scored just 2 total points — he was scoreless against Baylor and Stanford — and grabbed six rebounds combined in three of KU's last four games.
More than any player on this roster, opportunity and game flow have been a big part of McCormack's season. And it's usually up to him to determine how much of the former allows him to stay plugged into the latter.
As the starting 4 man on this team, McCormack is currently averaging 8.2 points and 3.6 rebounds in 12.3 minutes per game.
To this point, Kansas has chosen to play four guards more often than two bigs, which has limited McCormack's ability to impact games. But it so often seems that when he starts well, things fall into place more quickly for the rest of this roster. And when he doesn't, as has been the case more often than not of late, Self and the Jayhawks have been forced to find other ways and other lineups to provide some scoring punch and reliable defense.
Keep an eye on McCormack's minutes in this one. And don't be surprised if he's due for one of those quality games. After all, he has good memories of playing in Norman.
A season ago, in what proved to be the best offensive game of his freshman season, McCormack hit the Sooners for 18 points on 8-of-11 shooting in a 13-point Kansas loss.
"Definitely," said McCormack when asked if he thought that outing was a breakout moment for him personally. "I think every game was a step forward last year. It was just about me becoming a better role player and finding out what I needed to do to help the team."
Jayhawk Pulse
Led by their big three of Kristian Doolittle, Brady Manek and Austin Reaves — 47.6 points and 20.3 rebounds per game on average — the Sooners present a tough matchup for the Jayhawks, with long, athletic, versatile bodies all over the floor.
That, of course, is nothing new for this Kansas team that is still searching for just the right way to play its 2-big-man lineups.
Manek, the junior forward from Harrah, Okla., who enters this one shooting 41% from 3-point range, is arguably the biggest matchup dilemma for the Jayhawks, and McCormack knows that in order to get the playing time he wants and for the team to have success, guarding OU's perimeter-oriented lineups will come down to one thing.
"I have to be a mobile 4 man, too," McCormack said. "Being able to guard guards, switching late clock, things like that, and making sure we're playing up on them, is what's going to put us over the edge."
In four career games against Kansas thus far, Manek is shooting 50% from the floor, 42% from 3-point range and averaging 13.3 points and 6.3 rebounds per game.
The Jayhawks, who have dropped two in a row at OU, lead the all-time series with the Sooners 148-68, including a 52-44 mark in games played in Norman.
The series is tied 19-19 in games played at Lloyd Noble Center, and Self is 8-5 against OU since coming to Kansas.
KenPom has the Jayhawks listed as 7 points better than the Sooners, with a 73% chance of winning this one. Oddsmakers in Las Vegas list KU as a 6.5-point favorite.
Probable Starters
No. 6 Kansas
G – Devon Dotson, 6-2, 185, Soph.
G – Ochai Agbaji, 6-5, 210, Soph.
G – Marcus Garrett, 6-5, 195, Jr.
F – David McCormack, 6-10, 265, Soph.
C – Udoka Azubuike, 7-0, 265, Sr.
Oklahoma
G – Jamal Bieniemy, 6-5, 187, Soph.
G – Alondes Williams, 6-5, 205, Jr.
G – Austin Reaves, 6-5, 202, RS-Jr.
F – Kristian Doolittle, 6-7, 232, Sr.
F – Brady Manek, 6-9, 231, Jr.