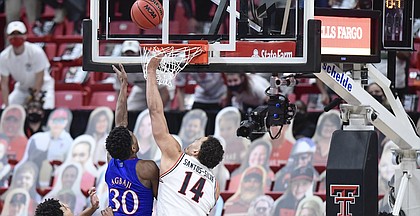 On a night when Ochai Agbaji got red hot from behind the 3-point line, it was actually one of his closest shots that helped No. 5 Kansas knock off No. 14 Texas Tech, 58-57, in Lubbock, Texas, where the Jayhawks won their 30th consecutive conference opener.
Trailing by one with less than 20 seconds to play, the Jayhawks got two cracks at a game winner.
The first was a missed jumper by David McCormack with 14 seconds left. But Christian Braun's hard crash of the glass kept possession with the Jayhawks.
From there, it was up to Agbaji, who got open twice on a game-winner that came from point-blank range with 13 seconds remaining.
"We miss him on the easy pass and then Marcus (Garrett) finds him perfectly on a hard pass and Ochai's able to squeeze it in," Kansas coach Bill Self recalled of the sequence that moved Kansas to 7-1 overall and 1-0 in Big 12 play. "Unbelievable play. It was fitting that Ochai made the play to win the game because that was probably as efficient a game (as) anybody has played for us in a long time."
Garrett said he almost went to the third option on the play that Self drew up during a timeout. But it was covered. So the senior point guard came back to Agbaji, who was initially wide open on the lob play that was drawn up.
Garrett said the Tech defender guarding the ball did a good job of cutting off the pass for the lob. But that left the area under the basket unprotected. That's where Agbaji migrated after curling around the screen, and Garrett feathered a soft pass that almost instantly became a layup.
"We got lucky with that," Agbaji said with a laugh after the game. "It was just kind of a scramble, and Marcus did a good job finding me under the basket."
Agbaji led all scorers with 23 points on 8-of-11 shooting, including a 4-of-7 clip from 3-point range. He also added five rebounds and an assist against just one turnover in 34 minutes.
More than anything, though, his ability to operate as the confident, reliable and consistent presence in the Kansas offense helped the Jayhawks grind out a win on a night when his teammates shot just 11-of-36 (31%) overall and 2-of-11 from 3-point range.
No moment was bigger than Agbaji's game-winner, which he said was the first of his basketball career.
But Agbaji said Braun's play to keep the ball alive, like Jalen Wilson's defensive gem on Texas Tech's jumper at the final horn, was as much a part of KU's tough win as his late layup.
"Things aren't going to go their way all the time," Agbaji said of Braun and Wilson, who combined for nine points on 2-of-9 shooting in 59 minutes. "They know that. They're just making winning plays, and I think that's what it came down to at the end of the game."
Added Self: "That's what winners do."
As expected, this one turned into a defensive battle from the start. Neither team shot particularly well, and both teams competed like it was the last game of the season.
Kansas controlled most of the first half and took a 29-26 lead into the break. The Jayhawks pushed that lead to eight points to open the second half on five straight points from McCormack, who finished an up-and-down night with 7 points on 3-of-10 shooting in 21 minutes.
But it did not take Texas Tech (6-2 overall, 0-1 Big 12) long to completely erase that deficit.
Sparked by some serious energy on the offensive glass, where the Red Raiders out-rebounded KU 13-6, the home team ripped off a 10-0 run in 2:55 to build a 36-34 lead.
That run, which went to 12-0 and eventually grew to 20-5, put the Red Raiders in control. Momentarily.
After a miserable start to the second half, the Kansas offense got going when Garrett and Braun attacked the rim on back-to-back trips down the floor.
That led to four consecutive free throws for KU — on a night KU went 14-of-15 at the line — and set the stage for a 3-pointer by Agbaji on KU's next possession that tied the game at 46 with 8:14 to play.
"When he shot the ball tonight, it looked like a pro jumping up and shooting it," Self said of Agbaji. "It looked like it was going in."
Related document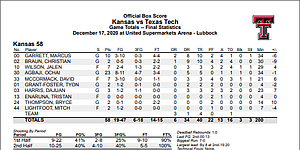 Kansas 58, Texas Tech 57 ( .PDF )
Even Agbaji's worst moment of the night, which Self dubbed "a terrible play," set the stage for one of his best, as he responded to a sloppy turnover in transition with a LeBron James-esque chase-down block to keep the Red Raiders from getting two easy points.
The Jayhawks needed every stop they got and every point they could muster to survive. And they even got a couple of assists from their head coach, who elected to go to a 2-3 zone defense for most of the stretch run and also drew up two plays out of late timeouts that led to baskets.
"I do enjoy those moments," Self said of the ability to put his handprint on the game in tight moments. "But that was not coaching. That was players."
Said Texas Tech coach Chris Beard after the game: "Here's a little project for ya. You could write a book (on) how many great games Kansas gets in that are one- and two-possession games and what their winning percentage is (in those games) with Bill Self. It's amazing."
Whether the Jayhawks' individual numbers looked good or bad, the Jayhawks as a whole left United Supermarkets Arena on Thursday night with a good feeling for the second year in a row.
None of them would call the win their most aesthetically pleasing performance. But this group always has preferred gritty over pretty.
"There was nothing easy going on out there tonight," Self said with pride.
KU now has won 10 in a row on the road in Big 12 play overall and all four games decided by four points or fewer this season.
Both of those numbers look nice. But neither had the kind of affect on Self as the 30 consecutive victories in conference openers, 18 of which have come on the road.
"That's a remarkable number," Self said. "We've got a lot of numbers like that, (but) I don't know if anybody in America can say they have a stat like that."
Kansas will play its final game of 2020 on Tuesday, when No. 8 West Virginia (6-1) comes to Allen Fieldhouse for an 8 p.m. tipoff on ESPN2. Like Kansas, the Mountaineers' lone setback this season was a five-point loss to No. 1 Gonzaga at The Jimmy V Classic on Dec. 2.