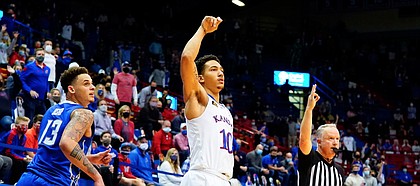 In the final minute of a tied game against No. 8 Creighton, the No. 5 Jayhawks needed a basket when the ball once again found its way into the hands of the man who had carried them all night.
A pure Jalen Wilson 3-pointer from the right corner proved to be the decisive score in a thriller Tuesday at Allen Fieldhouse, where Kansas escaped with a 73-72 victory in a Big 12/Big East Battle, in front of a reduced crowd of 2,500.
"This dude's got no fear," KU head coach Bill Self marveled after Wilson's 23 points and 10 rebounds in the marquee nonconference win. "He likes the moment."
The redshirt freshman's fearlessness nearly bit the Jayhawks (5-1) in the game's final seconds, when Wilson fouled Creighton's Marcus Zegarowski on a step-back 3-pointer with 1.1 seconds left and KU up three points.
Photo Gallery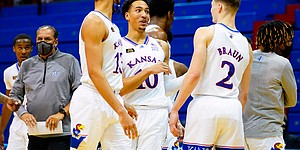 Kansas basketball v. Creighton
View a gallery of images from Tuesday's game between the Jayhawks and Blue Jays at Allen Fieldhouse.
But after Zegarowski made his first two free throws, his third attempt to tie the game and potentially send it to overtime was off the mark. The loose rebound got knocked out of bounds as time expired for the Bluejays (3-1).
"I wasn't supposed to foul him, obviously," Wilson said during his postgame video interview. "But I was trying to pressure him up, because he'd been hitting the whole game (Zegarowski scored 16 points and went 3-for-8 on 3-pointers). I kind of hit him a little bit, but he kicked his feet out to me. He fortunately didn't hit all of his free throws and we won the game."
Of course, the Creighton junior guard and his team needed a 3-pointer (or three free throws), because Wilson sank a deep shot of his own with 40 seconds left in the second half.
With freshman guard Bryce Thompson getting the play in motion, he fed the ball inside to junior forward David McCormack (13 points, seven rebounds), who picked up his first assist of the night by kicking a pass across to the open Wilson.
"I was only open because Dave rolled to the basket so hard," Wilson said. "He forced help and I was able to knock the shot down."
McCormack, who was 0-for-4 from the floor in the second half after going 5-for-8 in the first, didn't force the issue and try to make something happen inside. He said Self has let him know he needs to be ready to pass out of the post.
"That last possession I kind of just turned into it," McCormack said. "Took a quick second, surveyed the floor and I saw J-Wil was wide open. There was no other reason but to pass to him for the open 3."
Self praised McCormack for both being willing to make the pass and staying under control and not picking up a charge with a defender right behind him.
But the bulk of the coach's adulations during his postgame press conference went toward Wilson, who went 8-for-12 from the floor and 4-for-6 from long range.
Related document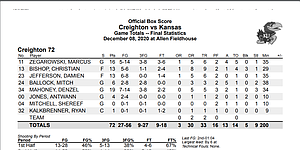 Kansas 73, Creighton 72 ( .PDF )
"He's a really good basketball player," Self said of Wilson, who sat out all but two games of his true freshman year with a broken ankle. "He loves right now how he's playing, because he's playing everywhere. He is a guard or a forward or a center, and he's able to drive big guys or play behind the arc when he's got certain guys on him. He's really doing a good job on the glass."
Creighton (48.2% shooting and 14 turnovers in the road loss) made a crunch time surge in its attempt to knock off KU in the fieldhouse. The Bluejays tied the game at 70 thanks to senior Denzel Mahoney (team-high 19 points).
Beginning at the 2:04 mark of the second half, Mahoney was responsible for the Bluejays' final three field goals of the game, first scoring on a jumper. He went on to answer a Marcus Garret drive and layup with a 3-pointer. Next, as Creighton trapped Thompson on the wing, the veteran stole the ball and took it to the other end for a layup.
Complicating matters for the Jayhawks down the stretch, they missed four free throws in the final five minutes, including the front end of a one-and-one for sophomore Christian Braun with 11 seconds to go.
"I've got to knock those down," Braun said, after scoring 14 points on 5-for-13 shooting and 4-for-9 accuracy on 3-pointers.
Kansas led 39-35 at halftime, but offense proved hard to come by for stretches in the second half, when the Jayhawks shot 11-for-32 from the floor and 6-for-12 at the foul line.
"I thought for the most part offensively we got some good looks. We got what we wanted," Self said after the Jayhawks shot 39% from the field in a victory. "We've just got to be able to knock them down. Fortunately we did from outside the arc, we just didn't do it from inside the arc."
Indeed, led by four 3-pointers apiece from Braun and Wilson, KU shot 10-for-22 from deep, with Garrett (1-for-4) and Thompson (1-for-2) each adding a triple.
With junior guard Ochai Agbaji, who came into the game averaging 16.2 points, off against Creighton (zero points, 0-for-6 shooting), McCormack came through with some first-half scoring, putting up 13 of KU's 39 points.
Yet for a span that covered the end of the first half and the opening of the second, Wilson was the only Jayhawk able to score. The 6-foot-8 emerging star was responsible for all 12 of KU's points in a stretch that covered nine and a half minutes of the game.
Braun said Wilson has stepped up and carried KU often in the season's opening weeks.
"He's aggressive all throughout the game. So he's getting in there to score," Braun said. "The last couple of games especially he's been making big, timely shots. We need guys like that. It wasn't Och's day. And those are shots Och usually makes when he's in there, too."
Self said he won't expect Wilson to shoot 4-for-6 from 3-point range every game. But the coach is looking forward to what's ahead for the redshirt freshman from Denton, Texas.
"It's getting to the point where we expect him to produce. I look for him to continue to improve," Self said of Wilson, who had his third double-double, "and give us more and more as we move along."
KU returns to Allen Fieldhouse to play host to Omaha on Friday at 6 p.m. (ESPN2).