Kansas senior Marcus Garrett was the source of some serious confusion prior to Tuesday's 65-62 win by No. 7 Kansas over No. 20 Kentucky at Bankers Life Fieldhouse in Indianapolis.
During his pregame radio interview with color analyst Greg Gurley, KU coach Bill Self said that Garrett, who had been dealing with a non-COVID-19 illness, would not play against the Wildcats.
That interview was recorded around 5:20 p.m., however, and in the three-plus hours between then and tip time, Garrett did enough to show he could play and was in the starting lineup when the game began.
After the victory, in which Garrett scored eight points — all of them in the first half on 4-of-7 shooting — KU coach Bill Self explained the sequence of events that led to Garrett's odd night.
"He told us at shoot-around that he couldn't suit up," Self said of Garrett during a postgame Zoom interview from Indianapolis. "He wasn't gonna suit up. He didn't want to go through warm-ups. He had a real problem with headaches and the bright lights and his stomach was messed up and he (couldn't) get his wind."
From there, Self said Garrett he thought the KU senior talked with his uncle back home in Dallas — not at Self's request — and emerged from the conversation with a change of heart about how the night would go.
"Next thing you know you know he pulled a Willis Reed," said Self, referencing the former New York Knicks star who played hurt in Game 7 of the 1970 NBA Finals. "I didn't know he was going to try until we got on the bus."
During the ride to the arena, Self said he told Garrett he didn't have to play.
"And he was like, 'Nah, I want to try," Self recalled. "He didn't play great by Marcus standards, but we wouldn't have won the game unless he was out there. I'm happy for him, proud of him. He's so tough."
In addition to a career night from redshirt freshman Jalen Wilson, who scored a game-high 23 points and added 10 rebounds on 8-of-16 shooting, Garrett's steady play early helped keep Kansas alive in the latest battle of blue blood programs.
"I knew (Marcus) was going to play," Wilson said after the victory. "He's a fighter, one of the hardest guys I've ever played basketball with. He works harder than anybody almost, and I never doubted that he was going to play at all."
Asked after the game if KU's medical team had ruled out COVID-19, Self said Garrett produced a negative COVID-19 test before Tuesday's game.
"He started feeling bad Friday, we had COVID tests Saturday and we COVID tested him today, too," Self said. "His issues that he has is not that. So hopefully we can get him back (home) and do whatever docs do to figure out what it is and get him on the right meds and get him feeling better."
Self said Garrett had both antigen and PCR testing in recent days.
Junior guard Ochai Agbaji agreed and said the thought of Garrett sitting never crossed his mind.
"I figured he was going to at least give it a try," Agbaji said after scoring 17 points, including five big ones late that put Kansas in control. "We knew throughout practice (on Monday) that he was struggling with a sickness. But he showed a lot today, just being the leader and being on the floor. We need him on the floor."
Despite Garrett's three first-half turnovers in 16 first-half minutes, the senior's ability to slice through the lane and get to the rim helped Kansas dig out of a 13-point hole and kept KU close when the Jayhawks desperately needed something to go right against the bigger, more athletic Wildcats (1-2).
During a first half that saw the Jayhawks open the game 2-of-14 from the floor, Garrett's ability to hit four of the seven shots he attempted helped keep Kansas close.
The fact that the production came with Garrett fighting an illness made it all the more impressive. Self said Garrett had trouble catching his breath late in last week's game against Saint Joseph's in Fort Myers, Fla., and the issue followed him to Indianapolis.
Garrett could be seen throughout Tuesday's game massaging his chest and stomach and trying to take in as much oxygen as he could, both on the bench when he was out and on the court during stoppages in play.
KU cut Kentucky's 13-point leads (26-13 and 28-15) to as low as five (34-29) late in the half, setting the stage for a strong second half. KU trailed 35-29 at the half.
For the second game in a row, redshirt freshman Dajuan Harris came in off the bench to positively impact KU's play. Harris dished two assists and swiped two steals in 12 first-half minutes.
The Jayhawks also did their part to help Kentucky take control of the game in the first 10 minutes, turning it over eight times in their first 19 possessions.
After one turnover, a throw-away under the basket by Jalen Wilson that led to a dunk for 10, Self called an immediate timeout and stood during the break with his hands on his hips while addressing his team.
The Jayhawks soon found that the easiest way to improve their field goal percentage was to attempt shots right at the rim.
Garrett scored a lay-in on a drive through the lane on one possession and flushed a breakaway dunk on the next possession after a steal by Harris. That cut the Kentucky lead to 17-9 and forced UK coach John Calipari to call timeout.
For the third game in a row, Wilson did a lot of the dirty work for the Jayhawks, holding down the post when the Jayhawks went small and scrapping with the bigger Wildcats for extra possessions and rebounds.
Wilson's offensive rebound and put-back and free throw two possessions later pulled the Jayhawks within two (38-36) with 14:24 to play. Shortly after that, he attacked the rim again and drew another foul. He again knocked one of two charity shots to pull KU within a point with 13:37 to play. Wilson, who made his second start of the season, scored six of KU's first eight points of the second half.
That stretch helped Kansas in more ways than just putting points on the board. Just seven minutes into the second half, three different Wildcats had already recorded three fouls, including 7-foot center Olivier Sarr.
Sarr's fourth foul came in transition on a run to the rim by Christian Braun (8 points, 13 rebounds) with 12:46 to play. The two free throws that followed gave Kansas its first lead (39-38) since 5-2 in the opening minutes.
Related document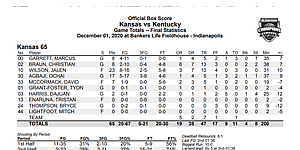 Kansas 65, Kentucky 62 ( .PDF )
As the second half went on, Tuesday's game began to resemble KU's win over Saint Joseph's from last week. Both featured a rough first half and KU finding its footing on offense while also figuring out how to lock in defensively in the second half.
Kentucky scored just five points in the first 10 minutes of Tuesday's second half.
"I thought our defense, for the most part, was pretty good all game long," Self said after the win. "Even when they scored and had a big lead, it wasn't because of our defense, it was because we were so inept offensively. I think we had like five points 10 minutes in, so you should be behind double figures if that's the case."
After that miserable start to the final 20 minutes, the Wildcats got themselves going with their own defense and then hit just their second 3-pointer of the game to go up four with 6:10 to play. Both teams made just two of their first 16 3-point attempts in this one.
Kentucky freshman Isaiah Jackson recorded eight blocks through the game's first 35 minutes.
Wilson hit back-to-back 3-pointers late in the second half to further cement his strong night and help pull Kansas back even with 4:50 to play.
"I thought he played terrific," Self said of Wilson, who missed all but a couple of minutes of his freshman season with a broken ankle. "I thought he was great."
Agbaji, who was solid early to keep Kansas in it, finally got back into the offensive flow with a 3-pointer with 2:42 to play and a breakaway dunk after another steal by Harris.
Agbaji's mini-run put Kansas up 60-55 with 2:26 to play.
Like many people in the KU locker room, Agbaji was impressed with Wilson's big night.
"Just his energy and everything he was doing, just being aggressive, attacking, rebounding the ball, I thought that that that brought confidence to him," Agbaji said when asked what stood out about Wilson's career night. "Him and CB (Braun) were great on the boards, we needed them, (and Jalen) delivered today so I'm proud of him."
Self said Tuesday's victory, which came at the end of an unusual eight-day road trip to open the season, would go down as "a nice feather in our cap."
"I thought it was a great win," Self said. "You know, Kentucky didn't play particularly well, we didn't play well, obviously, but you know it's early in the season, it's a different time, it's a different road trip, everything's different. And for us to get this way and I just know they're all going to add up the same at the end of the year."