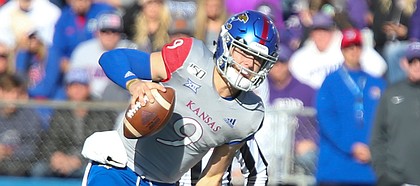 It hasn't even been a month since Kansas football players learned how valuable a bye week can be for a team.
Now the Jayhawks will try to make the days surrounding their second open date of the season as productive as their first.
With an idle Saturday in mid-October providing a break in the schedule, head coach Les Miles opted for drastic measures, firing offensive coordinator Les Koenning and replacing him with Brent Dearmon.
The Jayhawks responded by coming within a play of winning at Texas, and then beating Texas Tech, while averaging 548 yards of offense and 42.5 points in their first two outings following a bye week.
However, they didn't come remotely close to replicating that type of production this past Saturday, in a 38-10 defeat versus rival Kansas State. KU (3-6 overall, 1-5 Big 12) rushed for a season-low 61 yards and passed for only 180, as the Wildcats dominated.
Photo Gallery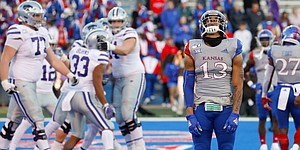 Kansas football v. Kansas State
View a gallery of images from Saturday's game between the Jayhawks and Wildcats at Memorial Stadium.
"It's going to be a huge week for us," KU senior quarterback Carter Stanley said during his postgame interview on Saturday. "We've got three games left. I don't know how they'll plan it, with whether we'll split up a third of the time to focus on three different teams, or just put all our focus on Oklahoma State or what. But it's a big week for us, and I know our guys will be ready for it."
Junior receiver Andrew Parchment repeatedly spoke to the importance of this week's practices after he said the Wildcats played with more physicality than the Jayhawks.
"We've got to have more passion about the way we're playing football and the way we're attacking the week," Parchment said. "I just hope everybody comes to work on Monday ready to play."
While nothing so extreme as a coordinator shakeup is accompanying this bye week, Parchment said the fact that the Jayhawks effectively regrouped in October when they had two weeks in between games should give them confidence they can return to the field for the final stretch of the season playing at a desirable level.
"We really wanted this win to go into the bye week," Parchment said after the K-State loss. "I feel like it would've put us in a way better position than we are right now. Right now we can't lose. We've got three straight games left."
The "can't lose" sentiment comes from the thought processes of team leaders such as Parchment, who have referenced throughout the past several weeks the Jayhawks' desire to win six games and secure bowl eligibility.
"Bye week comes at a great time, I feel like, especially coming off this loss, as well," Parchment said. "Just trying to find our identity back on offense. We know what we want to do. We know how to do it. We've just got to go out and execute."
Senior receiver Daylon Charlot pointed to the time off benefiting some players who got banged up on Saturday — Charlot cited himself, Stanley and left guard Malik Clark in particular.
True though that may be, the Jayhawks will have to do much more than rest. Stanley said the players realize how important their second bye week needs to be.
"Coming off of a loss like that I think there won't be any shortage of attention," Stanley said. "I think everybody's going to be locked in. We know we've got to be better than that. But it'll be a big week for us."
Miles said after the loss to K-State that KU coaches would use part of the bye week to go out and recruit "some" on Monday, and that they will head out again on Friday to watch high school games in person.
KU plays at Oklahoma State on Nov. 16.