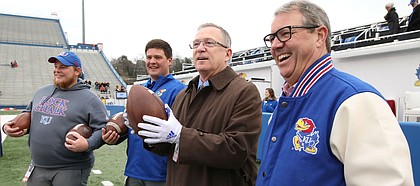 A hopeful Jeff Long is putting in the legwork needed to try and speak a major college football change into existence.
Once he officially became the athletic director at the University of Kansas last August, it didn't take much time for Long to fully understand the troubling state of the football program's scholarship situation, with the Jayhawks trying to survive on a roster that didn't come close to fielding 85 players who were recruited as scholarship athletes.
Now Long is trying to speed up KU's timeline for digging out of that hole by proposing that college football programs be allowed to sign more than 25 players in a single recruiting class.
Long's model involves a rolling total of 50 players signed over two years, and he pitched it while meeting with other Big 12 athletic directors in Arizona earlier this month. Theoretically, a football program could sign 40 players in one recruiting class if it was willing to sign only 10 the following year.
"I think that 50 number shocked people," Long told the Journal-World, "so we've adjusted that as we've talked and explored it with people, and we've proposed a cap of 35 in one year."
While 35 was the one-year figure Long laid out in a report from Sports Illustrated, he understands that others within the college football profession might be more comfortable with capping the signings at 30 in a given year.
"But it's something more than 25 to lessen the number of years it takes to recover from getting scholarship numbers very, very low," Long said.
How KU got here
Over the course of nearly a decade, KU football's scholarship numbers suffered unusual blows. Prior to former head coach David Beaty's arrival, players left for various reasons as the program transitioned from head coach Mark Mangino to Turner Gill to Charlie Weis and eventually Beaty.
Ahead of what proved to be his fourth and final season coaching the Jayhawks, Beaty said when he took over the program in December of 2014 KU was down to 39 true scholarship athletes — not including walk-ons who picked up scholarships after spending time on the team.
Beaty said the 2018 roster featured about 70 recruited scholarship players, which was still 15 shy of the number allowed.
Even before Long hired Les Miles to replace Beaty this past November, the athletic director said he and Miles discussed KU's scholarship situation at length.
That much was clear during Miles' introductory press conference on the day KU announced his hiring.
"I recognize the key piece for us is to get our scholarships up to 85 and 85 with quality recruits," Miles began that day, adding that he isn't opposed to placing walk-ons who prove themselves on scholarship. "But getting to 85 and doing so with quality recruits and guys that can play, that to me is the biggest battle."
In the time since then both Long and Miles have pushed their agenda, Long with athletic directors and Miles with coaches, arguing for a rolling two-year total of 50 signees.
Asked how many recruited scholarship players the Jayhawks will have this coming season, Long replied, "It's hard to say."
Looking at KU's 2018 roster, it appears Beaty's last team had roughly 11 freshmen, 14 sophomores and 28 juniors (53 total) among its recruited scholarship players. Two of those freshmen — linebackers Kenny Bastida and Robert Topps III — are no longer on the roster. Miles and his staff signed 19 players in the 2019 recruiting class, so the Jayhawks should once again be at or around 70 true scholarship players during Miles' first season.
While Long said KU will officially have closer to 85 players utilizing financial aid this coming season, a chunk of those will be former walk-on players who have been rewarded with scholarships.
"We love walk-ons, but most of the time they take two, three, four years of development before they're ready to really compete in a Power Five program," Long said.
Long's argument for change
Both Long and Miles understand that change won't come as the result of other athletic directors or coaches taking pity on KU. So when Long delivers his pitch he focuses not on Kansas being "so far" below 85 Power Five quality players.
"From a health and safety standpoint we should be close to or at that 85 limit," Long has argued.
Having the maximum amount of "quality student-athletes" available both for football practices and games, Long says, is a must. While pushing his proposal, Long points to ways in which college football has changed in recent years.
Programs lose scholarship players because of the transfer portal, players deciding they don't want to play any longer, career-ending injuries, academic ineligibility, players deciding to turn pro and other factors.
Long also said injured players now miss more time than they used to in order to appropriately recover from injuries, especially with concussion protocol improvements.
"Think about the cycle you can get into," Long said. "You get below, your student-athletes have to practice more, they have to get more reps, which results in more injuries. The cycle just keeps going on. How can we do this?"
According to KU's projections, Long thinks, under the current 25 per signing class limit, it will be another four to five years before the Jayhawks are operating at or near 85 recruited scholarship players.
"No other sport has a cap," Long also pointed out regarding NCAA signing class rules. "They're basically allowed to recruit and replace one to one."
The pushback
Of course, objections have surfaced to Long's proposed rule change.
For one, detractors would argue that coaches at better situated programs could "run off" players in order to replace them with better prospects.
"We certainly understand that and want to be very clear we're not encouraging that," Long said.
On that front, KU's athletic director countered, the NCAA Academic Progress Rate should help. The APR holds each university accountable for the academic progress of its student-athletes through a team-based metric that accounts for the eligibility and retention of each player for each academic term. Long said that should serve as a "check and balance" for programs forcing a player to leave if coaches deem a player undesirable after a signee arrives on campus.
"If a program goes that route they're in jeopardy of losing their postseason eligibility and things like that," Long said of the penalties in place for poor APR performance.
A cap of 35 or 30 per recruiting class, Long added, should help keep powerhouse programs from over-signing and then getting rid of scholarship players coaches decide they would like to replace.
"I think all those things help prevent that. Now, programs that are going to do that, they're going to find their way around it," Long admitted. "But we shouldn't jeopardize health, safety, wellbeing of the greater whole simply because we're concerned about some level of program or coaches that are going to choose to abuse the rule."
It's also possible that the purely competitive nature of college football may work against KU during this crusade.
"Well, Kansas got themselves in this position, they should have to suffer a long period of time to get out," Long confessed some opponents of the change might say.
How far away is rolling 50 reality?
While Long is optimistic his player-wellbeing-centered rallying cry might some day lead to the change he is championing it is unclear how soon — or even if — that day will come.
The NCAA in some cases can allow new rules to be enacted quickly on what Long described as an "emergency basis."
However, KU's AD also recognized it is hard to say how far away this potential rule change could be from actually being approved or denied.
"I do think our momentum is building," he said. "I do think people are stepping back and looking at the situation."
Even so, it is unlikely a two-year rolling total of 50 football signees would be put into place before the 2020 signing period this coming winter.
"Certainly we would like that to happen," Long said. "This is a process and a process that will take time to get people to completely understand it."
An NCAA football oversight committee would have to push the rule change forward if it picked up enough steam among athletic directors and coaches.
"I think, candidly, it's unlikely prior to this upcoming signing class," Long added. "And I'm hopeful we will get some movement over the course of this coming year."