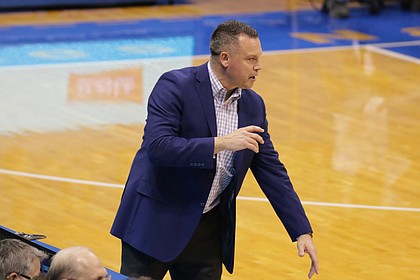 Kansas head women's basketball coach Brandon Schneider has added Larry Tidwell as associate head coach and Jhasmin Player as an assistant coach to his complete his staff on Monday.
Tidwell and Player fill vacancies left by Aqua Franklin and Jory Collins, who both became Division I head coaches last week. Collins left to become the head coach at North Dakota State, while Franklin was named the head coach at Lamar University.
Meanwhile, Tidwell comes to Lawrence with over 25 years of coaching experience at Division I level, including 11 as a head coach.
Prior to joining the Jayhawks, Tidwell spent the 2018-19 season at Texas Tech and the five years previous as the head coach at UT-Rio Grande Valley. In his five years at UTRGV, Tidwell's teams have broken 117 program records and tied 83 others.
"Nationally, Coach Tidwell is regarded as one of the most premier and connected recruiters in the country," Schneider said in a team release. "His experience as a head coach at two division I universities combined with his experience as an assistant coach at three other Big 12 schools, will enable him to impact our program in all phases."
Player joins the Jayhawks after spending the 2018-19 season with Loyola Marymount in California. During her year at LMU, Player helped the Lions return to postseason play for the first time since 2001 after LMU was selected for the 2019 WNIT.
Player was also at Maine for two years where she held numerous positions including, director of operations, assistant coach and recruiting coordinator. Player even spent five seasons in Europe playing professional basketball.
"Jhasmin's collegiate and professional playing careers speak for themselves," Schneider said. "In coaching, she has quickly established herself as one of the top international recruiters in our business. Her passion, humility, love for the game, and desire to mentor young women were apparent the first time I met her."