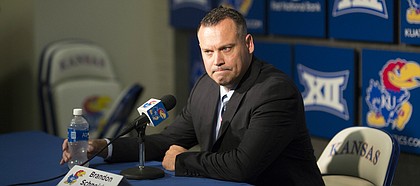 The Kansas women's basketball team suffered a 75-58 loss to end its season Saturday night at Chesapeake Energy Arena.
KU's loss in the quarterfinals in the Big 12 tournament came one night after the team took down Oklahoma State, which snapped a 10-game losing skid. The Jayhawks couldn't continue the postseason run, as the Cyclones controlled the contest.
In the loss, Kansas had three players finish in double figures. Christalah Lyons led the way with 15 points on 5-of-20 shooting. Aniya Thomas scored 14 points on a 5-for-10 effort, and Kylee Kopatich notched 13 points on a 4-of-8 shooting performance.
Iowa State was led by Bridget Carlton, who poured in a game-high 18 points on a 7-for-16 performance.