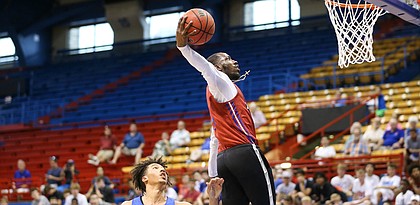 A battle of potential game winners between the old and the new highlighted Tuesday's team scrimmage at Bill Self Basketball Camp.
And the advantage went to the veteran.
Back in town after yet another successful stint of basketball overseas, Tyshawn Taylor hit a 17-foot, step-back jumper over current KU walk-on Chris Teahan to give the Crimson team an 81-79 win over the Blue in the first-one-to-80-wins scrimmage at Allen Fieldhouse.
Taylor's jumper — two of his 18 points on 8-of-14 shooting from 2-point range — came moments after the Blue team missed its chance to win when newcomer Jalen Wilson's spinning fadeaway hit back iron and just missed.
"I thought I did," said Wilson when asked if he thought he had made his shot in the face of suffocating defense from Ochai Agbaji. "But, I mean, I'll get the next one."
As for Taylor's game-winner, the 2012 KU grad said he knew good things were in store when he saw who was guarding him.
"You know I've got a clutch bone," Taylor joked. "No. I'm just playing. "I wanted it the possession before that, but Elijah (Johnson) made a play, and the second time I just told myself I was going to shoot it. You know, I had little Teahan on me, so, light work."
Photo Gallery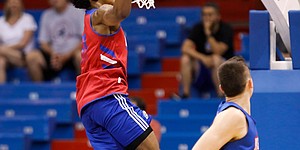 KU basketball camp scrimmage
View a gallery of photos from Tuesday's scrimmage between current and former Jayhawk players during Bill Self's basketball camp.
Tuesday's experience was far from the first KU reunion for the guard who helped lead the Jayhawks to the 2012 national title game. But it was the first time he had played a live-action game like that in front of a big crowd back in Allen Fieldhouse. Camp scrimmages normally take place at Horejsi Family Athletics Center but had to be moved to KU's basketball court because of construction at the volleyball arena.
Taylor did not mind one bit.
"That's fun," Taylor said. "I think them switching it in there, it gives the kids that experience and, obviously, for the old guys like myself who don't get to run out of the tunnel and do those things any more, that's always fun to shoot in there and play in there."
Before the scrimmage tipped, when KU coach Bill Self was introducing the current and former players to the campers, Self relived a memorable moment in the Allen Fieldhouse classic between KU and Missouri, when the Jayhawks erased a huge second-half deficit to win in overtime.
Walking to the very spot that Taylor caught an inbounds pass with 12 seconds to play and Missouri leading by two, Self quizzed the campers and marveled at Taylor's ability to get from that spot just outside of the lane on the south end of the court all the way to the other end for a foul and two free throws in just two dribbles.
Naturally, Taylor remembered that play, the game-winning free throws that followed it and dozens more from that final meeting between the Jayhawks and Tigers.
"Actually, on that last play, I wanted Elijah to throw the backdoor on the play when we got the dunk against Missouri, but he wasn't looking for it," Taylor said.
"As soon as I drive back into Lawrence, memories start flying back," Taylor added. "I drive past the (Jayhawker) Towers, memories start flying back. I drive past Taco Bell, memories start flying back. A lot of stuff has changed, obviously, but as soon as I hit the town it all starts coming back to me and I love coming back to this place. I'm telling you, you start to remember everything. You start to remember the plays, you start to remember the crowd, faces that you remember seeing. All those things, man."
Tuesday wasn't all about reminiscing for Taylor, who also will play in Brian Hanni's Rock Chalk Roundball Classic game in Eudora on Thursday night. Even while working on the win, he spent plenty of time keeping an eye on the current Jayhawks, Wilson in particular.
"I was guarding him a little while and he had missed a couple of shots and was kind of getting on himself and I told him, 'You have to keep shooting,'" Taylor said. "And then he made a big one that put them up a couple points late and I told him, 'That's why you keep shooting. Just stay confident.'"
In his first taste of any kind of spectator game at Allen Fieldhouse, Wilson had good moments and bad, all leading to 11 points on 5-of-20 shooting.
Even all of those misses — many of which came from 3-point range in an up-and-down game with no stoppages — did not steal the smile from Wilson's face.
"I didn't shoot that well," he said after the scrimmage. "But that's just all part of it. There's going to be bad days. I loved the kids and tried to put on a good showing for them because they support us so much. I thought it was really fun."
The points Wilson did get came much in the way he predicted they would, from a player who can score and play all over the court.
He did hit one 3-pointer. He finished back-to-back layups during one stretch in the second half. And he spent a lot of time with the ball in his hands, making plays for others, with Devon Dotson playing limited minutes for the Blue team.
Junior forward Silvio De Sousa was absent because of a scheduling conflict, but not injured, paving the way for big men David McCormack (28) and Mitch Lightfoot (24) to score big points for their respective squads.
In many ways, Tuesday's slow start was fitting for Wilson, who just capped "one of the fastest months of my life" with his first couple of days as a Jayhawk.
On Monday, just before a team weight lifting session, Wilson turned right while leaving the locker room after all of his teammates had gone left.
Self, speaking with the media at the time, stopped mid-sentence, smiled and said, "Jalen, you're this way, bud. You'll figure it out.'"
Wilson agreed, both Monday and after Tuesday's scrimmage.
"I haven't known where to go at all," he joked. "I just got my fingerprint (entry code) and I've been locked out of every door. But I'm finding my way, though."
Crimson 81
David McCormack 28, Tyshawn Taylor 18, Ochai Agbaji 14, Issac McBride 8, Tristan Enaruna, 6, Travis Releford 4, Elijah Elliott 4, Elijah Johnson 0.
Blue 79
Mitch Lightfoot 24, Udoka Azubuike 23, Christian Braun 13, Jalen Wilson 11, Justin Roberts (Niagra) 4, Devon Dotson 3, Marcus Garrett, Chris Teahan 0.
*Individual points are correct even though team scores do not add up because of an error on the scoreboard.