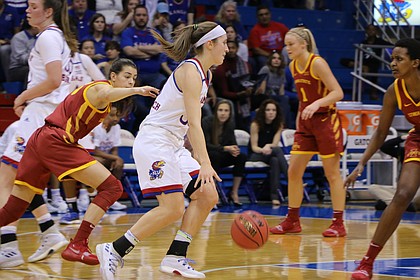 In a game where it never had the lead, the Kansas women's basketball team attempted to mount a comeback before falling to Oklahoma State by a 72-62 margin Saturday afternoon in Allen Fieldhouse.
After being down by as many as 14, KU (11-5, 1-4) came within one possession of Oklahoma State (12-4, 3-2), but the fourth quarter rally was halted. In a losing effort, Austin Richardson (12), Christalah Lyons (14), Kylee Kopatich (10) and Jessica Washington (10) scored in double figures for the Jayhawks.
"Every single one of these (games), you better approach with great emphasis," head coach Brandon Schneider said in a team release. "This is a hard league. I am extremely disappointed with how we played at home and we have to figure out a way to be much tougher."
Kansas travels to Texas at 7 p.m. Wednesday.