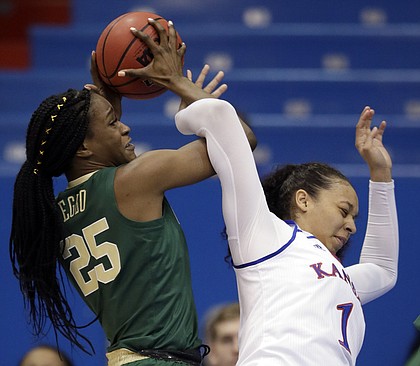 Kansas seniors Jessica Washington and Kylee Kopatich didn't need to say much to describe what it's like to play against a Baylor team that handed UConn its first regular-season loss since 2014.
"Big, big, huge, done … Trees, trees," Washington and Kopatich said together as they traded adjectives.
The No. 2 Lady Bears raced past the Jayhawks for a 94-68 win Wednesday night at Allen Fieldhouse. Baylor now leads the Big 12 conference with a 4-0 record after Texas was upset by Kansas State.
With as fast of a start as one can ask for, each of Baylor's first 9 points had an assist on it. Didi Williams, who entered the contest averaging 5.6 points per game, scored 10 early on a perfect 5-of-5 shooting. Williams would go to the bench before the end of the quarter because of a pair of fouls.
"They're good, they're hard to prepare for, 'cause I think they're really unlike really anyone else in the country," KU head coach Brandon Schneider said. "I was pleased with how we played, especially in the second and third quarter."
Inside the paint, Baylor was able to do anything it wanted. By the end of the half, Baylor had 15 assists on 22 made shots.
After trading baskets in the third period, the Jayhawks came within 9 points of the Bears midway through the period. Kansas earned a 23-21 advantage during the fourth quarter.
Kansas attempted a season-high 14 3-pointers, hitting 50 percent of those attempts. Washington led the way with six, and Kopatich also had five.
"We're a really good 3-point shooting team," Schneider said. "We don't want to rely on that, but it's always going to be a big part of what we do and why we play. (Baylor's) different. They're so big that getting points in the paint regardless of who you are is difficult."
Baylor coach Kim Mulkey, who has won two national championships as a player at Louisiana Tech (one AIAW and one NCAA) and three as a coach (two at Baylor and one as an assistant at La. Tech) took advantage of the opportunity to play in such a historic arena.
"Let me tell you, it's not just Bill Self that's walking into that arena," Mulkey said. "It never fails. When I come in here, I give them a history lesson. I understand this place. Naismith, Chamberlain, the list goes on. I am not sure the youth today really know … Whenever I come here, I look at the arena from the outside and just go, 'There's no place in the country that has the history that this place does, and what a thing to cherish.'"
Kansas plays host to Oklahoma State at noon Saturday.
No. 2 BAYLOR 94, KANSAS 68
Baylor (14-1, 4-0 Big 12)
Lauren Cox 4-7 5-7 13, Kalani Brown 6-10 3-4 15, DiDi Richards 6-7 2-2 14, Juicy Landrum 2-5 2-3 7, Chloe Jackson 10-14 2-3 22, NaLyssa Smith 5-8 3-6 13, Trinity Oliver 1-1 0-0 2, Honesty Scott-Grayson 0-0 3-4 3, Moon Ursin 0-2 0-0 0, Queen Egbo 1-1 3-6 5. Totals 35-55 22-34 94.
Kansas (11-4 1-3 Big 12)
Austin Richardson 3-8 0-0 7, Bailey Helgren 0-2 0-0 0, Christalah Lyons 2-11 5-6 10, Jessica Washington 6-15 0-2 18, Kylee Kopatich 5-8 2-2 17, Chelsea Lott 0-1 0-0 0, Brianna Osorio 1-3 0-0 2, Aniya Thomas 0-0 0-0 0, Niccolly Ramalho 0-2 0-0 0, Micaela Wilson 2-8 1-2 6, Brooklyn Mitchell 0-0 1-2 1, Brittany Franklin 2-2 1-2 5, Sara Boric 1-1 0-2 2. Totals 22-61 10-18 68.
Baylor 29 24 21 20 – 94
Kansas 15 21 23 9 – 68
3-point Goals: Baylor 2-5 (Landrum, Jackson); Kansas 14-28 (Washington 6, Kopatich 5, Richardson, Lyons). Fouled Out: Richardson (4:01). Rebounds: Baylor 10-32 42, Kansas 12-17 29. Turnovers: Baylor 9, Kansas 10.