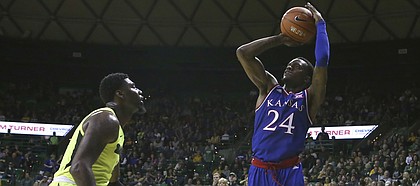 Waco, Texas — There were some issues at the end of Saturday's 73-68 victory by No. 7 Kansas over Baylor at the Ferrell Center that certainly will be talked about, but might never be watched.
None of them will change the way KU coach Bill Self felt about his latest road victory in the Big 12.
For 36 minutes, the Jayhawks (14-2 overall, 3-1 Big 12) had their way with Baylor, be it offensively, defensively, at the free-throw line or behind the arc. And it's that stretch — among a handful of mini-runs in the middle — that Self will choose to remember about his team's first true road victory of the season.
"The story that I'm leaving with is that we got a good road win today, not that we played like crap the last four minutes," Self said after the victory.
The Jayhawks' struggles down the stretch, which were as much about Baylor's relentless effort in attacking the glass to the tune of 26 offensive rebounds, left the door open for the Bears (9-6, 1-2) to cut a 23-point deficit at the 6:28 mark all the way down to 72-68 with 26 seconds to play.
Baylor held Kansas without a field goal during that final 6 ½ minutes and the Jayhawks made just 9 of 15 free throws to close the game.
After the victory, junior forward Dedric Lawson, who delivered 17 points, five blocks and five steals to go along with four turnovers in 32 minutes, mentioned respecting the game and respecting the opponent three separate times in the postgame press conference. And it was clear that no one in the Kansas locker room was happy with the way the Jayhawks closed the game.
"We just have to do a better job of just finishing out games," said senior guard Lagerald Vick, who hit 6 of 8 from 3-point range for 18 points to go along with four turnovers, two during Baylor's furious rally in the final minute. "Knowing time and score and momentum and when to slow the offense down, when to pressure the ball on defense, just small things that we could've done better."
Added Lawson: "We thought the game was over. We were up (23), but we need to do a better job of closing the game."
There was a point in this one, much, much earlier in the game, when no one would have blamed the Bears for thinking this one was over. In what was some of their best basketball of the season, the Jayhawks stormed out to an 18-2 lead in the game's first 10 minutes. Baylor did not even score its first field goal until the 9:34 mark.
And KU point guard Devon Dotson was a big reason for both the hot offensive start and the Bears' early struggles.
"He was good today," Self said. "I think Devon's playing at a pretty high level. You know, he only takes four shots, he was 7-of-7 from the line until the last four minutes and did a pretty good job of running the show and getting us into what we needed to do."
Dotson, who has made a living off of attacking the rim this year, appeared to push with even more purpose in this one.
Three times in the game's first eight minutes, the freshman point guard put his head down and refused to be denied on his way to the rim. The first produced a foul that led to a KU bucket by Lawson after the inbounds play. The second, which came after a sick hesitation move along the baseline, resulted in a nifty reverse layup on the left side of the rim, which he shot over his head. And the third, which came out of a half-court set, led to a pair of free throws at the 12-minute mark of the first half.
"That's what we wanted on the road, to hit them in the mouth early and just really get it going, and we got off to a great start," Dotson said. "I put that a lot on myself, just attacking, making plays, getting out in transition and getting downhill."
The Bears missed their first 15 shots — six of them were blocked by Kansas — and coughed it up twice during the fast start by the Jayhawks.
"I think they helped us some, too," Self said. "You'd like to think your defense was pretty good, but the reality of it is, it's basketball. When they shoot, if it's a good shot, it's got a 50 percent chance of going in. They shot it really poorly early and I thought our defense was pretty good and then the law of percentages played out after that."
Related document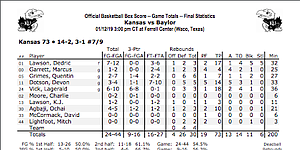 Box score: Kansas 73, Baylor 68 ( .PDF )
As has been the case with most KU opponents this season, Baylor responded with a run of its own to get back into the game. The Bears hit three consecutive shots to cut the Kansas lead to 9 and used an 18-4 run of their own to close the gap to two, 22-20, with two chances to take the lead.
Scott Drew's squad was unable to capitalize on either opportunity and another Kansas run of 13-5, which featured two Vick 3-pointers, including one at the buzzer, set the halftime margin at 10, 35-25.
Kansas pushed its lead to 17 (52-35) with a 17-10 run to open the second half and freshman Ochai Agbaji's jumper at the 6:28 mark gave KU a 64-41 lead, which proved to be just big enough to deliver the victory.
Agbaji, in his second-ever game for Kansas, played 21 minutes and delivered 10 points on 4-of-5 shooting to go along with three rebounds and a steal.
For the second consecutive game, the freshman from Kansas City, Mo., showed that his extreme athleticism can be a difference maker for this KU team — first, when he flushed a perfectly drawn up lob play to put KU up 18-2 despite coaches on the Baylor bench yelling out, "Lob, lob, lob, lob," throughout the possession; and, second, when he rebounded a 3-point attempt by teammate Quentin Grimes that was blocked and quickly turned the misfortune into easy points.
Vick called Agbaji's presence "big for us." Lawson said it already feels like the freshman has been a part of KU's rotation for months. And Self, who never has been too cavalier about handing out praise, called Agbaji "great" for the second time this week.
"I thought Ochai was great again," Self said. "He's becoming one of our best players. He's poised, he made a couple of athletic plays, kept some balls alive and certainly shot it pretty well. He probably had as much poise as anybody down the stretch, in a very, very small pool of players that did."