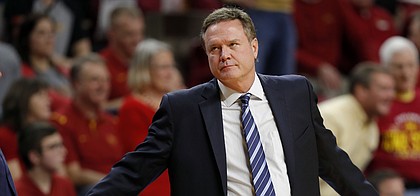 There's no telling exactly how Kansas basketball coach Bill Self felt about things when he woke up on Sunday morning, anywhere from 12-20 hours after fifth-ranked KU's 77-60 loss at Iowa State on Saturday.
But not long after the Jayhawks' second setback of the season, which came largely as the result of a season-high 24 KU turnovers, Self already was providing himself — and the KU fan base — with instructions on how to move forward.
"It's an 18-game season and the sky's not falling, even though we sucked," said Self, whose team fell to 12-2 overall and 1-1 in Big 12 play early in the round-robin style conference season. "We've got to correct some stuff."
To list everything included in Self's assessment of "stuff" would be a waste of time and is probably best summed up by the more general philosophy of No. 5 Kansas needing to get a little bit better in a whole bunch of areas as the season progresses.
Related document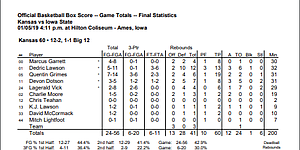 Box score: Iowa State 77, Kansas 60 ( .PDF )
And now that these Jayhawks have tasted disappointment and defeat in two tough road environments, Self believes it will be both easier and more likely that his team now will be willing to face its issues.
"The thing that is good about getting beat rather than being edged is the fact that it's very evident that we have deficiencies that need to be worked on," Self said Saturday night. "Nobody's going to leave out of here thinking, 'Yeah, that game wasn't that bad.' Everybody's going to leave out of here knowing how bad it actually was. Sometimes that's not an awful thing, to get your team's attention; at least that's been my experience in the past."
The work, of course, will come in the days and practices ahead. But the shift in mentality had already started before the Jayhawks even left Ames, Iowa.
"It's a long season," said KU junior Dedric Lawson, sharing part of Self's postgame message to the team. "You know, it's part of the game. You win some, you lose some. You've just got to come in with a different mindset the next game and the rest of the week at practice and go in there and be mentally tough."
Doing that — more than just saying it, hearing it or thinking it — might be new territory for many on this year's team. But it's not new for Self, who joked about his past experiences with tough losses on his way out of the media room.
Photo Gallery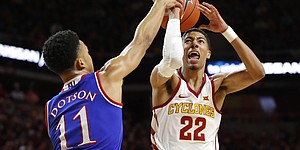 Kansas basketball v. Iowa State
View a gallery of images from Saturday afternoon's game between the Jayhawks and Cyclones at Hilton Coliseum.
"We've had many games, unfortunately, like this over time," Self said Saturday. "I shouldn't say many. But one a year, let's say, and we got this one hopefully out of the way early in the year. So that means the rest of the season should be smooth sailing."
There was at least one man in the building Saturday night who was not willing to view Self's parting sentiments as the joke they seemed to be.
His name is Steve Prohm, the fourth-year Iowa State coach who on Saturday called Kansas "the standard in our league."
"They're the team we're all trying to catch," he said.
Prohm, who improved to 3-4 all-time against Self's Jayhawks with Saturday's victory, has seen the Jayhawks do just fine from this position before.
"My first year here, Kansas lost here and they didn't lose another game," Prohm recalled. "They were 5-3, they left here, they won their next eight and went to the Elite Eight. So just one game at a time. You've got to keep learning about your team each week.
"The thing about this league, it's a quick turnaround. You wake up tomorrow, you've got two days of prep and you're (on to your next game)."
For Kansas, that game will arrive Wednesday, when TCU (12-1,1-0) comes to Allen Fieldhouse for Game 3 of that 18-game Big 12 grind.