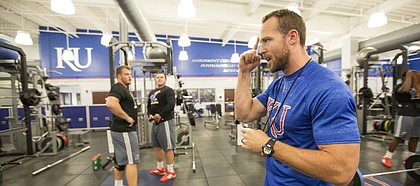 It appears the bulk of the offseason strength and conditioning work Kansas football players endure in the months ahead will come with the help of a new staff member.
As first reported by Jon Kirby of Jayhawk Slant, Zac Woodfin, KU's director of football strength and conditioning since early 2017, has left the program. A source familiar with the situation confirmed the news to the Journal-World.
Hired by former KU football coach David Beaty in February of 2017, Woodfin spent close to three years with the Jayhawks. He remained on staff during the first year Les Miles was in charge of the program.
A source told the Journal-World Woodfin is expected to take a position at Missouri.
Prior to his time at KU, Woodfin worked as the head strength and conditioning coach at Southern Miss, from 2015-16, and even served as USM's interim director of athletics when that position became vacant.
Football Scoop named Woodfin the strength and conditioning coach of the year in 2014, when he worked at UAB.
Woodfin also spent three seasons as an assistant strength coach with the Green Bay Packers. He graduated from UAB, where he played linebacker and made 372 tackles from 2001-04.