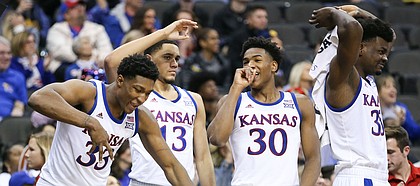 Kansas City, Mo. — Maybe there is room for two big men in the Kansas basketball lineup after all.
Behind a career-high 28 points from David McCormack — in fewer than 17 minutes — and another all-around strong effort from senior center Udoka Azubuike, the second-ranked Jayhawks steamrolled Kansas City, 98-57, on Saturday evening at Sprint Center.
"I think a lot of it was effort and energy," Self said of McCormack's career night. "But I think a bigger part of it was skill set. He shot the ball, he made some 15-18 footers, he backed guys down and scored over them... That's encouraging. That's the first time all year long it looked like he and Dok were actually comfortable being there together."
While Azubuike's showing was something Kansas fans had seen before — 4 of 4 from the floor for 9 points, five rebounds and three blocks — McCormack's big day was a fresh treat.
It did not matter where he was on the floor, who was near him or how much room he had to operate, McCormack constantly put himself in the proper spots during Saturday's drubbing.
McCormack was not picky with his appreciation of his career night after Saturday's victory.
Photo Gallery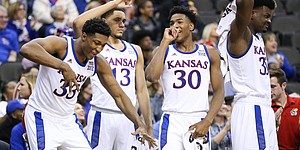 Kansas basketball v. UMKC
View a gallery of images from Saturday's game between the Jayhawks and Kangaroos at Sprint Center.
"Honestly, everything," he said when asked what went right. "Just getting the open looks that I want, going after the ball, as far as rebounding and getting second looks, just making the right plays."
Added KU point guard Devon Dotson (18 points on 7-of-12 shooting in 28 minutes) of McCormack's monster outing: "It was tremendous. His activity level was great. He finished down low, hit some shots. He did a lot out there."
If he had it to do over again, Self actually might have played McCormack more than the 16:36 he did.
"Obviously I screwed him around because he should've played more," Self said. "But the game was where it was and we wanted to let everybody kind of play the same amount of minutes, but it is encouraging."
Asked if he hoped to go back in after checking out for what would be the final time with 14:51 to play, McCormack smiled and said, "Always."
"I definitely wanted to get back in and do whatever I can to help the team," he added.
On Saturday, that was a little bit of everything, but his ability to post big numbers offensively while still staying out of Azubuike's way in the paint was by far the most exciting aspect for Self.
"He can shoot the basketball," Self said of McCormack, who is now shooting 62.7% from the floor this season after shooting 62.5% as a freshman. "He's worked hard. His range isn't 3-point range consistently, but, hey, 18-foot and in, even free throws, we go from being a team that, when we played Duke (it was), 'How can they play together,' and today's encouraging that maybe they can. You know, as long as we guard."
Even that was not a problem on Saturday.
Related document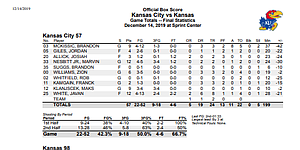 Box score: Kansas 98, Kansas City 57 ( .PDF )
After a typically slow and sluggish Sprint Center opening act, the Jayhawks found their stride midway through the first half and ran away from the Roos to a 19-point halftime lead.
The spurt coincided with McCormack's surge and improved defense by the entire lineup, which forced Kansas City (5-7) into 22 turnovers that led to what first-year Kansas City Billy Donlon referred to as "too many touchdowns."
The points the Jayhawks got off of those turnovers — all kinds of layups and buckets in transition — were not worth seven points apiece, of course. But based on the final score and the impact those types of plays had on the game, it's no surprise that Donlon and the Roos might have felt that way.
"I didn't think we were very good the first 10 minutes at all," Self said. "At all. But I thought after about the 8-minute mark of the first half, offensively, we pretty much got what we wanted and our defense wasn't was poor by any stretch."
After actually trailing early, 13-10, the Jayhawks ripped off a 13-0 run that set them on the path toward Saturday's blowout.
Kansas City reached 13 points at the 11:52 mark of the first half on a bucket in the paint by Jordan Giles and then scored just 11 more points the rest of the half.
Given Kansas City's record and status as a rebuilding program under a new head coach, no one in the Kansas locker room was overly ecstatic about Saturday's outcome. In many ways, Kansas expected this.
But the particulars were enough to leave the Jayhawks thinking Saturday's outing was another noteworthy step forward in this team's development.
No one was that more true for than McCormack, who not only set a career-high in points with 28 — his previous mark was 18 in a win over Oklahoma last season — but also set career-highs in field goals (11), attempts (14), free throws (6) and free throw attempts (6).
To put his big night in perspective, McCormack's 28 points in just under 17 minutes came on the heels of a four-game stretch in which he scored 32 points in 68 minutes.
The efficiency McCormack played with on Saturday was the type of performance the sophomore from Norfolk, Va., said he strives for every night.
"Definitely," said McCormack, who started for the ninth time in 10 games this season. "I feel that I have to bring high intensity, high energy every game, every day no matter what minutes I'm playing."
With the start of finals week arriving Monday, the Jayhawks (9-1) will be off until next Saturday, when they travel to Philadelphia to take on 20th-ranked Villanova.