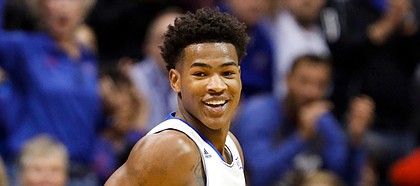 Tuesday night's 95-68 rout of Milwaukee at Allen Fieldhouse was a perfect illustration of why the Kansas players and coaches say guys will be fine while opening the season in a shooting slump.
After entering December shooting 31% from 3-point range, Kansas sophomore Ochai Agbaji opened Tuesday's blowout by burying three 3-pointers in KU's first four possessions.
The first was a dead swish from in front of the Milwaukee bench. The second a rhythm triple from the wing in transition after a sublime one-handed, cross-court pass from KU point guard Devon Dotson. And the third, from the top of the key, was a bit of a tease, bouncing off of both sides of the rim and high into the air before softly falling through.
Photo Gallery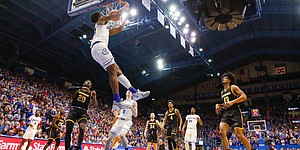 Kansas basketball v. UW-Milwaukee
View a gallery of images from Tuesday night's game between the Jayhawks and the Panthers at Allen Fieldhouse.
That stretch, along with Agbaji's 4-of-6 night against Colorado last weekend, made the KU sophomore 7 for his last 10 from behind the arc and delivered the second-ranked Jayhawks (8-1) a much needed bump from 3-point range.
And then there was Dotson, who entered Tuesday shooting just 29% from 3-point range, yet connected on three of his first four from 3-point range to help push the Jayhawks out to an insurmountable 40-12 lead, bringing a bit of 2008 Final Four nostalgia to fans at Allen Fieldhouse.
Agbaji said Kansas coach Bill Self told his team during an early break in the action that Tuesday's early surge was one of the better starts a Kansas team has had in a while.
Self confirmed as much after the victory.
"I thought it was," he said. "It was 15-1 before you could even sit down. We made shots and, obviously, everything looks better when you make shots. And we guarded, too."
Together, Agbaji and Dotson finished Tuesday's game 8-of-14 from 3-point range and with 44 total points.
The Jayhawks as a team drained 12 of 28 3-pointers against Milwaukee, marking their second-best showing of the season from behind the arc.
While the two KU sophomores did more than their share of damage from 3-point range in this one, they also were responsible for the highlight of the night — and possibly the season so far — midway through the second half.
Racing up the floor in transition after another Milwaukee miss, Dotson fired a lob to the rim from five feet beyond the 3-point line with 12:40 to play. Agbaji was on the receiving end of it, and, after jumping to meet the ball in the air, the athletic guard twisted his back to the rim and flushed the lob over his head and left shoulder.
Agbaji spun around and smiled as he ran back on defense. Dotson did the same, screaming "Wooo" to no one in particular and waving his arms to the crowd, which had come to its feet.
Related document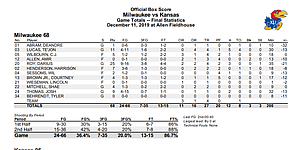 Box score: KU 95, Milwaukee 68 ( .PDF )
A few seconds later, while Milwaukee lined up to shoot a pair of free throws, Dotson glanced up to the Allen Fieldhouse video board not once but twice to catch the replay.
"I liked the lob," Dotson said while sitting back and smiling yet again in the postgame meeting with the media. "That got me hyped."
As for whether it was necessary, Agbaji admitted that he did not have to twist his body the way he did.
"I just wanted to put some style on it," Agbaji said with an aw-shucks shrug. "I kind of jumped and then was like, 'I might as well.'"
It wasn't all swishes and smiles for the Jayhawks on Tuesday night, even if the outcome never was in doubt after that early onslaught.
After taking the 40-12 lead at the 8:42 mark of the first half, Kansas managed just 12 points the rest of the half and did not score its first field goal of the second half until the 16:15 mark.
"Obviously our energy wasn't very good," Self said of the lull in the middle of the game. "We've been pretty good at turning people over and we only turned them over eight times. When you make shots, your defense isn't as amped up because you don't feel like you have to get stops to win."
At one point, the Panthers (5-5), who missed more jump shots in more unique ways than any team to come into Allen Fieldhouse in recent memory, had outscored Kansas 37-29 over a stretch of 21:06 that spanned the end of the first half and the start of the second.
But the Jayhawks simply had too much size, too much speed and too much Udoka Azubuike for Milwaukee to entertain any ideas of the upset, horrid start or otherwise.
"I thought he was great," Self said of his 7-foot senior, who finished with 15 points and 17 rebounds on 7-of-7 shooting from the floor. "The first half he went after every ball. I was really pleased and impressed and I thought he played really well."
While the Panthers' second half run made Tuesday's setback easier to stomach for Milwaukee coach Pat Baldwin, the Leavenworth native still left Allen Fieldhouse lamenting the game's start and his team's lack of an answer for Azubuike.
"I think they took us by storm in the first five, 10 minutes of the game (and) we just couldn't recover," Baldwin said. "When you're playing a team as good as Kansas you have to do a great job of weathering that early storm. … It was their night. … When you have a team like (Kansas), with an inside presence that you have to account for. And then when they're making perimeter shots, it makes it really difficult to cover everything."