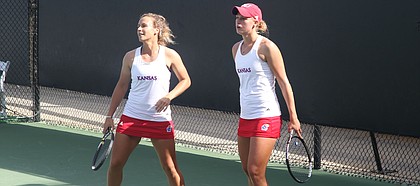 Sunday's straight-set victory, 6-3, 6-2, over No. 17 Stanford in the championship doubles match of the Riviera ITA Women's All-American Championships capped a wild week of five victories in four days for KU seniors Nina Khmelnitckaia and Janet Koch.
It also sent the two home from Pacific Palisades, Calif., as the first-ever KU champions of a tournament that KU coach Todd Chapman calls "the toughest individual event to win in college tennis."
Three years ago, when the two arrived on KU's campus as bright-eyed freshmen, Khmelnitckaia and Koch played their entire freshman seasons together as doubles partners. But a variety of factors, including injuries, putting the team first and experimenting with different partners, separated the two for the next couple of years.
This summer, however, the two reconnected and began a run that led to Sunday's crowning, first by winning a summer ITA event at TCU and then by teaming up for the All-American Championships this week.
Asked why he put them back together for this event, Chapman said Khmelnitckaia and Koch's victory at TCU earned them a spot in the field and that "was pretty tough to turn down."
Unseeded but playing as well as any doubles team in the country, Khmelnitckaia and Koch rolled into the semifinals of the main draw by knocking off Tennessee (8-6) in the opening round of qualifying, the No. 3 seeded team from Stanford (7-5) to reach the quarterfinals and No. 8 Arizona State (8-6) to reach Saturday's semifinals.
After topping No. 14 Wichita State in straight sets — 6-3, 7-6 (5) — to reach Sunday's finals, the duo played its best match of the week to take the title.
All of this after opening the event with some singles play on Sept. 29.
"I think it's just their chemistry," KU assistant coach Caroline Lilley, who was in California with the team while Chapman was in Waco, Texas, coaching another group in a different event. "They were a cohesive unit, they fed off of each other very well and stuck together and played better at the end than they did at the beginning because they were such great partners."
Their reward?
"I'm not sure it has sunk in for any of us yet," Lilley admitted. "We've been out here for 10 days and I think we're all just ready to come home. But I did let them eat whatever they wanted after today's match."
For Khmelnitckaia, that meant a trip to Pei Wei for some Chinese food, with a Mountain Dew to wash it down. For Koch, it was all pizza all the time. And Lilley said both splurged with a diet of various candy bars for dessert.
"They don't even have a national ranking together," Lilley marveled. "So to do what they did, on the stage they did it on, and to become the first Kansas team to accomplish this is incredible. And they did it with a smile and joy on their faces and just really showed how much they love the sport and how much they enjoyed playing for the team and each other."
After a short break to celebrate the experience and get back to class, Khmelnitckaia and Koch, along with the rest of the KU team, will travel north to Iowa City for the ITA Regional Championships Oct. 12-16 at the Hawkeye Tennis and Recreation Complex.