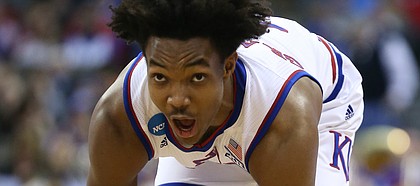 The mere idea that former Kansas point guard Devonte' Graham — he of 17 games of 40-plus minutes and 11 more of 38-plus during the 2017-18 season — could be deemed "out of shape" less than two months after the end of his senior season is borderline laughable.
Yet, there was Graham, in front of his old college dorm late last week, talking about how the end of the season, now 46 days ago, brought with it a little rest that put Graham's conditioning in slightly less stellar shape.
And in the six weeks since that time, Graham has worked hard — arguably, harder than ever — to rework his body into tip-top shape in time for the NBA's predraft combine, which begins today in Chicago and runs through Sunday.
"I'm just trying to get in as best shape as possible," said Graham, who will join former KU teammates Udoka Azubuike, Svi Mykhailiuk, Malik Newman and Billy Preston in participating at this week's combine. "My trainer told me I came in in pretty good shape, but I'm trying to get in NBA shape, faster shot clock, more physical. So you just have to be in better shape and get stronger and get quicker and tighten up things, my shot, little things like that, my feet. That's about it."
Based on conversations with former Brewster Academy teammate Donovan Mitchell, now a bona fide star with the Utah Jazz, as well as former KU teammates Frank Mason III (Sacramento) and Wayne Selden Jr. (Memphis), Graham has learned that there is a slight discrepancy between being in good shape and being in NBA shape.
"It's definitely a different thing," he said. "It's a different game. They move fast, but also slower at the same time, so I'm just trying to adjust to all that. The agent that I signed with (CAA Sports), his guy's Donovan Mitchell. I went to Brewster with him and I've been in Salt Lake City after the season, so I really just talked with him, what he went through, the workouts, how to get in shape and what I needed to do."
What was the best advice Graham heard that might help him attack this week's combine with the right approach?
"Just, you got to grind it out every day," he said. "It's not college no more. You're not representing a university, you're representing yourself. You got to figure out how to take care of your body, do everything you need to do to make sure that you're healthy and ready for these combines coming up."
For four years, Graham smiled and scored, ignited and improved and, for much of that time, was the unquestioned personality of the KU program.
But with his college playing career now finished and his life as a college student officially over after last weekend's graduation ceremonies, Graham is ready to move on to the all-business, money-making aspect of his basketball life.
It starts today with the combine.
The event, which is essentially a giant job interview, will take place at Quest Multisport and will be attended by scouts, coaches, general managers and other front office brass from all 30 NBA franchises.
For the next four days, 69 draft-eligible players will compete in various drills and scrimmages, while also being poked, prodded and measured by doctors and trainers and interviewed by team officials.
Of the five former KU players in Chicago for this week's combine, only Azubuike is eligible to return to KU for the 2018-19 season. The rest are either out of eligibility or decided to forego their remaining college years in order to turn pro early.
Graham knows that what happens this week is just the beginning of his journey to pro basketball.
He has yet to work out with any teams on an individual basis, but has his first such session scheduled for Monday with the Chicago Bulls in the Windy City.
As for how many team workouts Graham expects to attend between now and the June 21 NBA Draft in Brooklyn, N.Y., Graham laughed when he answered.
"Enough," he joked. "Probably like 12 to 15. Around there."
Regardless of what the next few weeks bring and how well Graham does or does not perform with NBA eyes on him, the former KU point guard said he was thrilled to be beginning his journey with so many Jayhawks by his side.
"I haven't seen them in a minute," Graham said of the four other Jayhawks who are Chicago-bound. "So we're definitely going to see each other and interact with each other. We're always going to keep in touch with each other. It's a brotherhood."
Much of this week's predraft combine can be seen on ESPN2, specifically from 2-6 p.m. Thursday and Friday. And even more of the showcase can be watched via online streaming through ESPN's WatchESPN app.