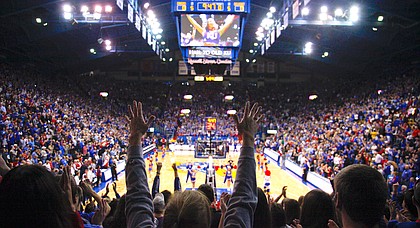 It is still too early to know whether Kansas will legalize sports betting in the wake of Monday's U.S. Supreme Court ruling, but already Kansas Athletics can envision the ruling changing its operations.
"This is truly a door that has opened that none of us foresaw even two years ago," said Sheahon Zenger, KU's athletic director. "So it is going to take a great deal of thought to find our place in an arena that we've been forbidden from all of our lives."
On Monday, the U.S. Supreme Court handed down a ruling that puts the power to legalize sports gambling in the hands of state government.
Zenger called it a "Brave New World" moment. Critics have raised fears that legalized gambling could make "points shaving" or other forms of corruption more prevalent.
On Monday, Zenger said the list of issues for the athletics department, state and university leaders to consider is significant.
"It's just not something that you solve in a day or a week or a month," Zenger said. "But I can't imagine we wouldn't have to assign governance to it."
The 6-3 ruling strikes down the 1992 Professional and Amateur Sports Protection Act. Reaction from leaders in Kansas government was mixed on Monday.
"I have not read the Supreme Court brief yet," Republican Gov. Jeff Colyer said Monday morning. "But we're going to look at that. Certainly it appears that the regulation of this is returning to the states. And so we'll take a look at it when it comes."
This year alone, two separate bills proposing to legalize sports gambling in Kansas were introduced in the Kansas Legislature, but neither passed. Even if one had, neither would have gone into effect without Monday's ruling.
While uncertainty and a cautious approach is the current tone in the realm of amateur athletics, plenty of organizations viewed Monday's ruling as a victory in and of itself.
Kansas Senate President Susan Wagle (R-Wichita) predicted the state will take action during next year's legislative session. She called the Supreme Court's decision "a victory for states' rights."
"The legalization of sports betting will help diminish illegal gambling operations and allow states to bring their regulations into the 21st century," she said. "I am confident the Kansas Legislature will act appropriately to regulate sports betting next year."
Leaders in the gaming industry were downplaying Monday the possibility that the expansion of legalized gambling could damage the integrity of amateur sports.
"Today's ruling makes it possible for states and sovereign tribal nations to give Americans what they want: an open, transparent, and responsible market for sports betting," Geoff Freeman, the president of the American Gaming Association, said. Through smart, efficient regulation this new market will protect consumers, preserve the integrity of the games we love, empower law enforcement to fight illegal gambling, and generate new revenue for states, sporting bodies, broadcasters and many others."
Scott Cooley, spokesperson for BetDSI, an online sportsbook based in Costa Rica, said he was not worried about the ruling or any negative impacts increased sports betting may have on sports as a whole.
"The integrity of the sport is an angle that antagonists have used in the fight against the legalization of sports betting, but it's not one I consider credible," Cooley said in an email with the Journal-World. "Point-shaving, match-fixing or whatever you want to call it, has happened throughout the course of sports history, even at a time when gambling was not legal in the United States at all. And I don't believe those isolated and rare incidents will increase when betting on sports becomes widely available."
For those who ever have wondered how widespread and prevalent sports gambling is in the current climate need look no further than the fact that BetDSI actually placed odds on the Supreme Court's ruling, with the Professional and Amateur Sports Protection Act of 1992 being overturned as the slight favorite (-145) over the ban being upheld (+115).
— Journal-World Statehouse reporter Peter Hancock contributed to this report.