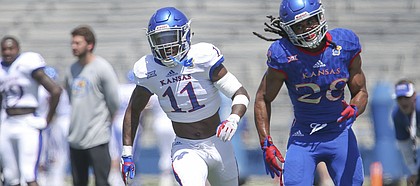 When Mike Lee lined up in the secondary during practices or sat down for a meeting with his fellow defensive backs this spring, someone new to the Kansas football roster tended to be right next to him, or at least nearby.
A junior safety from New Orleans, Lee has more experience than any Jayhawk in the defensive backfield. He and KU's other returning starters from the secondary, Bryce Torneden, Hasan Defense and Shakial Taylor, know their improvement alone this off-season won't repair the unit's troubles.
The roster picked up three defensive backs this semester — freshman cornerback Corione Harris and junior college transfers sophomore Davon Ferguson and junior Jeremiah McCullough (both safeties). Two more cornerbacks — juniors Elmore Hempstead Jr. and Elijah Jones — are expected to arrive as transfers this summer.
Ideally, the Jayhawks would like for every defensive back addition to compete for a spot on the two-deep. So how difficult is it for a third-year player such as Lee to trust a relatively inexperienced teammate next to him?
"You can't doubt nobody on the side of you. You have to make sure he know what he has to do, really," Lee said of his approach to the influx of talent. "We talk before the play even starts, we talk about what we have to do. At safety, we have to communicate with everybody. So we communicate with each other first, and then communicate with everybody else."
Should one of the newcomers eventually earn a starting spot in the fall, Lee doesn't anticipate his certainty wavering, either.
"When you play on the same team, I see it as everybody's veterans. If you're starting, you're a veteran," Lee asserted.
Other returning defensive backs who could factor into the depth chart include senior safety Emmanuel Moore, senior safety Tyrone Miller Jr., junior corner Kyle Mayberry, junior safety Shaq Richmond, junior corner Julian Chandler and redshirt freshman corner Robert Topps III.
Bowen's influence
KU's cornerbacks have heard from a different voice in 2018, since defensive coordinator and assistant head coach Clint Bowen's position duties shifted from safeties to corners.
Defense, a junior currently in his second year with the program, said Bowen's direction has benefited the corners.
"That's one of the best coaches I've ever been with. Coach Bowen is like one of those dudes that no matter what he tells me, even if I'm being stubborn, I'll listen," Defense said, "because I know Coach Bowen's a really smart dude."
Fourth-year head coach David Beaty restructured responsibilities on his staff this off-season with the hiring of veteran Bill Miller, who coaches KU linebackers. Cassius Sendish took over as safeties coach after Todd Bradford left the program. Former cornerbacks coach Kenny Perry now works as special teams coordinator.
Defense called learning from Bowen "a blessing."
"It's a big plus. He's helped my technique so much," said Defense, identified by Beaty as one of the most improved players on the roster this spring. "I'm so excited for what he has in store."
More additions chatter
While Harris, a four-star recruit from the Class of 2018, is often referenced in discussions surrounding the most impressive new Jayhawks on campus, team veterans say others have stood out, too.
Redshirt senior linebacker Joe Dineen pointed to both Ferguson and McCullough for their moments of exceptional play in the secondary before commending a different juco transfer.
According to Dineen, junior defensive end Najee Stevens-McKenzie "makes a ton of plays."
"He's crazy-athletic. He flies around. He's gonna be good," Dineen predicted. "And he's got like a screw loose up in his head — he's kind of crazy, so that's good."
The linebacker expounded further on his evaluation of Stevens-McKenzie, a 6-foot-3, 225-pound transfer from ASA College (N.Y.).
"You need that a guy who will run through a brick wall," Dineen explained. "He'll go toe-to-toe with the best of them."