San Antonio — The Las Vegas book on Kansas basketball must be in an attic somewhere, collecting dust, untouched for months by the hands of those charged with updating information.
That's the only feasible explanation for KU entering Saturday's national semifinal against Villanova as a five-point underdog after Duke went into its clash with Kansas as a 3.5-point favorite.
Las Vegas must be working on old information, and so is the betting public because wagerers haven't moved the number.
This game feels more like a coin toss than a matchup with a five-point favorite.
"We are used to it," Kanas center Udoka Azubuike said. "It's not the first time we have been the underdog. We were against Duke, regardless of us being the No. 1 seed. Everyone still sees us as the underdog. A lot of people look down on what we have done and don't really give us the respect we deserve."
Photo Gallery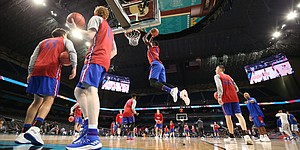 Kansas and Villanova Final Four practices
View a gallery from Friday's practices at the Alamodome in San Antonio.
The Jayhawks play the Rodney Dangerfield angle masterfully, impressive considering how seldom they get to use it.
KU is 4-1 as an underdog, with victories at West Virginia, at Texas Tech, vs. West Virginia in the Big 12 title game and in the Duke game. The lone loss to a favorite came to Oklahoma in Norman.
Kansas as underdog doesn't add up against any opponent anymore, even Villanova, which has been terrific all season and became even better late in the season, thanks to significantly better defense.
No team has improved as much as Kansas, thanks to the huge in-season strides made by three players: Azubuike, his backup, Silvio De Sousa, and guard Malik Newman.
Azubuike started the year showing great potential, thanks to his 280-pound, 7-foot body, his agility, explosive leaping ability and exceptional hands.
Having played just 11 games before a season-ending wrist injury, the center from Nigeria didn't know how to play the game early in the season. Hence, the word "potential" was attached to his name. Now he's become an excellent passer, spotting open shooters and cutters when doubled.
Even more important, he has become aware of his dominance as a scorer and is eager to use it.
Just from listening to Villanova coach Jay Wright at press conferences, it's evident Azubuike is the KU player who weighs most heavily on his mind. Villanova's big men are the size of most college big men. They're 6-9.
"The bigs are going to be interesting in this game," Wright said, and pointed out how Azubuike and De Sousa have room to work because defenders have to respect the shooting abilities of KU's guards.
De Sousa started the year in high school and was so turnover-prone and overwhelmed by trying to keep his defensive responsibilities straight that Self didn't feel comfortable using him initially.
That all changed in the Big 12 tournament, when De Sousa established himself as the team's best rebounder and made 8 of 8 field goals against West Virginia in the Big 12 title game, enabling Kansas to win it with Azubuike sidelined by a sprained MCL of the left knee.
"You worry so much about their perimeter play, but it opens those guys up," Wright said. "If they weren't so athletic and good with their hands, you wouldn't have to worry about them rolling to the rim so much."
Wright said KU's post players are "a bigger part of this team than people talk about."
You can bet he's talking about both players, especially Azubuike, plenty in practice every day.
And then there is Newman. At one point in the season, Iowa State treated him as the fifth scoring option and had a big man guard him. That was then.
This is now: He was named most outstanding player of the Big 12 tournament and the Midwest Regional.
Not only that, Newman's favorite ball — the Wilson Solution, used by Kansas — also is used in the NCAA tournament. In 25 games with that brand, Newman is a .459 shooter, compared to .296 in 13 games with other brands.
Kansas will have its problems matching up with Villanova's big men as well. Omari Spellman has a .446 3-point shooting percentage and Eric Paschall drives well for a big man. Still, nothing is as unstoppable as Devonte' Graham or Svi Mykhailiuk, Lagerald Vick or Newman, tossing the ball near the rim and watching Azubuike slam it home.
If you believe in the law of averages, one more possible edge for Kansas hangs in the Alamodome air.
In KU's first 29 games, Graham made at least four 3-point shots 11 times. He has gone nine games in a row without having that many. The last time he faced Villanova, in the 2016 Elite Eight in Louisville, Ky., Graham made 5 of 9 3-pointers.
Then again, if Azubuike can avoid foul trouble and stay on the floor enough minutes to punish the rim repeatedly, Kansas might not need Graham striking from long distance to prevail.