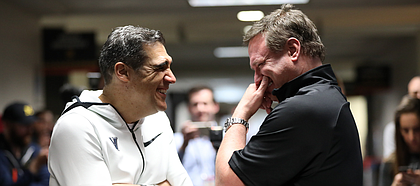 San Antonio — Sitting at a raised table, the Final Four head coaches talked down to media members seated in chairs, but only in a literal sense.
In a refreshing change of pace, these four coaches don't talk down to reporters in a figurative sense.
It's the good-guy-coaches Final Four. No lectures. No smugness. No phonies hellbent on using every second of the spotlight to push crafted images and selfish agendas.
In order, Porter Moser, John Beilein, Bill Self and Jay Wright took questions from the media Thursday inside the Alamodome, and all of them came across as grounded, happy to be there and not expecting anybody to be kissing their rings or anything else.
Ask them a question and they'll give you an answer without condescension, without intent to belittle.
A sampling of questions and answers with Final Four head coaches, starting with Loyola of Chicago's Porter Moser:
What would you say about losing your job at Illinois State and what impact that had on your life?
"Adversity doesn't have to define you," Moser said. "And some of the worst things that have happened in my life, starting at a young age, some of the best things have followed. And I'm proud of that and it's become who I am. And the more you tackle adversity, the more confidence you have to face adversity."
The first great thing for Moser after being fired by Illinois State was he was able to go to work for the late Rick Majerus at St. Louis University.
Moser was asked about the lack of facilities at Loyola. The men's and women's basketball and men's and women's volleyball teams share one gym.
"So I had my immature stage where I (complained) about it for a long time," Moser said. "And then I matured a little bit because the message I was always telling our guys is you've got to control what you can control. And we couldn't control it. So we'd find ways to get extra shooting in."
Ground will be broken for the Alfie Norville Practice Gym this spring, named after a former Loyola player.
"Every Final Four we (Norville and Moser) had breakfast about this gym," Moser said. "For the last six years, we've had breakfast, (saying) 'We've got to get this gym.' "
Michigan's John Beilein has said that winning the national title isn't the goal and reaching the Final Four isn't the goal, so what drives him?
"The Big Ten Championship drives me," Beilein said. "That's what I think everybody in Michigan is (driven by) — if you win a Big Ten Championship in any way, then you can win a national championship.
"But after that, it's about breaks and anything can happen. But that's how I want to be judged at Michigan: Did we compete for Big Ten championships? And that's how I sort of term our success. And then when you're all done with that, that you competed for the Big Ten championship, did those kids grow, did they get better, are they better men on and off the court? That's what drives me. That's what drives me."
Bill Self was asked about how he plans to manage the emotions of Udoka Azubuike, who is looking forward to seeing his mother for the first time since moving to the United States to improve as a basketball player.
"That's a great question, because (Azubuike) hasn't seen his mother in almost six years. And he lost his father, I think, when he was in seventh or eighth grade," Self said. "So if you can imagine, she loved her son so much that she sent him away when he's 14 or 13 years old, because Dok, he just turned 18 years old. So how hard would that be?
"And we want to win the game, but is winning the game more important than to make sure there's not a little distraction for Dok? Of course not."
Villanova's Jay Wright answered a question about how rewarding it is to see players develop off the court.
"Our guys want to be great players. They want to win championships," Wright said. "They want to go to the NBA. And what we try to teach them is if you're only trying to be a good basketball player, you're not going to be the best basketball player you can be. You've got to care about what kind of student you are, what kind of person you are.
"And I think our guys understand that. And so we really spend probably more time in that area than we do on basketball because the basketball part is easy. And we do take great pride in their development as men, as students."
Fan bases of all four schools want to win it all, naturally. Supporters of the three schools that don't win the national title can at least take solace in knowing their favorite coach didn't lose to a jerk.