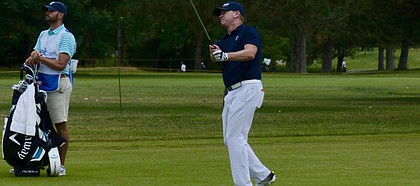 Wichita — The beauty of golf's version of baseball's Triple A is that, unlike baseball players, golfers don't reach a point where their paths to the big leagues are blocked by the dreaded "nonprospect" label.
In golf, it's all there on the black and white of the rule book that stipulates what it takes to advance to the PGA Tour, and what it takes is all there on the scorecard.
Finish in the top 25 on the Web.com tour regular-season money list, and you're guaranteed a spot in the big leagues. Another 25 PGA Tour cards are awarded in the Web.com playoffs, four tournaments with fields made up of top 75 finishers from the Web.com tour and golfers who finish from 126th to 200th in the PGA Tour's FedExCup standings.
The Web.com purses tend to be top-heavy, enabling golfers to shoot up the money list with one or two hot weeks, a la Brady Schnell.
A graduate of Nebraska, Schnell, 33, won a three-man playoff by carding birdie on the first two holes of it Sunday to win the Wichita Open at Crestview Country Club.
In the previous Web.com event, the Rust-Oleum Championship, Schnell finished tied for sixth. Heading into that tournament, played in Mundelein, Ill., Schnell was 90th on the money list. Two tournaments later, he's 12th.
Chris Thompson, of Lawrence, wearing the Jayhawk Club logo on the chest of his polo shirt, a Jayhawk on his golf bag and Bushnell on his cap, put himself in position to contend with a 64 in Friday's second round, a score that moved him into a tie for third. He needed a second great round to stay in contention. It never came.
On an overcast Sunday when it forever looked as if it were about to rain but never did, scores were lower than earlier in the tournament. The field moved away from Thompson, who had the misfortune of seeing multiple shots that drifted off the fairway settle under tree branches that presented difficult challenges.
Thompson found himself making long putts to save par all afternoon and had his putter to thank for shooting a 1-under-par 69. His four-day total of 8-under was good for a tie for 16th.
Thompson's final day started with a bogey and he made back-to-back birdies on the third and fourth holes and finished with 14 consecutive pars.
"Wasn't hitting the ball real solid today," Thompson said. "Driver and 3-wood, I wasn't hitting the ball where I was looking. I felt like I was scrambling for par all day when everybody else out here is trying to get birdies."
He shot 70-64-69-69, one of 13 golfers in the tournament who didn't have at least one over-par round, earned $9,375 for his week's work, moving from 60th on the money list to 53rd with 15 regular-season tournaments down, eight to go.
"It'll take a good finish to get in the top 25," Thompson said. "I feel if I can play the way I played the first three days and putt as well as I putted today ... just have to put it together. The pieces are there. It's just going to take a little bit better."
Even at the professional level, golfers forever tinker, seeking an edge.
Thompson, 41, and a two-time All-American during his days at Kansas, is no different. He had a new caddie on his bag and a new putter in it, switching from a mallet to a blade, for the Wichita Open. The new looper and the new blade served him well.
Thompson met Chevy Hartzog, 25, when he was assigned to caddie for Thompson's amateur partner in the BMW Charity Pro-Am in Greer, S.C. in mid-May.
"I liked the way he carried himself and he's a fantastic green reader," Thompson said. "I asked him if he wanted to come out for this Midwest swing and here we are."
Hartzog will join Thompson this week in Springfield, Ill., for the Lincoln Land Championship.
The Wichita Open was Hartzog's first tournament as a caddie for a pro in a tournament. A former college golfer and coach, Hartzog said it was obvious he was working for an experienced pro.
"Thursday really stood out to me, 30 mph winds and nothing fazed him," Hartzog said. "He's got the same attitude from the first tee to the 18th green. Some guys, you can tell they get a little hot under the collar and you don't really want to go around them. There's not a single time where he loses his temper. There's not a single time where he lets the last shot affect the next shot. From shot to shot, he lets everything go."
This is Thompson's second season on the Web.com Tour. His first came in 2007, when it was known as the Nationwide Tour. In those years in between, he had to try to get into tournaments via Monday qualifiers.