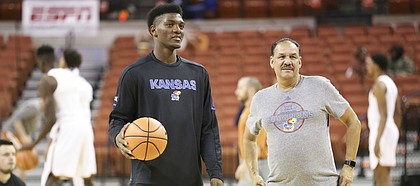 Nineteen days after first setting foot on KU's campus as an official member of the Kansas men's basketball team, freshman forward Silvio De Sousa finally has been cleared to play.
The KU basketball program on Saturday morning announced that the 6-foot-9, 245-pound power forward who came to Kansas a semester early after graduating from IMG Academy in Florida in December, had been certified as an amateur athlete and would be eligible to play in today's 11 a.m. game against Kansas State at Allen Fieldhouse.
"I know it's a big relief to Silvio, who has been very patient throughout this process," KU coach Bill Self said.
De Sousa has been with the Jayhawks, both practicing and sitting on the bench during games, since Dec. 26, missing four games that, had the process gone faster, in which he technically could have played.
While the wait was difficult for the thin KU roster to deal with on game days, having De Sousa on campus for the past three weeks has allowed him to ease into the idea of being a Jayhawk.
"I actually do feel like we know him pretty well," Self said. "We've spent a lot of time with him. He's been with us long enough that I would trust him to play in a game, but I don't know if I would trust him to play in the last three or four minutes. But play in a close game, midway through the second half? Absolutely. No question.
"His attitude is unbelievable because he's doing two or three times more than anybody else every day. Whether it be going to Watkins and getting certain tests done or the extra physicals or meeting with compliance two hours a day. So I think his attitude has been absolutely terrific."
The one area in which De Sousa has the most work to do is conditioning. But Self said Friday that the freshman forward had been working overtime in that department during his first few weeks with the Jayhawks.
How De Sousa fits into the rotation remains a work in progress — and likely will be ongoing into February — but Self said there were a couple of easy and obvious areas which he believed De Sousa could help right away.
Allowing the Jayhawks to play two big men — as opposed to four guards — more often than they have to date is one of the biggest. And Self believes, with De Sousa, Udoka Azubuike and Mitch Lightfoot, the KU front court suddenly has flexibility.
"When he's in there for 'Dok, I don't have any problems at all," Self said. "When 'Dok and him are in there together, that would be OK. If he and Mitch are in there together, that would be fine, he can still play the five and Mitch can play the four. So it just probably depends on the situation."
As for what skills De Sousa will bring to the floor, Self also said that was an easy call.
"When the ball's in the air, who goes and gets it," Self said. "I see mainly that as being the biggest addition."