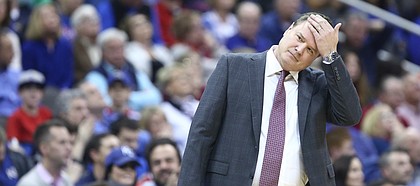 In college basketball, it has become a reflex for the winning coach to praise the losing one in the postgame press conference. Often, it's with a throw-away "well-coached team" line.
Tuesday night's remarks from the winning coach were far more memorable, long on substance and not delivered in typical perfunctory fashion.
"I think he's one of the best coaches in the history of the game," Texas Tech's Chris Beard said of Kansas' Bill Self after the Red Raiders scored a wire-to-wire, 85-73 victory in Allen Fieldhouse.
Beard said that about his friend because he meant it. Then he did a nice job of pointing to one specific way Self gains an edge.
"He gets a lot of credit for recruiting and being at Kansas, but you have to understand how hard it is to guard his X's and O's," Beard said. "Every timeout you come out of, he does something that's not in the scouting report. He's a great coach."
Opposing coaches used to say similar things about Larry Brown coming out of timeouts. It was interesting to hear Beard speak to Self's ability to throw in a wrinkle for which no one could prepare.
Regardless of whether Kansas finds a way to extend its Big 12 title streak to 14 seasons, Self's standing as, to use Beard's words, "one of the best coaches in the history of the game," will remain untarnished.
Self's just as equipped as a coach to get the most out of his team in ways that extend well beyond X's and O's. He'll still apply the right touch and timing in alternately challenging players in raw fashion and fueling their confidence levels with spirited approval when they deliver.
Self's the same coach he was in leading KU to consecutive conference title Nos. 1 through 13, but he has a more difficult job this time because his general manager hasn't supplied him with as balanced and deep a roster as usual.
In college sports, of course, the general manager is the coach. To steal a phrase from retired football coach Bill Parcells, Self shops for the groceries and cooks the meals. The head coach leads the construction of the roster with the help of his three recruiting assistant coaches.
Once the streak became a thing, Self consistently has answered questions about it by starting with some variation of, "It always helps to have the best players."
He can't say that this year. At least, the way the roster is constructed without Billy Preston and Silvio De Sousa, Self isn't coaching the best roster in the Big 12.
The Texas Tech team that won in Allen Fieldhouse by a dozen points did so without a superstar exploding and with one tough-minded, deep roster. In many ways, it was like watching Self coach somebody else's players against one of his own teams.
This Kansas team has one center, one point guard, five wings and Mitch Lightfoot, a cross between a small forward and power forward.
Acquiring front-court depth, once the greatest strength in Kansas recruiting, increasingly has become more difficult in recent seasons.
Lightfoot is the No. 2 big man on the roster. Out of necessity, he averages 13.7 minutes a game. Part, but not all of that, can be attributed to the unexpected grounding of McDonald's All-American Billy Preston. Chalk that up to bad luck.
Lightfoot averages more minutes as a sophomore than Cole Aldrich (8.3), Thomas Robinson (7.2) and Perry Ellis (13.6) as freshmen, and more minutes than Jeff Withey did as either a freshman (3.0) or sophomore (6.2).
Robinson became a first-team All-American, Ellis second-team, Aldrich and Withey third-team.
More than ever, talented players rush to declare for the NBA draft, ready or not, and antsy reserves transfer at a higher rate, rather than wait for their turn to arrive.
Those factors and guessing wrong in recruiting more often than in the past has contributed to KU having far too little talent up front.
Looking to fortify depth, KU welcomed Jack Whitman of William & Mary to the program May 2. Not even two weeks later, Dwight Coleby announced he was transferring. We'll never know if Coleby would have stayed had Whitman not arrived. This much is known: Kansas could use Coleby as a backup to Udoka Azubuike and even to play alongside him at times.
The more distance Coleby puts on the ACL surgery he underwent during his red-shirt year at Kansas, the better he plays. He's averaging 11.7 points, 7.9 rebounds and 1.9 blocks in 27.1 minutes a game for Western Kentucky.
Whitman spent seven weeks in the program before deciding it wasn't for him. He left in July.
Even as raw as he has been, Azubuike has been the most productive big man recruited by KU since Joel Embiid, of the Class of 2013. (Landen Lucas was part of the Class of 2012).
Azubuike has reached double figures in rebounds in 5 of 25 games with the Jayhawks.
McDonald's All-Americans Cliff Alexander, Carlton Bragg (who recently left Arizona State, where he was red-shirting after transferring from Kansas) combined to reach double figures in rebounds in 3 of 114 games.
Self is in the Hall of Fame for a reason, lots of reasons, actually, but anyone who thinks that his presence is enough to rubber-stamp another Big 12 title for Kansas hasn't been paying attention.
A college basketball coach's ceiling is determined by the roster he assembles.
Self will find a way to coach his team to come close to that ceiling, but is it high enough to emerge from a loaded Big 12 field?