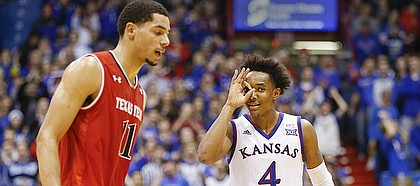 No. 10 Kansas Jayhawks (11-2) vs. No. 18 Texas Tech Red Raiders (12-1)
Time: 8 p.m. | Location: Allen Fieldhouse, Lawrence
TV: ESPN | Radio: IMG Jayhawk Radio Network
Log on to KUsports.com for our live game blog coverage and follow the KUsports.com staff on Twitter: @KUSports @mctait @TomKeeganLJW @bentonasmith @nightengalejr @chasenscott & @nickkrug
Keys for Kansas
1. All eyes on offense
The team statistics for the 18th-ranked Red Raiders entering this one are staggering.
Not only is Tech averaging 81.3 points per game — good for fifth in the Big 12 — but the Raiders also are giving up a Big 12 best 58.2 points per game to opponents.
Given the fact that the Jayhawks rank second in the conference in scoring at 87.8 points per game — behind top-ranked Oklahoma (94.7) — it seems clear that something has to give in this matchup.
"I think that they're the best defensive team that we've played so far," KU coach Bill Self said this week.
In addition in leading the conference in scoring defense, the Red Raiders are first in 3-point percentage defense, allowing opponents to shoot just .299 from 3-point range so far this season.
The Jayhawks lead the league in 3-point shooting, at .422, but it's not likely that Kansas will be able to knock down 17 3-pointers the way it did in last week's win over Texas.
This brings Udoka Azubuike into play, and he could be a huge factor for KU's offense. The key there will be whether KU's guards can handle the intensity and experience of the TTU guards on the perimeter enough to get Azubuike the ball in favorable scoring positions. If they do, it should be easy sledding for him around the rim and he could be poised to extend his double-digit scoring streak from six games to seven.
2. Battle on the boards
These two teams are tied for third in the Big 12, with an identical 38.8 rebounds per game average.
In a game that figures to feature a lot of points and a high number of possessions, whichever squad can steal the advantage on the glass could position itself well to control the tone of the game and get the extra opportunities that could prove huge in the outcome.
The Jayhawks and Red Raiders both have six players who average four rebounds a game or better, and no one on either team averages as many as Azubuike at 8.4 per game.
Last year's two meetings between these teams illustrate perfectly the importance of rebounding.
In an 85-68 victory at Allen Fieldhouse, the Jayhawks outrebounded the Red Raiders, 38-29. In the rematch, in Lubbock, Texas, Tech outrebounded KU, 38-32, and played the Jayhawks to within a point.
3. Keep up the intensity
With as good as the Big 12 Conference is this season and what's at stake for the Jayhawks, who are looking to continue their reign at the top of the standings, Kansas cannot afford to take even the smallest step back.
That means no holiday break hangover, no easy nights and no taking any opponents lightly.
The players, of course, know that. But it's a lot easier to know it and talk about it than it is to bring it every night to make sure the Jayhawks are in the best position possible to succeed.
Senior guard Devonté Graham said after the Stanford win that it was time to turn it up a notch when the Jayhawks got back from break. And sophomore Mitch Lightfoot said that happened almost immediately.
"I felt like it was here as soon as we got from being home. There's nobody on campus and it was kind of like, 'Yeah, I remember this from last year. It's time. Time to get it rolling,'" Lightfoot said. "And that kind of starts with coach. He's a pretty intense person, but it's kind of an understanding that it's time to go, it's conference season, this is what we do and let's take it to the next level."
Mega Matchup
KU guards Marcus Garrett vs. Malik Newman
This one might seem odd because the two play on the same team, but this "showdown" could be big for both this game and KU's future.
With Garrett penciled into the starting lineup in Newman's spot for the second game in a row — and third time this season — the freshman's ability to continue to provide steady play on the defensive end and intangible areas would give Self and company the luxury of bringing Newman, and his potentially explosive offensive output, off of the bench.
Self said Sunday that both players, along with the rest of the Jayhawks, need to buy in to the new rotation in order for it to work to its fullest capability.
That should not be a problem for Garrett, who will not have to worry as much about his own offense, and can just focus on steals, defense, rebounding and all of those little things that Self has loved seeing from him so far this season.
And it should be doable for Newman, as well. Newman has shown a willingness to try to fit into Self's team-first way of doing things — even if it has not always been an easy endeavor — and he has come a long way. But sliding into more of an instant-offense-off-the-bench kind of role could free him up to be more offensive-minded and allow him to get his complete game going.
Newman currently ranks fifth on the team in scoring at 10.6 points per game and also is averaging 4.8 rebounds a night. Garrett is averaging 3.8 points and 4.9 rebounds per outing.
Jayhawk Pulse
While things were more than a little hectic around the KU program during the bulk of nonconference play, things are starting to calm down and become clearer — slowly but surely.
With Sam Cunliffe now in the mix and Silvio De Sousa now on the roster, the one piece the Jayhawks still are missing is Billy Preston. And while the exact time frame for any kind of answer in Preston's status remains uncertain, Self and company are getting closer to being able to develop a game plan with their full complement of players.
Good thing, too.
With the Big 12 seemingly as deep and dangerous as ever, the Jayhawks figure to face a strong challenge every night, including tonight against a team that has been one of the Big 12's bigger surprises thus far on a national level.
The Jayhawks got their quest for a 14th consecutive Big 12 regular season title off on a good note with a road win last weekend at Texas, and should carry a lot of confidence from that win into their first home game in Allen Fieldhouse in two weeks.
KU, which has won 16 consecutive games against Texas Tech and is 17-0 all-time in Lawrence against TTU, enters this one as a 7-point favorite.
Probable Starters
No. 10 Kansas
G – Devonté Graham, 6-2, 185, Sr.
G – Marcus Garrett, 6-5, 180, Fr.
G – Svi Mykhailiuk, 6-8, 205, Sr.
G – Lagerald Vick, 6-5, 175, Jr.
C – Udoka Azubuike, 7-0, 280, Soph.
No. 18 Texas Tech
G – Keenan Evans, 6-3, 190, Sr.
G – Niem Stevenson, 6-5, 205, Sr.
G – Zhaire Smith, 6-5, 195, Fr.
F – Justin Gray, 6-6, 210, Sr.
F – Zach Smith, 6-8, 220, Sr.