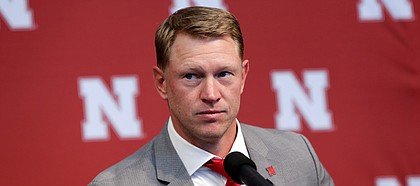 It's not enough to celebrate UCF for the greatest two-year turnaround in college football history.
Calling for an expansion to an eight-team playoff that includes one automatic berth for a school from outside the football Power Five, although on-point, falls short of giving Central Florida the respect it deserves.
Nothing shy of assigning a No. 1 ranking to the school and recognizing it as co-national champion does justice to this season's best story in college football. UCF ought not be ranked second to anyone.
The Knights faced plenty of tough challenges, starting with scheduling games in the aftermath of Hurricane Irma, and continuing with a tougher-than-most-realize American Athletic conference slate.
And UCF emerged from it all with a 13-0 record, capping its storybook season with a 34-27 victory over No. 7 Auburn Monday in the Peach Bowl.
The four-team playoff was supposed to clear up the murky national-championship picture, but it didn't work the moment the selection committee included Alabama at the expense of the undefeated Knights. Alabama didn't qualify for the SEC title game, but still was allowed a shot to get to the national title game.
The UCF blunder won't make whichever school wins two playoff games a tainted champion. It will make the four-team playoff system a pointless one, though.
The solution is obvious: Eight teams with automatic bids going to the champions of the ACC, Big Ten, Big 12, Pac-12 and SEC, plus a place reserved for the school the committee deems the best from outside the Power Five. That leaves two at-large spots, which means the committee can focus on three openings.
This, of course, would have been the perfect year to roll out such a format, but there will be others that cry out for an eight-team playoff.
Excluding UCF, a school based in Orlando with an enrollment of 64,000-plus, denied college football an undisputed champion and a chance to bask in the glow of a phenomenal underdog story, had the Knights emerged from two playoff games as champs.
Before dismissing UCF as a pretender, consider that eight of its victories came against schools that played in bowl games.
Alabama, Clemson, Georgia and Oklahoma all played tougher schedules, but that doesn't change the fact that UCF turned back every challenge and all four playoff schools lost a game. Clemson lost to 4-8 Syracuse, Oklahoma to 8-5 Iowa State. Alabama and Georgia lost to the same Auburn team that UCF defeated in the Peach Bowl. Georgia earned its place in the playoff by avenging its loss to Auburn, 28-7, in the SEC title game.
The school's rapid ascension from the depths of college football doesn't speak to its playoff worthiness, but does boggle the mind.
UCF hired Scott Frost to take the reins of a program coming off an 0-12 season in 2015, the year Kansas produced an identical record. In his second season on the job, Frost's team went 13-0, a year after making a bowl game. KU went 1-11 in David Beaty's third season. (Yes, apologists, I know Kansas faces a tougher schedule than UCF, but that doesn't change that one coach led a surreal reversal and the other is stuck in neutral, going the juco recruiting route to try to get out of the rut.)
Frost leaves for his alma mater, Nebraska, and the Big Ten, where, if he can cash in on his remarkable work at UCF to upgrade recruiting, his path to a national title won't be blocked by a selection committee's bias in favor of big-money conferences.