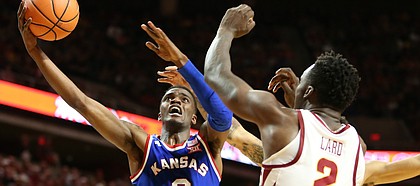 AMES, IOWA — The first time Iowa State faced Kansas this season, they put 6-foot-9 freshman power forward Cameron Lard on 6-foot-3 shooting guard Malik Newman and dared the Kansas sophomore to beat them.
Newman did, scoring 27 points on that early January afternoon to lead Kansas to a five-point victory.
Tuesday night at Hilton Coliseum, the stage was set for a similar matchup, and this time Iowa State coach Steve Prohm elected to put Lard on KU's slumping junior Lagerald Vick instead of Newman.
Vick did not put up quite the same kind of numbers that Newman did, but he had just as big of an impact on the outcome, scoring 16 points on 6-of-10 shooting to lead the 13th-ranked Jayhawks to an almost-identical 83-77 victory over the Cyclones.
The score of that first meeting? Kansas 83, Iowa State 78.
"We kind of figured it was going to be either me or him again," Newman said after Tuesday's victory. "And we just said whoever he guards, we have to attack him, put pressure on him and that's the mismatch of the game."
Photo Gallery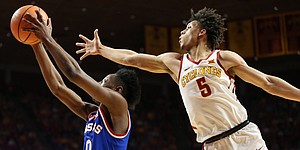 Kansas basketball v. Iowa State
View a gallery of images from Tuesday night's game between the Jayhawks and Cyclones at Hilton Coliseum.
Added KU senior Devonte' Graham: "We talked about that actually. We didn't know who he was going to start out on. I think because Malik was shooting the ball so well, I heard them early when Malik caught the ball they yelled out, 'Shooter,' so they definitely weren't going to put No. 2 on him."
Vick's big night looked much more like the Vick who showed up during KU's first 15 games than the one who has struggled so often since the start of Big 12 play.
His 4-of-7 shooting performance from behind the arc featured a stretch early in the second half of three makes that allowed Kansas to stretch its lead to double digits. And from there, Vick started attacking the rim with more confidence, looking to score whenever he could.
"You have to put (Lard) on somebody if you start four guards and we thought it would be Lagerald, obviously," KU coach Bill Self said. "And we thought the advantage that we would have would be being able to play through Lagerald."
The always-quiet Vick credited his teammates for most of his success.
"Just playing off my teammates," he began. "They were getting in the lane and finding me and I was able to make shots. I've just been trying to be more aggressive and just trying to get that focus and doing the small things."
Although a good chunk of that had to do with his play on the court, perhaps even more of it had to do with his attitude off of it. Self has said in the past week that Vick's attitude has been much better of late and his teammates agreed.
"I think his attitude has always been good," said Newman of Vick. "But the last week or so I think it's just been outstanding. Credit to him for that, for not letting his little slump interfere with his attitude. I think this is kind of the game that he needed. He shot the ball with confidence. He played aggressive. And that's what we wanted him to do."
Asked after the victory if he was back, Vick looked straight ahead and said simply, "Yeah definitely. I don't feel like I never left."
De Sousa shines
It may have been just 2:44 of game time at the end of the first half, but for a player who has had a hard time staying on the floor for even 30 seconds, it seemed like a major step forward.
Playing in place of Udoka Azubuike and Mitch Lightfoot, who each sat with two fouls, freshman forward Silvio De Sousa snagged three points and three rebounds — two offensive — in just under three minutes to help Kansas take a five-point lead into halftime at Hilton Coliseum.
Related document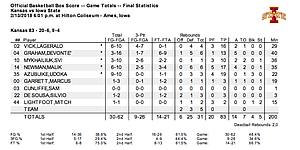 Box score: Kansas 83, Iowa State 77 ( .PDF )
"He came up big for us," Azubuike said. "That was big. He came in the game, made a bucket, played defense. That was outstanding for him. Coach said everybody's got to play. When your number is called you just have to go out there and play hard and he really came up big for us in that moment."
Added Self of De Sousa: "He hasn't had anything go right in quite some time so to see some good things happen for him, that was very positive. Hopefully he can get some more confidence and we can use him more and more down the stretch."
No magic this time
Tuesday's victory evened the mark of KU seniors Devonte' Graham and Svi Mykhahiliuk at Hilton Coliseum at 2-2 for their careers, a reality that was not lost on Graham before leaving the building for the final time.
"It's a good bounce-back win," said Graham, who won in Ames as a junior and lost as a freshman and sophomore. "It's not easy to win here, and we had guys step up and make huge plays and contribute and do the little things to help us win."
Kansas now owns a 26-21 edge all-time in games played at Iowa State's famed home arena, including victories in four of the last six games.
Still a game back
KU's victory over Iowa State helped the Jayhawks keep pace with first-place Texas Tech, which knocked off Oklahoma, 88-78, on Tuesday night in Lubbock, Texas.
The Red Raiders (22-4 overall, 10-3 Big 12) lead the Jayhawks (20-6, 9-4) by one game in the conference standings with five games to play.
Tech limited Oklahoma freshman Trae Young to 19 points on 4-of-16 shooting and held him without a 3-point make for the first time in his college career.
The Red Raiders will play at surging Baylor (16-10, 6-7, winners of four in a row) on Saturday while Kansas plays host to third-place West Virginia (19-7, 8-5).
This and that...
Tuesday's victory improved KU to 20-6 overall and gave the Jayhawks their 29th consecutive 20-win season, adding to its record among active Div. I teams... The Jayhawks are now 9-4 or better in Big 12 play for the 14th consecutive season and improved to 83-11 following a loss during the Self era... KU leads the series with Iowa State 181-64, including a 70-39 mark in games played in Ames... Kansas is now 6-2 in true road games this year and 8-3 in games played away from Allen Fieldhouse.
---
---
---
---
---