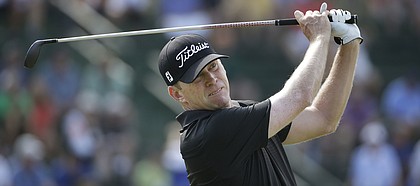 Touring Web.com pro Chris Thompson has one more round to play in the regular season and enters it projected to finish 17th on the money list. The top 25 earn PGA Tour cards.
Thompson, who made a birdie on No. 18 Friday to survive the cut, had a bogey-free day Saturday on his way to a 4-under 67, making him 6 under and tied for 20th in the WinCo Foods Portland Open. He hasn't clinched a spot in "The 25," which is what the tour calls the group of players who earn automatic cards based on their standing at the end of the regular season, but he has a high probability of making it.
Eleven of the top 15 golfers on the money list missed the cut, increasing the chances of players from the top 25 making enough prize money to move into the top 25. Thompson entered the tournament ranked 19th.
Thompson tees off for the final round at 3:05 p.m. Central Time. Golf Channel coverage of the event starts at 6 p.m.