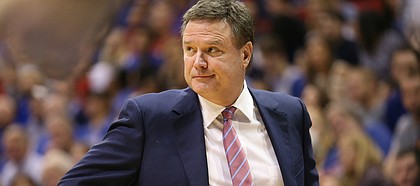 It's anyone's guess how much longer the FBI's investigation into corruption in college basketball will last, but we now have concrete evidence that the probe has changed the game.
The NCAA on Wednesday released a list of college basketball rule tweaks that Kansas basketball coach Bill Self termed "significant changes."
Although the timeline for each new rule varies and, in some cases, is dependent upon future moves by the NBA, college basketball players soon will be able to hire agents, take more recruiting visits and have the option to return to school if they are not selected in the NBA draft.
The new rules were the result of recent efforts by the newly formed Commission on College Basketball, which was chaired by former U.S. Secretary of State Condoleezza Rice. The commission sought to eliminate the shady side of college basketball, which led to the nearly yearlong FBI investigation that produced a couple of indictments and linked apparel companies, assistant coaches and some of college basketball's most prominent programs, including Kansas, to the improper behavior.
Speaking via teleconference less than an hour after the new rules were released, Self characterized the moves as mostly positive and went into detail about the major changes.
• Effective immediately, college basketball players can be represented by an agent after any of their college seasons, provided they request an evaluation from the NBA Undergraduate Advisory Committee.
All agreements must be documented in writing, terminated when the student enrolls in college and disclosed to the NCAA and/or the student-athlete's specific school. The agents must be certified by the NCAA and will face consequences for violating the standards of behavior.
Overall, Self said encouraging above-board relationships between players and their representatives was a positive thing that could benefit the student-athletes. But he admitted — saying, "I do not have a feel for that" — that it was still too early in the process for him to determine what kind of impact this change would have on the college game as a whole.
"I think more information is good," Self said. "What could potentially happen, though, is you have colleges now recruiting agents and their firms and not as focused in on, maybe, families.
"I personally think college coaches can get accurate information (for draft prospects) by talking to NBA (general managers), as well. But I do know that sometimes that third party is thought to be a better way to do it, (because) they're doing it more from a neutral position than a coach's position, which you could say definitely has a vested interest in what you would tell a youngster."
The new rules also outlined that, pending a future decision by the NBA to allow high school students to enter the draft, high school basketball players also would be allowed to hire agents beginning July 1 of their senior year.
• So much of the need for amateur athletes to have agents in the first place is to get valuable exposure and information for the NBA draft, which takes place each June.
Recent NBA draft rules have been tweaked to allow underclassmen to test the waters more, pushing back the deadlines to both declare and withdraw their names from the draft pool based on the feedback players receive at the predraft combine or from their college coaches.
Now, college players who stay in the draft but are not selected will be able to return to school, provided they notify their athletic director of their intent to do so by 5 p.m. on the Monday following the draft.
"In theory, it sounds very good," Self said.
But one major question Self said he still had was how this idea would look if, or perhaps when, the NBA chooses to eliminate the one-and-done era and allows high school athletes to jump directly to the NBA.
One other concern regarding this rule comes in the way of roster management. With recruiting being a year-round game and most classes filling up long before the June draft, Self said he thought coaches would have to become a lot more creative and strategic in the way they handle their rosters.
Take the recent fate of former Jayhawks Malik Newman and Wayne Selden Jr., for example. Both players left KU early and both went undrafted. Under the new rule, both players would have been eligible to return to KU for another season, provided Self and company had a spot for them on the roster and wanted them back.
"There'll be some instances like that, without question," Self said. "I think it could make it definitely harder, managing your roster. There is no question about that."
One thing that likely will keep instances like that to a minimum is the rule's stipulation that only players identified by USA Basketball as "elite" prospects will be afforded this type of treatment.
"It's not going to be open, where anybody can go through the draft and anybody can come back," Self stressed. "If the one-and-done era is gone, you're looking at probably a small portion of kids that possibly don't go to college anyway."
• A couple of notable recruiting changes outlined in the new rules impact the number of visits prospects can take and when college coaches can evaluate them.
As things stand today, each high school prospect is allowed five official visits to a college campus. Under the new rules, that number jumps to 15, with five coming during a prospect's junior year, five more during their senior year — whether to the same schools or new ones — and five more coming once their college careers begin to accommodate transfer situations, which remain on the rise.
"Is it good? Yeah," Self said. "I think more access and getting kids on campus in college environments is positive. But it's really going to have to be mapped out and planned out on how you prioritize and what kids could potentially commit early and these sorts of things. …It'll become much more strategic on how you bring kids in on visits."
Self used a hypothetical example to further illustrate his point.
"If you have no seniors on your roster and you don't anticipate anybody leaving, that year, you could bring in a lot of juniors and still bring them in the next year," he explained. "But if you have eight seniors on your roster and you feel like you're going to need to use at least 12 visits to fill next year's roster, that doesn't leave much space for you to bring in juniors."
Each school is now allowed to pay for 28 official visits for recruits over a two-year period, up from 24 under the current system.
As for summer access, the new rules will focus more on encouraging college coaches to recruit prospects in a scholastic setting during the summer and also will cut the number of recruiting weekends in July from three down to one.
"There's some things that'll need to be worked out to get everybody on the same page," Self said regarding the increase of high school coaches and programs in summer recruiting. "What type of events are these? How can you evaluate them? How the high school associations will work with the NCAA to try to make guys available for us to see.
"Lessening the number of weeks in July, during the nonscholastic events to recruit, I think, is a pretty big change that will certainly be new and be different for everybody that's been involved in recruiting."
One proposed rule change that did not pass — Self said he and several other college coaches had some input during discussions about the rule changes as the process went along — was a request for each college program to allow two additional staff members to coach on the court.
Self said the denial of the added hands-on assistants was the one big disappointment that came from Wednesday's news.
"For multiple reasons," Self explained. "The primary one (being) to help train guys to become assistant coaches because, obviously, that'll be the future, training young guys to be on the court, learn how to coach, those sorts of things, to make them more prepared and more attractive to get a position down the road in their careers."
Self said he was pleased with the rule changes, whether he was in total agreement with them or not, because they mark a clear move by the NCAA to improve the state of the game and come through recommendations made by a group of people who care a great deal about college basketball and spent a large chunk of time examining ways to move beyond the scars left by the FBI investigation.
"I do think the commission worked very hard and did an admirable job at trying to understand exactly how the business worked in many areas and ways you could improve it," Self said Wednesday. "Did something need to be done? I think in the eyes of many, something certainly needed to be done, and I am one that felt like there could be changes that could be positive.
"The intent, all along, was to try to look at it from a totally nonpartisan way and what was best for our game over time and what was best for the players in the game. There are some things in here that I think a lot of people will probably be happy and OK with, and there'll be some things in here that some guys would not see quite as favorably. The one thing I think we all have to do is, we have to adjust to change and allow change to play out."