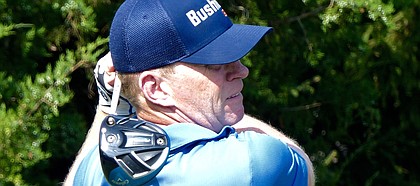 Overland Park — Professional golfers look forward to the weeks in which they skip tournaments to take a break from the pressure and recharge their batteries.
To remove himself from the pressure cooker, Chris Thompson had planned to skip this week's stop on the Web.com Tour — the Ellie Mae Classic at TPC Stonebrae in Hayward, Calif. (near San Francisco) — but he might have to call an audible.
He might decide to play in that tournament and definitely plans to play in the regular season finale, the Winco Foods Portland Open.
Thompson is playing so well, climbing so steadily on the money list, that he's put himself in contention for one of the 25 automatic PGA Tour cards awarded to Web.com Tour players at the end of the regular season.
Thompson shot a 2-under 69 Sunday at Nicklaus Golf Club at LionsGate to finish in a tie for fourth in the KC Golf Classic, a week after earning a third-place tie in the Price Cutter Championship in Springfield, Mo.
Thompson, 42, earned $29,700 in the KC Golf Classic, pushing his season winnings to $134,916, which places him 34th with two weeks remaining in the regular season.
The best estimate of what it will take to make the top 25 is in the neighborhood of $165,000, meaning Thompson needs to earn about $30,000. The tournament in Hayward has a $600,000 total purse, the Portland Open an $800,000 purse.
Web.com payouts are set on a percentage of the total purse. The winner gets 18 percent of the purse, the runner-up 10.8 percent, and it drops off from there with the 10th-place finisher earning 2.7 percent, the 25th-place finisher 0.88 percent.
If Thompson were to skip the Ellie Mae Classic, he would need to finish fifth to earn $32,000, sixth to earn $28,800, which might be enough.
If he were to play in both tournaments and finish 12th both times, he would earn $13,800 in the first, $18,400 in the second, for a total of $32,200.
So the decision comes down to, does he keep grinding and give himself two chances to earn the money? Or put all his hopes on one tournament, competing in a more rested state.
"I'm playing Portland for sure," Thompson said. "I was planning on taking off San Francisco, but I may kind of ride the hot streak. I'll see how it goes. I'm going to talk it over on the way home and see how it goes. I would like to take a week off, but I'm so close now, it's hard to take one off. We'll discuss it and see how it goes."
Wouldn't two shots be better than one?
"Two shots would be a lot better than one," said Thompson, 42. "I'm a big believer in quality of golf, not quantity of golf, but in this case, I may have to make an exception."
Thompson had an army of fans following him for Sunday's round, including his wife, son, daughter, mother, former neighbors from Independence, friends with whom he has played rounds of golf from Lawrence Country Club and the Jayhawk Club, and University of Kansas alumni with no personal connection to him.
Thompson started the day tied for third place, six strokes off the lead. He finished the day five strokes behind winner Sepp Straka, who was tied with Kyle Jones heading into No. 18. Straka won with a par on 18 and earned $121,500, moving from 130th to 29th on the money list.
"I had already signed up for Q school," Straka said. He doesn't have to worry about that anymore. He already has earned full Web.com status for 2019, as has Thompson.
"I still think there is better in me. Even though I finished third and fourth, there were some serious flaws that were shown. So, if I can put together how I played early in the year with how I'm chipping and putting now, I think I can do even better," Thompson said.
All four of his rounds were in the 60s.
"I really enjoy this course," Thompson said. "It's a dang good test in the wind like this, so scores weren't very low in the afternoon besides one guy (Sam Burns, who shot 66 and finished third)."
Thompson's highlights on the day were starting his round with a pair of birdies, and chipping in for an eagle on No. 13, a par 5. His chip for an eagle attempt on No. 15 ran out of steam just short.
"It's not perfect golf, but it's pretty efficient," Thompson said. "It's kind of a bittersweet day because I needed a good one and I got off to a great start. I just didn't drive it well enough to shoot really well. It's just kind of disappointing, because I drove it pretty well the last two days, but overall, still a great week."