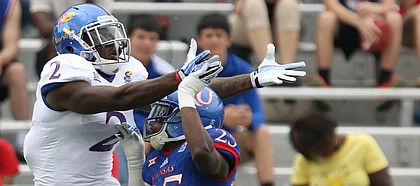 Per usual, members of the Kansas offense were on the spring football field Wednesday with no clue as to the identity of the starting quarterback.
Newcomer Miles Kendrick joins holdovers Peyton Bender and Carter Stanley for a 15-practice trial from which only so much can be judged because the quarterbacks wear red shirts, which means they are off limits to tacklers until Nicholls State visits Memorial Stadium on Sept. 1.
At least they're supposed to be off limits, unless one of the quarterbacks forgets the rules, takes off on a run and is taken out at the knees by a forgetful safety for a career-ending injury.
Most looks at Kansas football in the spring start with the sad reminder that the program still hasn't replaced record-breaking Todd Reesing, but in the case of this year's squad, that's getting way ahead of things.
Before the coaches decide who takes the snap, they must find someone who can make the snap.
Mesa Ribordy, poster child for KU's progress under fourth-year head coach David Beaty in the area of identifying, recruiting and developing Kansas walk-on athletes, has retired with two remaining years of eligibility, forced to the sidelines by concussions.
That's a tough break for the program and for Ribordy, but in one sense it's good fortune for the center in that he plays in an era where the reporting of head injuries is encouraged by coaches and the injuries are treated with extreme caution by doctors. Ribordy didn't have a choice in the matter. He was medically disqualified. Had he played in a bygone era, no telling how many concussions he would have played through, only to pay the price later in life.
Defensive end Isaiah Bean, who brought a tremendous burst to his position, also was forced by concussions to retire with two years left. That's a loss, but comes at a position where Kansas has more potentially appealing options for a replacement than at center.
Eventually, Kansas must find someone capable of executing a smooth snap and then a block, giving the quarterback a chance to show whether he can complete a pass. If those three phases of a play can take place, the quarterback must then be able to find a receiver who is able to hold onto the football. Hey, if you can't embrace optimism in spring, when everything, even hope for better KU football, then when can you?
So if the snap, the block and the pass all take place, who will catch it? Good news: Talented Alabama transfer Daylon Charlot, my sleeper pick for a big season, is back at receiver, no longer a safety.